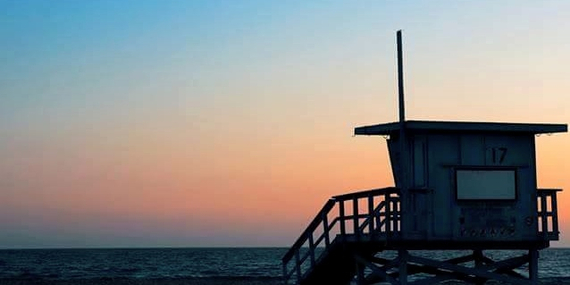 Photo: Heather Piper
"It's over." Chances are that you have heard these words at some point in your life. Maybe even more than once. For me, it was nearly three years ago when I found myself in "Divorceland" after the end of a 12-year relationship. What's a person to do?
Well, I did the only thing that I could do at the time. I took my broken heart and climbed into bed. I brought along a Kleenex box, turned off the phone, and pulled the covers over my head. This may be fine for a day or two, but it is certainly not a way to live.

In those early stages, my children (ages 4 and 3 at the time) drove my motivation to rebuild my life. When I reflect on those early days, it often reminds me of sitting on an airplane and hearing the flight attendant tell the passengers that in the event of an emergency, they should put on their oxygen mask first before assisting others. Sometimes the most important job of parenting is to take care of ourselves so that we can take care of our children.
Little did I know at the time, but I was on the beginning of a journey that would take me from denial to acceptance. I have since come to learn that the stages of grief for the loss of a close relationship are similar to the five stages first proposed by Elisabeth Kübler Ross in her 1969 book, On Death and Dying.
Denial and isolation: In this early stage, I can't believe how many times I thought, "This can't be happening," "This is just a rough patch," and "Maybe there is still hope."
Anger: As reality set in, the pain of the loss reared its ugly head as anger. I blasted my horn at clueless drivers on the 405 and snapped at checkers at the supermarket. I just felt angry, most of all at myself.
Bargaining: In a desperate attempt to un-do the pain of the loss, I engaged in a long list of "if onlys." These internal negotiations ranged from "If only I had been a better person to him," to "If only the stress of raising two young children had been easier," to "If only we had not moved to Singapore for his job."
Depression: This is when the reality of the loss hit two-fold. First, there were the practical implications of the loss, such as setting up a new home and sharing custody. Second, there were all of the emotional implications of the loss of a close relationship, facing the sadness, pain and regret and coping with it head on.
Acceptance: Seeing past all of these emotions afforded me an opportunity to accept that there is a life after the loss of my marriage. Sometimes what feels like an end is actually a beginning. In my case, this statement has never been more true.
As I reflect back on these stages of grief, I realize that not only did I experience each stage, but more importantly I survived each stage. Maybe time does heal all wounds. How did I navigate the stages? As Joe Cocker would say, "With a little help from my friends." Actually, I had a lot of help from friends and family. And yes, I'm not embarrassed to admit it -- a really good therapist.
Over time, I have come to appreciate Woody Allen's advice about getting through life. As Allen said in his 2013 interview with Esquire:
... we're just temporary people with a short time in a universe that will eventually be completely gone. And everything that you value, whether it's Shakespeare, Beethoven, da Vinci, or whatever, will be gone. The earth will be gone. The sun will be gone. There'll be nothing. The best you can do to get through life is distraction. Love works as a distraction. And work works as a distraction. You can distract yourself a billion different ways. But the key is to distract yourself.
You name a so-called distraction (good and bad), and I probably did it, whether it was finding work that I enjoy, running on the beach, cooking for family and friends, or playing Monopoly with my children. And yes, at the age of 41, I took up my worst distraction: smoking Capri cigarettes alone on my deck after I put my children to bed.
The leading thing that helped me navigate the stages has been "The Canyon." The Canyon, you ask? Yes, it is actually a physical place. It happens to be a little canyon near the beach in Santa Monica. It is the physical place where I created a home for my family and developed new relationships. It is the place where I physically run my heart out (after finally realizing that chain-smoking Capris is not an effective means of dealing with the stress of divorce). It is the place where I can connect daily with beauty and nature. In addition to being a physical place, the Canyon represents an emotional place. It is the place where I finally took charge of my life, made new joyful memories and traditions, and came to really know and love myself. The Canyon is truly where I found my heart again.
I realize that not everyone can move to Santa Monica Canyon and ride off into the sunset. That would be missing the point. The Canyon represents a microcosm that exists for all of us, regardless of where we live. Find that one mini place in your community that is "yours" and where you feel safe and grounded, whether it be a hiking spot, a yoga studio, a coffee shop, a park or a reading nook. You will know it when you find it. It is the place where you can navigate the stages of grief. It will come to be the place where you can savor the beautiful moments and distractions of this thing called life. It is the place where you, too, can find your heart again.
Be sure to follow Ms. Canyon Girl on Twitter.