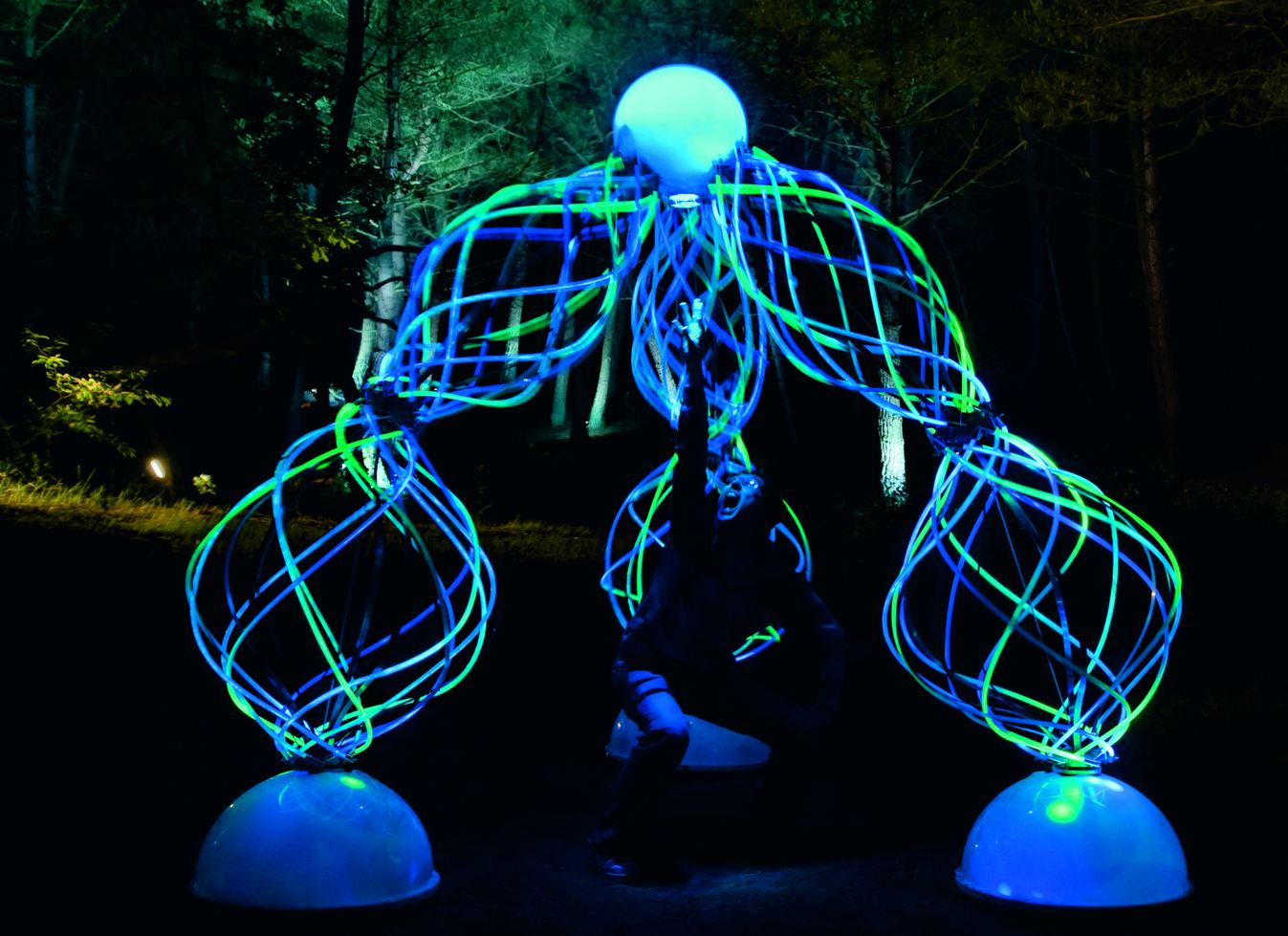 Just one of the many stellar sights to behold at this year's Kinetica. "Liquid Space 6.0," by Daan Roosegarde, represented by Studio Roosegarde.
The future is here, and Kinetica Art Fair is perhaps the perfect platform for presenting the world of tomorrow. Now in its 4th year, cutting-edge Kinetica returns to London this month with razzle-dazzle robotics, luminous light media, sound and electronic works. Fusing art and the latest technological trends, this one-of-a kind fair is small but stunning, with 50 exhibitors and an average of 300 total artworks offered. 2012's feature exhibition showcases the works of 18 artists from eight countries, with holographic art, robotic installations, and sound performances addressing this year's aptly-titled theme, "Time, Transformation and Energy." (Check out the slideshow, below)
The fair is the brainchild of Dianne Harris and Tony Langford, co-founders of the Kinetica Art Museum - the only institution of its kind in the UK. Spawned by the global success of the venue's new media exhibits, the duo created the annual art fair in 2009, with a green focus that's proved particularly popular in the recession. Last year welcomed over 20,000 visitors, with exhibitors producing a staggering array of works concentrating on recycling, renewable energy, and green technology.
Ahead of the fair's February 9th opening, MutualArt had a chance to chat a bit with Kinetica co-founder Dianne Harris. "Our lives are fully intertwined with technology and the Kinetica Art Fair celebrates technology, movement and innovation in contemporary art. The fair itself is a kind of hyper-sensorium of art and bodies," Harris said. In addition to works by emerging and established artists in this fascinating field, there will be live performances, screenings, and a series of talks focusing on how to promote and sell this innovative artwork.
MutualArt: What kind of works does Kinetica exhibit? What makes this type of media so unique?
Dianne Harris: Kinetica is not entirely medium specific, it is just that the concept of what we represent differentiates us us from other art fairs around the world. Using the words kinetic, electronic and new media is like saying painting, sculpture and photography. Many of the artworks shown are sculptural, use paint and sometimes incorporate photographic techniques. I think because what we're doing is so new, people need to understand it by categorization. The main appeal of Kinetica Art Fair and what sets it apart from all other art fairs is that the work exhibited is experiential and performative -- the works have a vitality that engages people on many different levels. Artists that exhibit at Kinetica can be generically termed as 'transdisciplinary performative users of knowledge', first described by French theorist Lyotard where artists, or 'users' as he calls them, extract knowledge from science (nature of the universe) and through their own artistic process and appropriation, represent and often simplify concepts with challenging results and new meanings.
Kinetica ultimately focuses on a current new trend in art that has a strong historical lineage dating back to the '50s. The work essentially makes suggestions and contributions towards human evolution and reaction to scientific and universal exploration. With the ever-increasing scientific and technological advancements in our culture, many contemporary artists have crossed the threshold from 'fine art disciplines' into new media, with artworks that utilize technology to explore, nurture and comment on our evolutionary processes.
MA: Is there a connection between Kinetic art and established art philosophies? When did this kind of art emerge?
DH: The Futurist, Constructivist and Bauhaus movements believed modern science and technology would sweep away the constraints of tradition. The artist as engineer was thought not only to revolutionize art, but also change the shape of society. Much 20th century art practice harnessed the modernist enthusiasm for technology as a means to convey the energetic or 'vibrational' modernity of life, personified in works such as Naum Gabo's Kinetic Construction in oscillating metal (1919), Laszlo Moholy-Nagy's seminal kinetic sculpture, Light-Space Modulator (1930), Calder's invention of the 'mobile' in the '30s, Jesús Rafael Soto's interactive 'penetrables' sculptures of the '50s...Other eminent figures in the Op-Art Kinetic movement include artists like Jean Tinguely, Frank Malina, Yaacov Agam, Victor Vasarely, Morellet, Carlos Cruz Diez and Takis...[who] pioneered this type of art in the '50s, '60s and '70s.
MA: What is the aim of the fair? Why do you think so many of the artists showing at Kinetica are interested in exploring the crossovers between art, technology and science?
DH: The aim of the fair is to present works that exemplify universal concepts, heighten consciousness and advance human potential. These remarkable works actively engage the viewers, translating into a kinetic relationship that serves as a sort of interactive exchange between the audience and the art. I think the age-old avant-garde dream of reintegrating art into life has made a huge revival in recent times. The focus on nature, our place on this planet and in the Universe and our existence is prevalent more than ever. Genetic engineering, nano- technology, modification and the redefinition of the human and its future potential has extended the dialogue between human and machine. Artists are looking across many disciplines and collaborating with scientists to provide a greater understanding and universal knowledge into their work. This new 'wave' in reference to the metaphor of our 'great' machine 'the Universe', has inspired a new generation of artists to explore scientific discoveries and utilize technology.
Kinetica Art Fair runs from February 9-12 in London, at Ambika P3.

What do you think about this cutting-edge genre of art? Would you like to see more in the future? Share your thoughts below.
Written by MutualArt Writer Lauren Meir.
PHOTO GALLERY
Kinetica's Cutting-Edge Creations