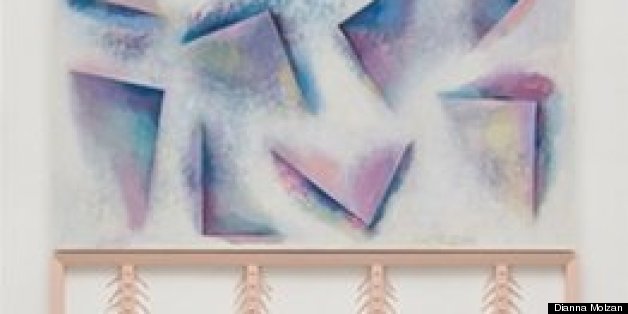 The Frieze Art Fair made quite the first impression last spring during its opening New York exhibition. Ever since, expectation and curiosity levels were high among fair-goers, waiting to see what this year's fair will bring. Over 180 galleries will be taking part in the five-day fair, making the journey to Randall's Island well worth its while. With so much to see, finding some focus might be daunting, so MutualArt has put together a list of 10 artists not to be missed at the fair.
Los Angeles based artist Dianna Molzan's paintings are frequently described as sculptural and often break the convention of the picture surface as single, uninterrupted plane. But rather than shifting horizontally into the established register of another medium, it often feels as if her works are burrowing vertically, deeper and deeper into painting itself. The sculptural quality of the work is almost a by-product of Molzan's investigation into the apparatus of painting in its most literal sense – the wood supports, the canvas, the paint.
Molzan has had solo exhibitions at the Institute of Contemporary Art Boston (2012), Whitney Museum of American Art, New York (2011), and her gallery, Overduin and Kite in Los Angeles (2009). Several of her works were included in the show All of this and nothing at the Hammer Museum, Los Angeles (2011).
(Image: Dianna Molzan, Untitled, 2013, oil on canvas, 2 panels: 84 1/2 x 94 in / 214.6 x 238.8 cm overall, Courtesy of Overduin and Kite, Los Angeles)
Dianna Molzan's work can be seen at Overduin and Kite, Stand C3.
Berlin-based Ivan Seal was a sound-artist before switching to painting a couple of years ago. Sound still plays a role in his art and at his In Here Stands It installation the paintings were shown alongside computer-generated sound works, whose structure and rhythm are akin to the flow of canvases on the gallery wall. Seal's paintings share matter, scale and palette. He usually exhibits them in groups although they are conceived of independently and shown out of chronological order. The objects he depicts are inspired by his everyday surroundings and may seem plain and simple, yet Seal finds the eerie, dream-like quality in the mundane.
Recent solo exhibitions include Ivan Seal at Carl Freedman Gallery, London (through May 25th, 2013), the object hurts the spaceat RaebervonStenglin in Zurich (2011), True as applied to you; false as applied to you at Krome Gallery, Berlin (2011), I Learn by Osmosisat CEAAC, Strasbourg (2010) and Two Rooms For A Fall in Berlin (2009).
(Image: Ivan Seal, 'prototype to get out no 3' (2011), Oil on canvas, 70 x 60 cm, Carl Freedman Gallery)
Ivan Seal's works can be seen at Carl Freedman Gallery, Stand C37
A 2005 featured artist at the Venice Biennale, Argentinean Jorge Macchi has gained international attention for his delicate meditations on the poetics of everyday life using a variety of media formats, from video installations to artist's books to cut out newspaper collages. His work is characterized by a somewhat melancholic air, with subjects ranging from acts of random violence to unrequited love, the impossibility of conclusion, and the interplay between presence and absence.
Macchi solo show is up through June 16th at the Kunstmuseum Luzern in Switzerland. Selected solo exhibitions include The Singers' Room, in collaboration with Edgardo Rudnitzky, at Galleria Continua in San Gimignano, Italy (2008);The Anatomy of Melancholy at Blanton Museum in Austin, Texas (2007); Gallery Night at Luisa Strina Gallery in São Paulo, Brazil (2007); Jorge Macchi at Galeria Ruth Benzacar in Buenos Aires, Argentina (2007); and Time Machine at Kilchmann Martin Gallery in Mexico City (2006).
(Image: Music stands still, 2007 iron, courtesy: Galleria Continua, San Gimigango/Beijing/Le Moulin, Photographer: Ela Bialkowska)
Jorge Macchi's works can be seen at Galleria Continua, Stand C42
French artist Marie Cool and Italian Fabio Balducci live and work in Paris and have been working together since 1995. The grand logic behind the work of Marie Cool Fabio Balducci is an enigma that cannot be resolved in a single definition. Their art, which includes both live actions and videos, is a personal ethic, erected movement by movement through a very peculiar sociability, which could be thus devised: What distance should I maintain between the others and me to build an unalienating "living together", an unexiled loneliness? The actions and what comes of them (still objects or drawings in a broader sense) do not provide an answer. These shapes tell of a disciplined and self-sustaining life, which joins those whose desires are chained to the paradox of the tetherless freedom, to favour the Free Spirit, emancipated and uncluttered of itself.
Marie Cool Fabio Balducci work together in Paris. Their work was shown in solo exhibitions at Site Gallery, Sheffield, at La Maison Rouge, Paris and Attitudes, Geneva in 2008, at The South London Gallery in 2009, at CAC Brétigny in 2010, at Villa Medici, Roma in 2011, at La Synagogue de Delme art center, FRAC Lorraine, Metz and Le Consortium, Dijon in 2012-2013. They also took part in the exhibition On Line: Drawing through the Twentieth Century (cur. Connie Butler and Catherine de Zegher) at MoMA, New York (2010), The Living Currency (cur. Pierre Bal-Blanc, 2010) and in La cavalerie exhibition at CAN, Neuchâtel. Their works have recently been added to the collections of MoMa New York, Centre Georges Pompidou, Frac Île-de-France and Frac Lorraine, as well as Vehbi Koç Foundation, Istanbul.
(Image: Marie Cool Fabio Balducci, Untitled, 2008 (paper, table, 220 x 100cm), video: 37 sec, courtesy Marcelle Alix, Paris)
Marie Cool & Fabio Balducci's work can be seen at Marcelle Alix, Stand B25
This year's Turner Prize nominee David Shrigley will take over an entire wall of the Anton Kern booth with a vibrant range of themes and materials. Shrigley's disquieting and often profound sense of humor becomes evident in every medium, i.e. drawings, prints, photographs, signs and paintings, mixing the mundane with the absurd. Shrigley draws a universe infused with satire. With a fierce line, he depicts human doubts and uncertainties, animating the twisted scenarios of our insecurities and obsessions. One of his works from "What the Hell Are You Doing?" titled "In I Go" depicts the artist (labeled as "me") entering into a skull (labeled "my destiny").
David Shrigley has recently presented solo exhibitions at Museum M, Leuven, Belgium (2010), Anton Kern Gallery, New York (2010), Kelvingrove, Kelvingrove Museum, Glasgow International, Glasgow (2010), Galleri Nicolai Wallner, Copenhagen (2009), Kunsthalle Mainz, Mainz (2009), Bergen Kunsthall, Bergen (2009), Fumetto, Kunstmuseum, Luzern (2009) and Galerie Francesca Pia, Zurich (2009). His work has been shown in numerous museums and international exhibitions including "Life on Mars", the 55th Carnegie International, Carnegie Museum of Art, Pittsburgh, PA (2008), "Laughing in a Foreign Language" at Hayward Gallery, London (2008), "Learn to Read" at Level 2 Gallery, Tate Modern, London (2007), "The Compulsive Line: Etching 1900 to Now" at The Museum of Modern Art, New York (2006), and "State of Play," at the Serpentine Gallery, London (2004).
(Image: "Reprinted from What the Hell Are You Doing? The Essential David Shrigley by David Shrigley. Copyright © 2010 by David Shrigley. First American edition 2011. With the permission of the publisher, W.W. Norton & Company, Inc.")
David Shrigley's works can be seen at Anton Kern Gallery, Stand C2
The Brooklyn-based artist Martha Friedman often examines quotidian objects in her sculptures, manipulating the scale and material of such things as waffles, rubber bands, and nails, which emphasizes the surreal aspects of these familiar items. In Frieze, Friedman will show at the Wallspace gallery booth as well as an outdoor piece as part of this year's Sculpture Park curated by Tom Eccles. Her outdoor piece is essentially a "tongue garden." - – with glossy, pink tongues – a reoccurring motif in Freidman's work - instead of tulips, and mulch that is made of black recycled tire rubber instead of dirt.
Friedman's solo exhibitions include "Caught" at the Wallspace gallery 2012; "Erogenouse Zones" at the Jessica Silverman Gallery 2012; "Rub" at the Museum of Contemporary Art Detroit 2010; "Rubbers" at the DeCordova Museum and Sculpture Park 2010-2011.
(Image: Martha Friedman, Mechanical Disadvantage II, 2012, Steel, Concrete, 121x60x60, Courtesy of Wallspace Gallery)
Martha Friedman's work can be seen at Wallspace Gallery, Stand C8
Zhan Wang is widely recognized as one of China's leading contemporary artists today. Working in installation, photography and video, his sculpturally informed practice challenges ideas of landscape and environment, addressing the urban, rural, artificial and industrial. Zhan Wang's art has a particular perspective fundamentally anchored in his relationship to his own cultural heritage. Among his most celebrated works is his series of "artificial rocks" – stainless steel replicas of the much-revered "scholar's rocks" traditionally found in Chinese gardens. The mirrored surfaces of these often monumental objects absorb the viewer and its surrounding environment, enticing them to become part of the work,.The unevenness of the surface results in abstraction and a distortion of reality as reflected in the rock, thus creating a visual interplay between positions of tradition and modernity.
Zhan Wang has exhibited extensively in major museums and galleries across the world including the National Museum of China, Beijing, China; Williams College Museum of Art, Massachusetts, USA; Kunst Museum, Bern, Switzerland; Mori Art Museum, Tokyo, Japan; International Center of Photography, New York, USA; and the Asia Society Museum, New York, USA. He has also executed a number of art projects at significant landmarks such as Mount Everest and the Great Wall of China. His work was also included in the landmark exhibitions 'Cities on the Move: Asian Contemporary Art', Austria, France, USA, Finland, UK, Denmark (touring exhibition 1997-99) and 'Synthi-Scapes: Chinese Pavilion', 50th Venice Biennale, Venice, Italy in 2003.
(Image: Zhan Wang, Artificial Rock No. 71, 2004, Stainless steel, 185 x 165 x 100 cm, Courtesy of Long March Space)
Zhan Wang's works can be seen at the Long March Space, Stand D26
Eileen Quinlan makes bold photographic works that range from bright abstractions to dark, organic landscapes. Created by taking detail shots of commonplace objects and materials, they are captivating in their use of light, color, and scale. Quinlan creates images of dimensional confusion by photographing modest studio constructions of foam, mirrors, and other common materials. She is interested in exposing the formal constructs of photography, like light and shadow. She has also addressed the artificial scarcity created by a limited edition by displaying entire editions side-by-side and treating them as a singular piece.
Quinlan participated in a number of group exhibitions in 2012, including Blind Cut at Marlborough Gallery and Accrochage at Miguel Abreu Gallery in New York, Second Nature: Abstract Photography Then and Now at the deCordova Sculpture Park and Museum in Lincoln, MA, and Printed at Mai 36 in Zurich. The highlight of last year, however, was unquestionably her September solo exhibition, Twin Peaks at Campoli Presti in London. Most recently, she mountedY? O! G... A., collaboration with Matt Keegan at The Kitchen in New York.
(Image: Eileen Quinlan, Ishtar, 2012, 60 x 48 inches, Courtesy of Miguel Abreu Gallery)
Eileen Quinlan's works can be seen at the Miguel Abreu Gallery, Stand B57
Shot between 1994 and 1997 while Zoe Leonard was living in an extremely remote part of Alaska, the photographs presented at Frieze show animals that the artist hunted and butchered herself and with friends: a bear, a moose, a beaver, and a duck. Astonishingly anti-picturesque, they are key works in Leonard's long exploration of the relationships between photography and images of nature."I was afraid at first that I would have a hard time making art in Alaska. What I found was the opposite. I was surrounded by the complexity of nature, and I began thinking about our "progress" as a people, about the choices we have made," says the artist about her experience.
Zoe Leonard has exhibited extensively since the late 1980s. Major solo exhibitions include Observation Point, Camden Arts Centre, London (2012); Photographs, Fotomuseum Wintherthur (2007), which travelled to Museo Nacional Centro de Arte Reina Sofia, Madrid (2008), MuMOK — Museum Moderner Kunst Stifting Ludwig, Vienna (2009), and Pinakothek der Moderne, Munich (2009); You See I Am Here After All, Dia: Beacon (2008); Derrotero, Dia at the Hispanic Society, New York (2008); Analogue, The Wexner Center for the Arts, Columbus, Ohio, and Villa Arson, Nice (2007).
(Image: Zoe Leonard, Bear Paw Hanging, 1996/1998 Silver gelatin print 24 x 17 in, Courtesy of Murray Guy Gallery)
Zoe Leonard's works can be seen at the Murray Guy Gallery, Stand B5
Between 1954 and 1972, the Japanese avant-garde art movement Gutai (meaning "concrete" or "embodiment") challenged traditional artistic media through spectacularly orchestrated exhibitions. Despite being one of the founding members of the Gutai Group, Tsuruko Yamazaki remains one of the less discussed members of the group. Her participation at Frieze New York 2013 will be the artist's first solo presentation in the USA.
Starting in the 1950s, she created washes of colored dye, using hues of indigo, violet and magenta on outdoor installations in public parks before moving on to more Pop-influenced paintings in the 60s. She has presented a range of works including three-dimensional pieces made using sheets of tin, performances, and paintings. Throughout her decades-long career, Yamazaki has produced work on the themes of real and virtual images and sight/cognition/recreation that expresses her unique outlook on the relationship between the individual and the world.
Yamazaki's solo exhibitions include "Tsuruko Yamazaki" at the Take Ninagawa gallry (2013); Lads Gallery Osaka (2012); "Beyond Gutai: 1957-2009" Galerie Almine Rech (2010); Gallery Cellar (2008-2009); "From Gutai to Today" Lads Gallery (2007); "Reflection: Tsuruko Yamazaki" Ashiya City Museum of Art & History (2004).
(Image: Tsuruko Yamazaki, Work, 2009, Dye, lacquer and thinner on tin , 47.5 x 47.5 cm, Courtesy of Take Ninagawa Gallery)
Tsuruko Yamazaki's works can be seen at Take Ninagawa gallery, stand B23