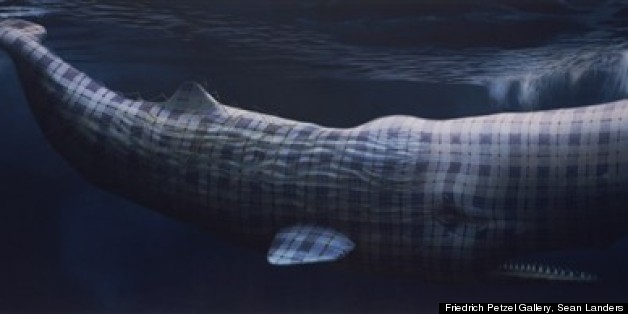 Unlimited: Friedrich Petzel Gallery, Sean Landers, Moby Dick (Merrilees), 2013,

Oil

on
linen, 112 x 336 inches 284.5 x 853.4 cm. Courtesy the gallery and the artist
Art Basel, the world's most important contemporary art fair, returns this week for its 43rd edition (June 13-16) with over 300 galleries exhibiting the works of 4,000 Artists while 60,000 art lovers take the city by storm. Art Basel is considered the event on the peripatetic art world calendar, attracting major collectors and A-list galleries who save up the very best visual art of the 20th and 21st centuries to showcase here.
Art Basel is organized by sectors, each of which is committed to a particular type of gallery, artwork or artist. These eight show sectors offer a diverse collection of artworks, including pieces by established artists and newly emerging artists, curated projects, site-specific experiential work and film. Organizing the fair this way allows visitors to explore the many dimensions of modern and contemporary art including paintings, sculptures and classical photography, as well as works of an outsized scale, various projects and site-specific artworks and interventions around Basel.
Nahmad Gallery, Art Basel 2013 McKee Gallery, Art Basel 2013 MCH Messe Schweiz (Basel) AG MCH Messe Schweiz (Basel) AG
Galleries
The Galleries sector is the main focus of Art Basel. This year, for the first time in the show's history, galleries from the Philippines and Singapore will be present along with galleries from around 40 countries. Galleries exhibiting within the sector for the first time, having previously shown in Statements or Feature, include: Alison Jacques Gallery (London), kaufmann repetto (Milan), Galerie Guido W.Baudach (Berlin), Galerie Jocelyn Wolff (Paris) and McCaffrey (New York). Adding to a strong presentation of vintage photography will be first time exhibitor Howard Greenberg Gallery (New York).
Feature
The Feature sector presents curated projects that may include solo presentations by an individual artist, or juxtapositions and particular exhibits from artists representing a range of cultures, generations and artistic approaches. This year's edition will feature 24 galleries from 16 countries, the highest number of galleries since the sector's introduction in 2010.
One of the highlights of this sector includes the gallery Take Ninagawa (Tokyo) bringing historic works by Japanese artist Tsuruko Yamazaki, including a piece originally realized for the "1st Gutai Art Exhibition" in Tokyo in 1955.Tsuruko Yamazaki is a founding member of the Gutai Art Association, one of the most important avant-garde groups in postwar Japanese art. Starting in the 1950s, she created washes of colored dye, using hues of indigo, violet and magenta on outdoor installations in public parks before moving on to more Pop-influenced paintings in the 60s. She has presented a range of works throughout her decades-long career, and has produced work on the themes of real and virtual images and sight/cognition/recreation that expresses her unique outlook on the relationship between the individual and the world.
Tsuruko Yamazaki, Work, 1955 (reproduced in 1986), Mirror, acrylic and paper on board, 230 x 183 cm, Tin Cans, 1955 (reproduced in 1986), Dye, lacquer and thinner on tin cans, Dimensions variable. Courtesy of LADS, Osaka and Take Ninagawa, Tokyo.
Statements
In this sector, Art Basel presents exciting new solo projects by young, emerging artists. The Statements sector has promoted young artists since 1996, providing a special platform that puts them in front of the eyes of an international audience of curators, collectors and art critics. Sited within the new exhibition hall, these solo presentations will offer an opportunity to discover the work of emerging artists and young galleries. Each year, two outstanding artists in this sector are awarded the Baloise Art Prize. The Baloise Group also acquires works by the award-winning artists which it donates to important European art institutions.
This year, 13 of the 24 galleries exhibiting will be new to the show. Highlights of Statements will include an installation of video, drawings and sculpture by Los Angeles based artist Erika Vogt presented by Overduin and Kite (Los Angeles). Chinese artist Hu Xiaoyuan will present a new series of works consisting of wood pieces with Beijing Commune (Beijing). Another newcomer is The Third Line Gallery (Dubai) presenting a solo booth by artist Laleh Khorramian. The works on display are fragments of a future science fiction film titled M-GOLIS, with Khorramian's presentation focusing on paintings and objects related to the making.
Laleh Khorramian, Shrine, 2013, refrigerator, glass, fluorescent, amber, paper, wood, tin boxes,
LED, 3 dvd minidisk players. Courtesy of The Third Line Gallery.
Edition
Leading publishers of editioned works, prints and multiples exhibit the results of their collaboration with renowned artists. Some of the Edition galleries include Brooke Alexander, Pace Prints, Three Star Books, Alan Cristea Gallery, Crown Point Press, Atelier-Editions Fanal, Sabine Knust, Carolina Mitsch, Lelong Editions and many more.
Unlimited
Curated by New York-based Gianni Jetzer, Unlimited is Art Basel's pioneering exhibition platform for projects that transcend the limitations of a classical art show stand. Unlimited provides exhibiting galleries with an opportunity to showcase large-scale sculptures, video projections, installations, wall paintings, photographic series and performance art which cannot be displayed within the limitations of an art fair stand.
This year Unlimited will feature 79 artworks – the largest number of projects to date. Not to miss is the largest painting ever exhibited within the sector: 'Two into One becomes Three' (2011) by Matt Mullican, which measures 22 by seven meters and will be presented by Klosterfelde (Berlin) and Mai 36 Galerie (Zurich). Gagosian Gallery (New York) and Massimo De Carlo (Milan) will jointly present Piotr Uklański's enormous textile installation reminiscent of human anatomy, 'Open Wide' (2012).
A growing number of artists from Asia and South America, will be represented in Unlimited this year, including Chinese artists Huan Yong Ping's controversial installation 'Abbottabad' (2012), presented by Gladstone Gallery (New York), in which he replicates the compound in which Osama Bin Laden was found. Long March Space (Beijing) will show Chinese artist Liu Wei's installation 'Library' (2012), in which anonymous urban landscapes shaped by familiar landmarks have been created out of books. Luhring Augustine (New York) will present Brazilian artist Tunga's historical 16mm film installation 'Ão' (1981) and 'Fairytale Ladies Dormitory' (2007) by Chinese artist Ai Weiwei will be presented by Galerie Urs Meile (Beijing, Lucerne).
Parcours
Parcours, curated by Florence Derieux, is the sector which engages the city's historic quarters with site-specific sculptures, interventions and performances by renowned international artists and emerging talents. For its 2013 edition, Parcours has moved into the Klingental neighborhood of Basel, one of the city's most culturally diverse and creatively active quarters. The 16 works presented here will engage with Basel's past and present, weaving artistic interventions into the different locations in the neighborhood. The sector will open to the public on Wednesday with a night of special performances by L.A Dance Project, Marc Bauer and Michael Smith. (Image: Danh Vo, Gustav's Wing, 2013. Courtesy the artist & Galerie Buchholz; Isabella Bortolozzi Galerie; Galerie Chantal Crousel; Marian Goodman Gallery).
Film
Art Basel's week-long program of films, featuring over 30 titles by and about artists, is curated by Berlin film scholar Marc Glöde and Zurich collector This Brunner. Highlights will include 'Paris: Capital of the XXIst Century,' the last film ever made by Malcom McLaren, and 'Kader Attia, Collage,' a single-channel video about the lives of transsexuals in Algiers and Bombay that questions the possibility of objective testimony. At the same time, it challenges the structural coherence we associate with artistic narrative. 'Cutie and the Boxer' by Zachary Heinzerling is a touching film that documents the lives of the Japanese artist couple Ushio and Noriko Shinohara and which won the prestigious Directing Award at the Sundance Film Festival 2013.
Paris, Capital of the XXIst Century, Malcolm McLaren,
Untitled (Collages), Kader Attia, 2011-2012
Courtsy of gallery & artist
Galerie Krinzinger. Courtesy the gallery & the artist
Magazines
Art publications from around the world display their magazines in single stands or a collective booth. Editors and publishers are often present at the show and many magazines contribute presentations to the Basel Salon talks, a schedule of presentations, lectures and discussions. Some of the participating magazines include: Aesthetica, Art Press, Arte, Artforum, Art Review, Canvas, Frieze, Sculpture, The Art Newspaper and many more.
Satellite fairs:
With so much to see at the main fair is hard to believe there is more, but the action is not only at Art Basel but at the satellites fairs positioned around the city. From design to cutting-edge contemporary art, here are some of the other must-see venues on everyone's itinerary:
June 11–16
Hall 1 Süd, Messe Basel
The eighth edition of the elite design fair encompasses 48 galleries, 8 of which will feature solo presentations. Occurring alongside the Art Basel fairs in Miamieach December and Basel each June, Design Miami/ has become the premier venue for collecting, exhibiting, discussing and creating collectible design. This year features both the functional,such as a 2012 cabinet in iron and yellow-glazed lava stone by Christophe Côme, via Cristina Grajales (New York),and the decorative, with Anish Kapoor's square Atlas Ring (2012), at Louisa Guinness (London). The complex design took the London firm Goldsmiths three weeks to execute. Also on view is Benjamin Graindorge's Fallen Tree bench(2011), the key piece from the young French designer's first solo with Paris gallery Ymer & Malta.
June 11–16
Burgweg 15
What began as an initiative by young gallerists in 1996, developed into one of the most important fairs in the world, which they did by making significant contributions to the promotion of young artists and galleries. This contemporary-focused fair stays innovative by restricting itself to galleries founded within the past five years. Among the 300 applications, only 66 galleries from 22 countries were selected. The intentionally low number of galleries and the high level of sophistication of participants are the reasons for the fair extraordinary success and international reputation.
June 12–16
Uferstrasse 40
Presenting its 7th Basel edition this year, this contemporary art show includes 75 international exhibitors, with an emphasis on the Middle East including galleries from Tehran (Shirin Art Gallery), Ankara (Siyah Beyaz Galeri) and Abu Dhabi (Salwa Zeidan Gallery). Riyadh's Lam Art Gallery (Riyad) will partner with the Switzerland-based AB Gallery toshow Iranian mixed-media artist Samira Hodaei and Pop-influenced Saudi painter Bassem Al Sharqi, among others. With a new location on the Rhine, the pavilion will present large-scale sculptures from three Latin American artists, Gastón Ugalde, Fernando Arias and Sonia Falcone.
June 12–16
St. Jakobshalle
The-Solo-Project showcases works by leading artists presented by a carefully selected group of international galleries. The Solo Project has quickly established itself as an important satellite fair in Basel. The Solo Project was set up by Paul Kusseneers Gallery (Antwerp) and is supported by an array of partner galleries and aiming towards building of new relationships between galleries and collectors. For the sixth edition, Amaury and Myriam de Solages of Maison Particulière (Brussels) present Italian artist Angelo Musco in conjunction with Argentine art collective Mondongo. Luxembourg's Galerie Nosbaum& Reding hangs its booth with manipulated architectural photographs by Maja Weyermann.
June 10–15
Dreispitzhalle
Returning for its fourth year at the Dreispitzhalle, Volta is a platform for presenting the vision of contemporary art galleries of global repute whose artists represent new and relevant positions for curators and collectors alike. The galleries are selected by an annually changing curatorial board, a group of curators, art critics and gallerists, to give each edition its own clear identity and to redirect focus back on the artists as well as their representing galleries.
Purdy Hicks Gallery (London) is featuring works by Bettina von Zwehl. Spain present Alarcón Criado of Seville, Nicolas Grospierre and Alejandra Laviada; and Galería Visor of Valencia offers a four-way showof Hamish Fulton, Nil Yalter, Braco Dimitrijevic and this year's Hasselblad Award winner Joan Fontcuberta.
Major museum exhibitions happening in Basel:
The Kunstmuseum Basel will present two special exhibitions, the first of which is The Picassos are Here!, behind which is an exceptional story. The city of Basel has had a special relationship with Picasso since 1967. This was when the population of Basel, in a popular vote, decided to release a credit of 6 million francs for the Kunstmuseum, raising an extraordinary CHF 2.4 million from the citizens of Basel, in order to allow the acquisition of two paintings by Picasso, The Seated Harlequin and Two Brothers. Picasso himself was so impressed he gave Basel three additional paintings and a preparatory drawing for the famous Les Demoiselles d'Avignon. With these five paintings as a base, all of the Picasso collections in Basel are brought together for this comprehensive exhibition exploring the important phases of Picasso's career. For the first time since the Van Gogh exhibition, the entire second floor of the museum is devoted to a single artist.
Another exhibition at the Kunstmuseum Basel is Ed Ruscha: Los Angeles Apartments. With the acquisition of nine studies for the graphite drawings of Los Angeles Apartments (1965) as well as of a set of the twenty-five black-and-white photographs from 2003 treating the same theme, the museum laid the foundations for this exhibition. By placing these different media side by side and taking a comparative look at photographs from the Gasoline Stations series (1962) as well as drawings on the theme of Large Trademark (1962) and Standard Station (1963), the show offers an especially vivid illustration of Ruscha's work.
The Beyeler Foundation presents Maurizio Cattelan (Jun. 8 - Oct. 6). The exhibition, titled Kaputt, presents five taxidermied horses that have been installaed with their heads seemingly polking through the wall of the museum. The exhibition is curated by Sam Keller and Associate Curator Michiko Kono. Cattelan is one of the most discussed artists of our day. Back in the 1990s he began to produce sculptures that surprised and astonished the public and the art world. His multi-faceted oeuvre is critical and humorous and reflects society's paradoxes and alienation, as well as individuals' struggle to find their place in it. On view at the same time is a scholarly Max Ernst retrospective that the Beyeler has organized with the Albertina in Vienna.
Maurizio Cattelan 'untitled', 2007. photo: serge hasenböhler, basel, courtesy fondation beyeler, riehen/basel
Kunsthalle Basel presents two newly opened exhibitions that are worth visiting. Michel Auder – Stories, Myths, Ironies and Other Songs, presents films and videos that are recordings of his surroundings, his private life and the people around him. The French artist first began exploring video as an artistic medium in the late 1960s. Over the years he has shot thousands of hours of film, in the early days with Super 8, 16mm and 35mm cameras, and subsequently embracing the latest video and digital media as they became available; right up to the camera in his mobile phone. Much of this footage was only edited by the artist many years after it was recorded, and turned into video works ranging from sequences lasting just few minutes to feature-length films.
Pavilionesque is Polish artist Paulina Olowska's first solo exhibition in Switzerland at Kunsthalle Basel, and features a three-dimensional model, or a life-size sketch for a wooden pavilion. This is a kind of functional sculpture that serves as a setting for performances, but also for the presentation of newly produced works, such as paintings, ceramics, sculptures and puppets. All these works are informed by the idea of creating a contemporary form of puppet/performance/cabaret theatre. The exhibition brings together all these minor genres in the work of art that may be not only viewed but actually experienced first hand.
Museum Tinguely puts on a show of the works of Lithuanian artist Zilvinas Kempinas that are not only kinetic but also minimalistic. Now a resident of New York, Kempinas uses the simplest of means to create complex and atmospheric room situations of great beauty. His installations play with air and lightness. The reliefs are based on time and chance. The context for this exhibition within the Museum Tinguely creates an interesting dialogue between the two artists.
Vitra Design Museum showcases its Louis Khan exhibition, about the American architect who is regarded as one of the great master builders of the twentieth century. As the first retrospective on Louis Kahn in over two decades, this exhibition encompasses an unprecedented and diverse range of architectural models, original drawings, travel sketches, photographs and films. All of Kahn's important projects are extensively documented — from his early urban planning concepts and single-family houses to monumental late works such as the Roosevelt Memorial, which was posthumously completed in October 2012. Highlights of the exhibition include a four-metre-high model of the spectacular City Tower designed for Philadelphia, as well as previously unseen film footage shot by Nathaniel Kahn, Louis Khan's son, and director of the film 'My Architect.'