What if the opening days of the New Year are not good ones? What if they are the most difficult and tragic days for someone you love? Everyone knows that New Years are for resolutions, fresh starts and beginnings, but what if it is filled with an ending instead? Everyone else is gearing up for a "better year than the last" and you are hurting and sad. How do you go on for the rest of the year? What do you do?
My family is hurting and sad and we have been suffering since the start of the new year. Our 28-year-old son's beloved rescue, Rebel, a 5-year-old lab mix, became very ill on New Year's Eve and after being hospitalized for four days, passed away of acute liver failure. My son and he had forged a special bond -- they were best friends. We are sad for the loss of our beautiful grand puppy and for the loss of the relationship he had with our son, but most of all we are sad for our son who is hurting.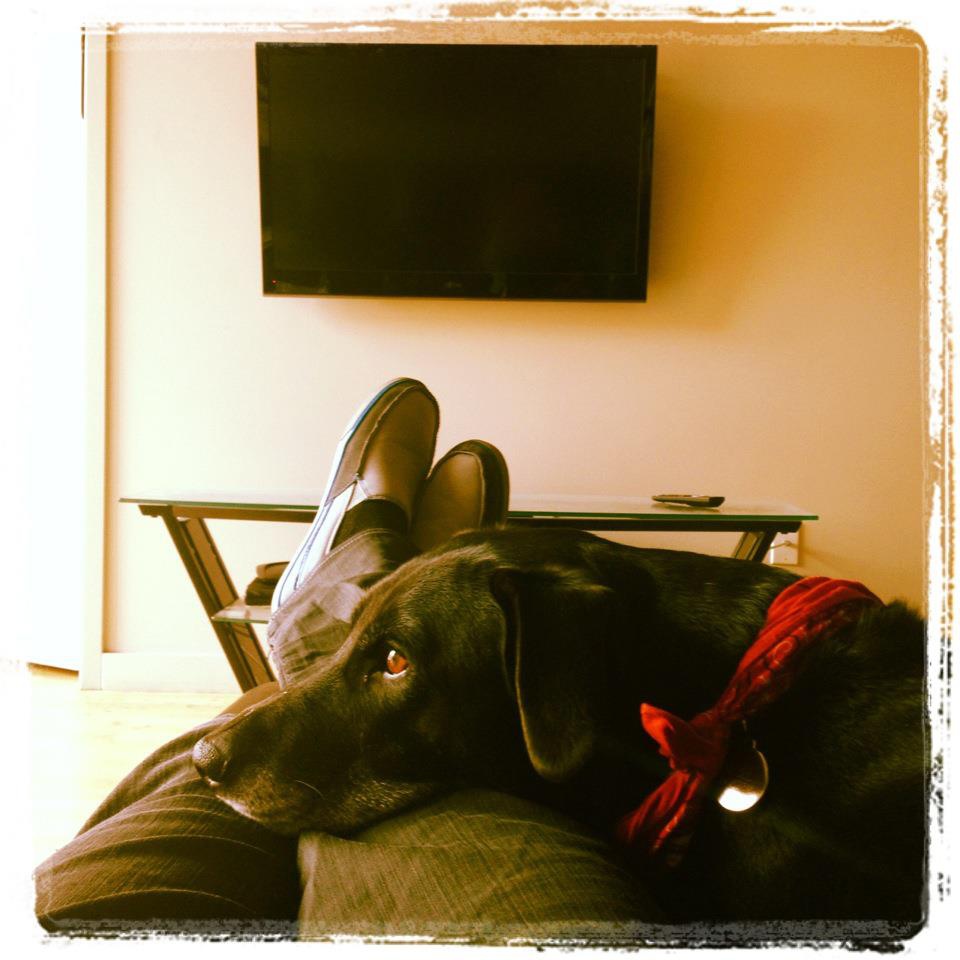 As a parent, it is very painful to see your child hurting. We would do anything to ease the pain, to shelter our children so they wouldn't have to feel the hurt and to assume their pain if we could. But we can't. In our case, we are also over 200 miles away from our son and so we can't wrap our arms around him, hug him and be close to him. We have let him know that we are here for him -- to listen, to talk and to drive over any time to be with him, if that is what he feels he needs. He is sad and he has just gone through the most difficult days of his life -- all in the New Year.
So what about the rest of the year when the first days of the New Year -- the time for new beginnings -- is not good? One way to look at it is that it has to get better -- nothing could be as terrible as what he has gone through.
When my son accepted a new position that required he relocate from San Francisco to San Diego he vowed to get a dog. He claimed I had always denied him a dog because we are cat people. He also wanted to "save a life," so he applied to the lab rescue organization and after rigorous vetting they paired him with a 2-year-old high-energy lab mix, whom he named Rebel. A rebel like himself!
At first, Rebel was the scourge of the dog park and even had to be asked to leave because he incited the other dogs. But he soon became a loving and beloved member of the Balboa Park dog pack, meeting up with other dogs for a romp, playing, sniffing and enjoying himself. He was beloved by everyone, canine and human, who passed him on his daily walks in the Gas Lamp district -- even the pot-bellied pig who walked a similar route was his friend. And he had the best Halloween costumes! This year he was a pirate and last year he was a jailbird. My son paraded him around the Gas Lamp district where they lived and he received admiring pets and "oohs and ahs" from everyone!
Well actually, the truth is that he was not beloved by everyone. When he and my son would come to visit us in LA, we tried introducing Rebel to our cats. He wanted to play and the cats would arch their backs and hiss. We learned it was best to keep them separated and so he roamed the house during the day, while they were locked in a room before exchanging places at night. The other people who didn't appreciate him were the workmen in my son's building. When they tried to enter the apartment to do repairs they were met by a "vicious dog." Well, that's what they texted to the building manager and consequently refused to do any work in the apartment without the owner present. Smart move! Rebel couldn't read the work order and so they were not getting in to his apartment. They made an appointment and came back when my son was home.
Rebel was a great jumper and leaped and danced around when my son returned from work each night. He was a kisser, a licker, a grunter, and had a wet nose. My son feigned anger when he returned from work and found black dog hairs on his new Posturepedic bed, but at bedtime they slept there together. My son loved everything about him and he adored my son. They were best friends, real buds.
For three wonderful years my son and Rebel shared a unique bond. Rebel taught my son about unconditional love and in return reaped tons of it from him. When you love intensely you also leave yourself open to great pain. Now all my son can feel is the hurt. One day he will feel love again. I promise.