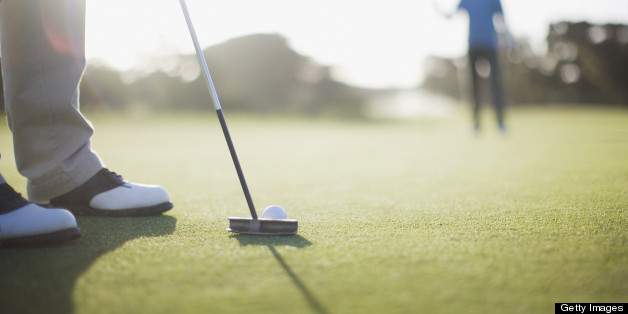 I am my husband's caretaker. I am also his wife of 37 years, but that has been overshadowed by his need for care and assistance. Since he suffered a stroke 2 and 2/3 years ago, I have been my husband's primary caretaker, advocating for him while he was in the hospital, supervising his rehabilitation, medication, activities, appointments, his food and his physical and mental health. He has made significant progress in relearning to walk, talk and function, but he still struggles with vision, speech and other physical and cognitive disabilities. He has new friends, new activities and therapies, and interests. What we don't have is the shared activities/sports we enjoyed prior to his stroke. So, when the opportunity presented itself to attend a golf clinic for stroke survivors and their caretakers, we signed up, hoping that this would turn into an activity we could learn together.
Last Monday was overcast and gloomy, but the spirit at Rancho Park golf course was just the opposite. It was a hive of positive activity, hope and expectation. It was a "Saving Strokes" event, a golf clinic for stroke survivors and their caretakers sponsored by UCLA and the American Stroke Association/American Heart Association. Along with other participants, we made our way from the parking area to the covered seating area. For most it was a slow, but determined march. Some people were assisted by caretakers, some had adaptive devices, others had canes, braces and there were still others who were able to walk unassisted and carried their own clubs. After we assembled in the designated area, a nurse circulated and took each person's blood pressure. The mood was calm but we could feel the vibes -- some nervous energy, some eagerness and even some reluctance. It was obvious that these were not your typical golfers.
My husband and I were very excited and a bit nervous, as we had never played golf before. Dan has definite physical disabilities as a result of his stroke -- his right side doesn't work well, his reaction time is delayed and he has double vision.
The goal of the day was to introduce golf to those who had never played before and to reacquaint players who had suffered a stroke and now had to deal with their disabilities. The positive attitude, encouragement and upbeat mood of the pros, health professionals and staff was evident and transferred to the participants. With some gentle but firm coaxing, even the reluctant stroke survivors realized that they could play.
We were divided into three groups -- the putters, chippers and drivers. There were about 7 people in each group, a mixture of survivors and caretakers. The respect and care given to the individuals in each group by the golf pros was touching. Dan and I started at the putting green. The pro began by explaining the psychology and technique of the putting shot, stressing that one had to concentrate on the ball, the shot and one's body. As he was trying to explain these fine points, several patrons entered the green and started to put. Although he reminded them that the area was closed and reserved for the clinic, they continued to put. A member of our group remarked that the people had not moved or perhaps had not heard him when he told them it was closed. He responded that they had heard him, but he was focusing his energy on us, as we were more important.
We rotated through each station and received a mini-lesson at each one. Happily, Dan was able to quickly master the various techniques and he succeeded at each station. I was not as talented, but my feeble attempts made the others look even better. We learned that golf strengthens one's body, increases flexibility and helps with balance -- all issues that stroke survivors struggle with.
In our case, the Saving Strokes event was special on many levels. It introduced us to an activity that Dan and I could experience, learn and share together. As I try to transition from caretaker to wife/partner/lover, I am excited about an activity that we can use to rebuild the spousal relationship. We look forward to learning this skill together, spending time enjoying it and growing together.
Secondly, it focused on the positive -- what we can do, not the obstacles in the way. Stroke survivors and their family members often dwell on what we can't do anymore. There's no denying that after a stroke life changes -- for all in the family. This program showed us that there is an activity that we can do and even more importantly, we can do it together as a couple. Yes, we can!!
Saving Strokes events are held at different locations throughout LA County. No experience is necessary-just a desire to learn. All equipment is provided-clubs, balls, instruction, and lunch.
Upcoming Saving Strokes events are scheduled in the following places:
Orange County - 05/15/2013 - Fullerton Golf Course
Pomona - 05/22/2013 - Mountain Meadow Golf Course
Pasadena - 5/31/2013 - Pasadena Brookside Golf Course
San Luis Obispo - 06/06/2013 - Laguna Lake Golf Course
Salt Lake City - 6/14/2013 - Nibley Park Golf Course
San Diego - 06/25/2013 - Riverwalk Golf Course
San Jose - 09/11/2013 - Los Lagos Golf Course
For more information contact: Jennifer.halldorson@heart.org