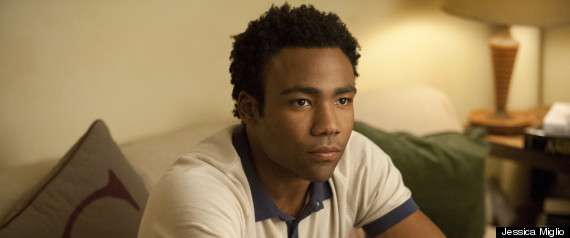 Donald Glover on "Girls."
When Pitchfork hit Childish Gambino in his goofy hairline and gave Camp a grisly 1.6 out of 10, he told the online publication and all his other critics "we gon' see." While his 2012 mixtape, Royalty, was a half step in the right direction, Donald Glover's latest track forecasts the same determined but ill-fated Gambino that his fans enjoyed and his critics tore apart on Camp.
From the production to the lyrical content, "Centipede" is just CG condensing repetitive themes into a six-minute track that he's found time to make; you've got to give it to him, he's a pretty busy dude. While I'd personally like to see Gambino take some risks and break out of the same lane (because otherwise his critics will always dismiss him), this track tells me that that probably won't happen.
If "Centipede" is anything more than Glover declaring his return to rap, it functions as a typical example of why a lot of critics just aren't down with D-O Double Bino.
Despite what he insists, Gambino's haters dislike him not because he "act too soft," is a sexually-frustrated black hipster, and may or may not be "the only black kid at a Sufjan concert." People who don't like him find him weak because he is just so predictably unwilling to do the uncomfortable. Given that he's taking time off Community to focus on rap and also drops bars like "Aimin' for the throne, Jay and Ye said to watch that/ They ask me what I'm doin', I say I'm stealin' rock back" or even "I know Donald Glover, he weak man, he campy/ I'm still knocked down, but I up the ante," CG is for sure after legitimacy in his rap career. But legitimizing your voice in rap requires artistic development and artistic development requires breaking out of your comfort zone (without complaining so damn much).
In "Centipede," he unsurprisingly reminds listeners that dismissive critics aren't going to stop him from getting validated in hip-hop: "I'm too fresh, man, y'all ain't never gave me that/ Stone Mountain, ain't no doubting, and these niggas won't hold me back" - an unmistakable shout out to Rick Ross (who, instead of complaining about the emotional toll he takes from being labeled as an unrelenting liar, just flips critical jabs into triumphs). There's no doubt that Gambino feels entitled to critical acclaim, but I'm skeptical that he'll ever achieve it if he just keeps saturating songs like "Centipede" with complaints about how his haters and his failed love-life make him feel helpless.
Whether it's with his girl or with his critics, Gambino always reminds us that he is more comfortable making friends than making enemies. If things get sour, you can most probably catch him at his grandmama's place searching for comfort and expecting your sympathy: "Grandma's couch, my biggest fear and fantasy/ When I ain't in her arms all I'm making is enemies" or "My girl ain't down to ride, couldn't deal with my day to day/ I'm at my Grandma's house, man, like I don't know what to say" or "High off of pressure, man, that's a stiletto/ Got your own couch now but you don't feel better." If haters won't hold him back, then why does he let his relationships or his insecurities about being disliked by others tie him up? Not that those aren't legitimate and relatable fears, but they're getting old and they're especially trivial if he's after this rap game with the hard-nosed determination that he's claimed since Culdesac ("Cause let's face it, if I wasn't working with Tina on pitches I would probably flood the market, and go Katrina, you bitches").
Nevertheless, diluting his lyrics with the same ol' story isn't insidious or destructive for Glover's rap career. He'll still have a secure fan base and his critics will probably just stop listening, if they haven't already. But for such a versatile entertainer whose whole persona is dependent on his professed ambition and how he won't stop until we say that "James Franco is the white Donald Glover," he's surprisingly lazy. Gambino can't claim he's ruthlessly determined if even his most dedicated fans can anticipate what will make him feel vulnerable and what will push him back to the comfort of his couch instead of forward.