On Sunday, countless people across the country will honor the women and mothers in their families. For many, however, Mother's Day will be a tragic reminder of the reckless and unjust nature of the Immigration and Customs Enforcement (ICE) enforcement programs like the so-called Secure Communities program that has been tearing families apart for the past two years.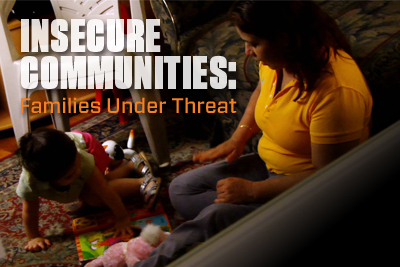 "Secure Communities" put state and local jurisdictions on the front lines of immigration enforcement. Under the program, whenever someone is arrested, even for minor offenses or when charges are dismissed, their fingerprints are automatically run through immigration databases. If there is a "hit" in the Department of Homeland Security immigration database -- which has been historically known for its unreliability and incomplete data -- the person may be detained and likely transferred to immigration detention centers to be ultimately deported by ICE. Many of the facilities that individuals are held in before deportation are located in remote locations across the country, far away from their families and loved ones and with limited access to lawyers and adequate medical care.
As of May 2011, Secure Communities has been implemented in 1,265 jurisdictions in 42 states. The program has been rolled out at breakneck speed despite widespread public outcry over its devastating effects on communities, many questions from law makers and reports that crime victims fear coming forward due to the program. Crime victims may have good reason to fear; consider the case of Maria Bolaño, the 28-year-old Maryland mother who called the police for protection during a potential domestic violence incident who instead was later arrested for allegations of selling phone cards, detained and entered into deportation proceedings.
Despite ICE's allegations that it is an information sharing program, Secure Communities serves as a dragnet to funnel immigrants into the shrouded and inhumane ICE detention and removal process. The program targets people of color, increases the likelihood of racial profiling and pretextual arrests and burdens local police departments with the enforcement of civil immigration law.
Hundreds of emails received over the course of Freedom of Information Act litigation around the controversial program have revealed that ICE misled local and state government officials about the ability to "opt-out" of Secure Communities, prompting Representative Zoe Lofgren (D-CA) to call for a federal investigation.
Representative Lofgren alleged that ICE has essentially lied about the ability to opt-out of the program to the public, Congress and local governments. She was joined in by New Jersey's Senator Robert Menendez, and just last Wednesday, Governor Patrick Quinn terminated the program's operation in Illinois, making Illinois the first state in the nation to withdraw from the so-called Secure Communities program, and two days later, the Illinois House of Representatives passed the Smart Enforcement Act to address Secure Communities' flaws.
Government officials aren't the only ones expressing major concerns about the so-called Secure Communities program. Law enforcement officials, like San Francisco Sheriff Michael Hennessey, are standing with advocates and communities nationwide talking candidly about the program's ramifications on police work and public safety.
To honor mothers across the country this Mother's Day, advocates released a short documentary titled "Insecure Communities: Families Under Threat" highlighting the devastating effects of Secure Communities and other ICE-police collaboration programs. The poignant, 12-minute film follows the stories of Djibril, Maria and Jose -- three individuals whose lives have been impacted by programs like Secure Communities and who live in fear of being taken from their children and families. Learn more about the film, "Insecure Communities: Families Under Threat" and share it with your community and loved ones on this important holiday.