Over the past 40 years, I've spent a lot of time on the wooden deck of a sailing canoe. The experience, which has brought our crew around the world to diverse and beautiful places, has been a wake up call like no other.
Forty years ago, the ability to navigate the world's oceans without instruments was nearly extinct in my home of Hawaiʻi. The rest of Hawaiian knowledge, culture and tradition was very close to being lost forever, too.
Together with a diverse group of individuals, we formed the Polynesian Voyaging Society, and found one of earth's last traditional navigators, Mau Piailug, living in Micronesia. Through him, the voyaging traditions that helped our ancestors find Hawaiʻi helped our generation discover our place in the world again.
Through these ancient wayfinding traditions, the ocean became our way to reconnect with and build a global family.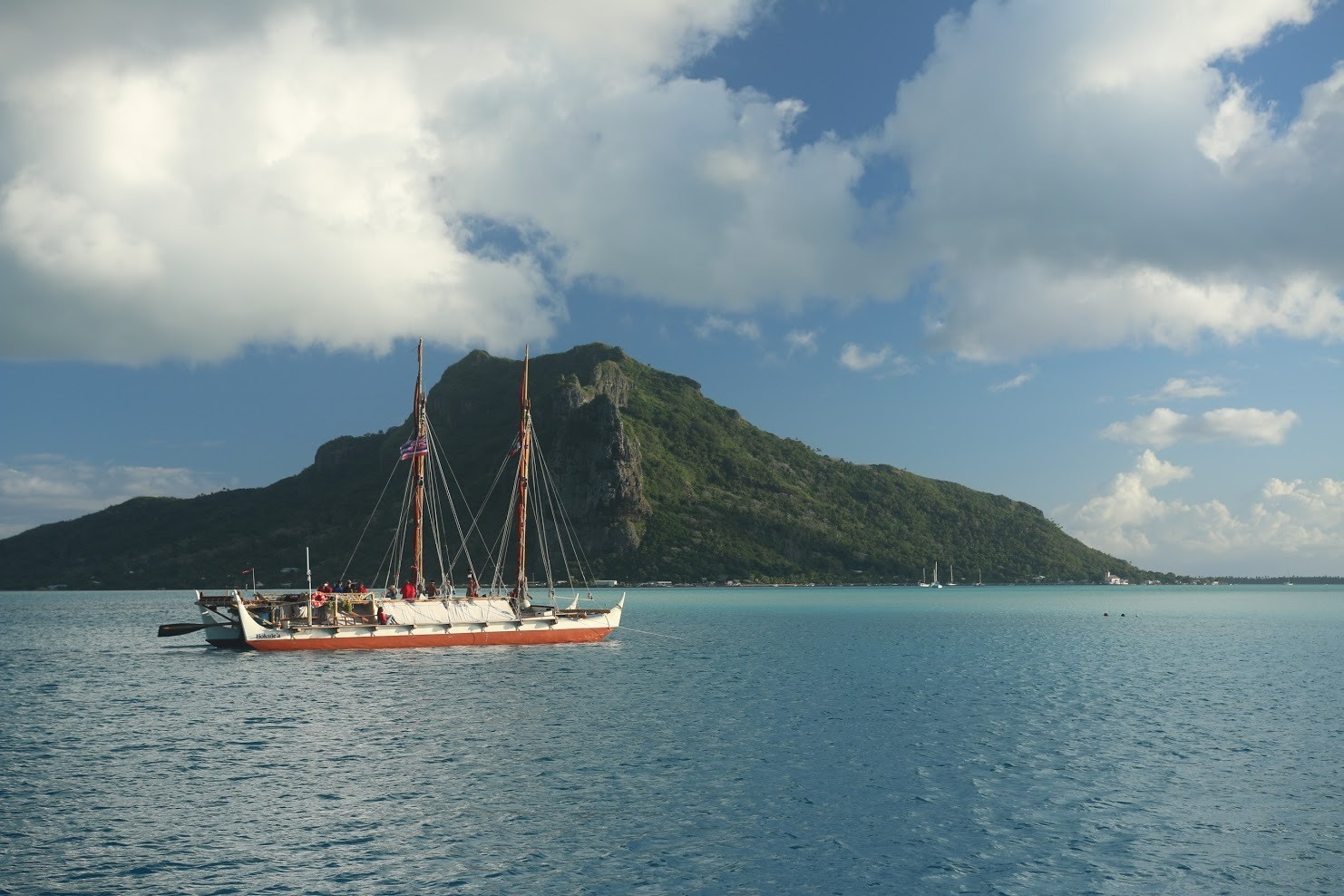 Over the decades, our voyaging canoe, the Hōkūleʻa, has sailed more than 150,000 nautical miles. As everything around us changed, and the life of the ocean and health of our planet began to diminish, we sought to reconnect with the elements and with each other.
The Hōkūleʻa's small crew is at sea for weeks at a time, completely open to the elements and navigating without any modern instruments. At sea, all we have is each other; water and food are limited and our lives depend on respecting each other and understanding the natural world.
The lessons learned at sea are invaluable to us as we try to navigate through Island Earth's many environmental crises.
The limits of our land and oceans are now clearer than ever before, and our generation has to steward our gifts very carefully. Taking our cues from nature is more relevant now than we could have ever imagined, and our current Mālama Honua Worldwide Voyage is taking the Hōkūleʻa around the world in order to find and share stories of hope for our oceans, earth, and communities.
We are exploring not just the ocean, but the edges of human grace, compassion, and courage.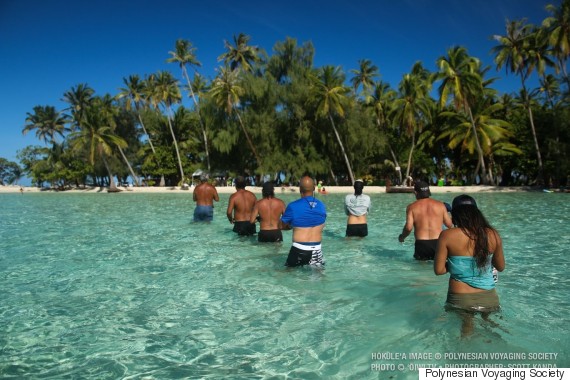 Part of our own story of hope is using this voyage to train a new generation of young leaders and navigators.
Technology has drowned them in an abundance of GPS-based directional cues; but do they know how to work together, how to protect the things they love, and how to include the natural world in every decision they make? That is at the heart of mālama honua, Hawaiian for caring for our Island Earth and each other. The idea of mālama honua includes pairing indigenous knowledge and values with new technologies to build the leaders our earth needs.
What we've discovered so far, after visiting 26 countries in the Pacific in 11 months, is that though the warming climate, ocean pollution, and declining resources is a depressing story, Pacific people have not responded with depression -- they have responded with courage, leadership, vision, and strength.
Every single community we have visited has responded with a strong sense of unity as Pacific Islanders. Everyone wants to talk about what we can do to protect our ocean.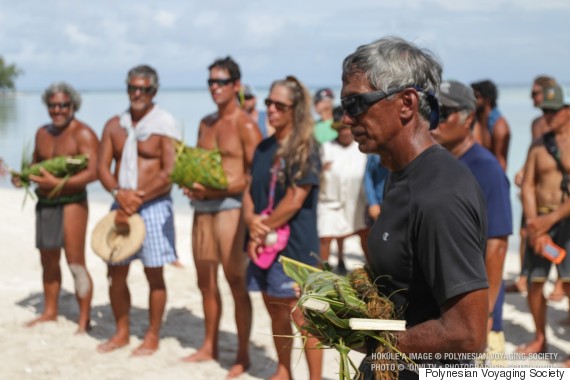 Though Pacific Island people have the least to do with causing global-environmental crises, they are recognizing the ocean and all of Island Earth is in trouble, and looking at how to take responsibility and make positive change through individual actions and governmental policies.
We are also returning to and restoring traditional, indigenous marine-management systems, with hopeful results. To help tell these stories to the rest of the world, our crew was entrusted with declarations from 20 different islands in the Pacific, each with specific goals around ocean management and protection.
Between now and World Oceans Day 2016, we will seek out mālama honua stories of hope in Bali, South Africa, Europe, South America, and the West and East Coasts of North America. On World Oceans Day next year, we will sail into New York, taking the declarations and the stories collected around the world to the United Nations Secretary General, a valued friend of the canoe and its mission.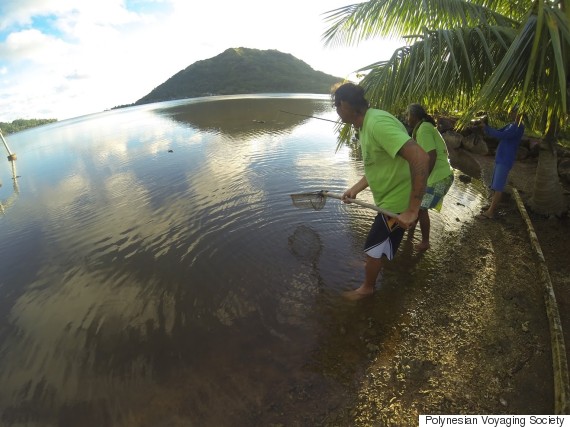 What is happening to climate, ecology, and the chemistry of the earth is happening to all of us, but there are stories out there of solutions, hope, and leadership. We are those stories, and as people around the world add their own voices, we are learning to define courage and exploration in new ways.
Even as the planet's health is declining, courage is found in simple every day decisions, like not using a plastic bag, conserving water, and growing food in a home garden.
In ways big and small, people everywhere are giving meaning to World Oceans Day by becoming navigators of their own lives, families, and communities.
Because of this, our voyage continues.
The Mālama Honua Worldwide Voyage sponsored by Hawaiian Airlines will cover over 60,000 nautical miles, 100 ports, and 27 countries through June 2017.  All photos and images © 2014 Polynesian Voyaging Society and ʻŌiwi TV Track our traditional voyaging canoes in real time at hokulea.com/track-the-voyage as we seek out stories of hope around the world, and join us live on June 14 for a look at the Great Barrier Reef at http://www.hokulea.com/livestream-reef. This voyage is only possible with contributions from supporters like you - please give today. 
This post is part of a series produced by The Huffington Post in partnership with Ocean Unite, an initiative to unite and activate powerful voices for ocean-conservation action. The series is being produced to coincide with World Oceans Day (June 8), as part of HuffPost's "What's Working" initiative, putting a spotlight on initiatives around the world that are solutions oriented. To read all the posts in the series, read here.