Americans have honored veterans on November 11th since the formal end of major hostilities in World War I on the eleventh hour of the eleventh day of the eleventh month of 1918, when the Armistice with Germany went into effect. In 1954, President Dwight D. Eisenhower signed a bill into law that expanded Armistice Day to celebrate all veterans who have served in the military, and officially changed the name to Veterans Day.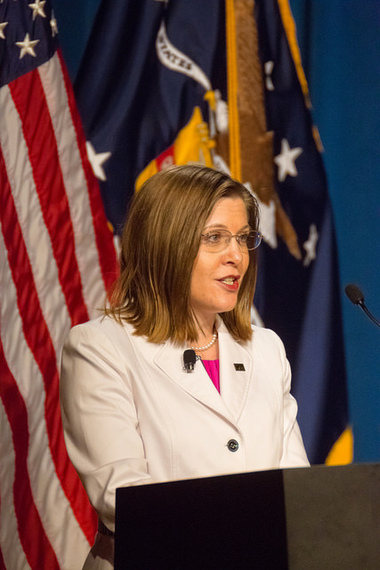 Since then, the community of all veterans has continuously grown more diverse, particularly in regard to gender. When the U.S. military shifted to an all-volunteer force in 1973, women represented just 2 percent of service members. Today, women (who have always been volunteers) comprise 15 percent of the active duty component and 18 percent of National Guard and Reserve forces.
Women veterans are more likely than their male counterparts to be of working age. While women make up 10 percent of the overall veteran population, 13 percent of veterans in the civilian labor force are women. Of those veterans who served after 9/11, 20 percent are women.
There is a mantra I often use to simplify what must happen to increase economic opportunities for American women veterans: As the proportion of women in the veteran population continues to grow, all efforts to expand economic opportunities for veterans must include consideration of the additional strengths and challenges of working women.
As more veterans leave the military and join the ranks of civilian working women, all efforts to expand economic opportunities for working women must include consideration of the additional strengths and challenges of veterans.
This year's annual Department of Labor Salute to Veterans had a specific focus on women veterans in non-traditional occupations like science, technology, engineering and mathematics. Women (veterans and non-veterans alike) continue to be underrepresented in these fields, which are projected to grow at faster rates than other job sectors and present significant economic opportunities.
During the panel discussion, veterans of both genders discussed how some women veterans have broken down the barriers associated with non-traditional career fields both in the military and in the civilian sector from their own perspectives as employees and employers.
To all my fellow veterans, my sincere gratitude for your service and sacrifice to our great nation. I hope you have an honored and memorable Veterans' Day.
To my sisters in military service, please join me in proclaiming our veteran status at every opportunity! Let's show the country what the community of all veterans really looks like and let's continue to break down gender barriers!