My 89 year-old father is a World War II combat veteran and member of the Sixth Marine Division. While raising his children and grandchildren, he sought to instill in us the principles of courage, duty, and integrity -- those values that defined his service.

When my father talks about the '40s and the period surrounding World War II, he explains that it was a time when democracy triumphed over tyranny -- an era when American pride, work ethic, and patriotism were at their finest.
As a teacher in an urban, multicultural school, I want to help my students connect with this history and find relevance in the literature they study. I also hope to teach my students what it means to look beyond self-interest by being brave, frugal and loyal.
A few years back, I found myself reflecting on the lessons my dad taught me -- and wondering if I could share this legacy with my students.
But how? My students are living more than 60 years after World War II. Many of them were born in other countries. To them, World War II is a chapter in a history book -- as far away as the Crusades.
Then I read about Honor Flight New England. Honor Flight is a nonprofit organization whose mission is to transport American's WWII veterans to Washington, D.C. to visit the memorials dedicated to honor their service and sacrifices. Honor Flight's goal is to help every single veteran in America (who is willing and able to get on a plane or bus) visit their memorial. And before veterans take off on their flight, Honor Flight asks thankful citizens to come out and greet these veterans to show their appreciation.
I knew this would be the perfect opportunity to bring history alive for my students and for them to do something truly meaningful.
Yet there was a catch. In order for students to greet the veterans, they would have to arrive at the airport by 6 a.m. on a Saturday -- a tough feat for kids this age. But I put the call out, and many students said they wanted to attend. We wrote and decorated signs. However, I still wasn't sure until that morning whether any of my students would actually show up.
Then the morning arrived -- and I was shocked at the number of students (and parents) who came to airport to show their respect to the WWII veterans on Honor Flight 5. We lined the corridor of Logan Airport's Southwest Terminal and waited as the vets, many in wheelchairs or walking with canes, made their way to their gate. My students cheered, thanked, and shook hands with the veterans, some of whom cried when they saw the reception they were given.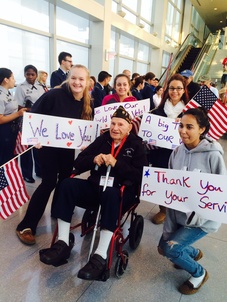 Every student at Logan Airport that day was profoundly affected by the experience. One student said, "I'm going home to look up more about World War II. I want to know more about this."
Another student, Hailey Norton, remarked, "The veterans inspired me to cherish what I have. They had the ability to smile and be so full of life after having gone through so much."
And Samantha Rosa, also a sophomore, said: "Living in a free country, I often take for granted what soldiers have fought for. Seeing the veterans that served made me think about how fortunate this whole country is for the individual liberties we receive every day!
My students had an amazing and meaningful experience that day as they showed their appreciation to the WWII veterans. They are now uniquely able to connect to this period in history for the rest of their lives.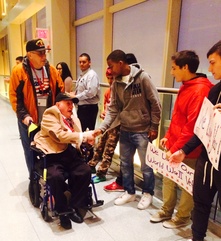 This Veterans Day, many of my students will be reflecting on that experience. I hope educators across this country will find a way to help students remember the sacrifices our veterans have made -- and to continue their legacy of honor, integrity, and respect for all.
Nancy Barile (@nancybarile), a National Board Certified Teacher, has taught English Language Arts at Revere High School in Revere, MA, for 20 years. She advises the Culture Club and Future Teachers Club and is an adjunct professor at Emmanuel College. A Center for Teaching Quality Collaboratory member and blogger, Nancy won The Kennedy Center/Stephen Sondheim Inspirational Teacher Award in 2013 and serves on the College Board New England Regional Council