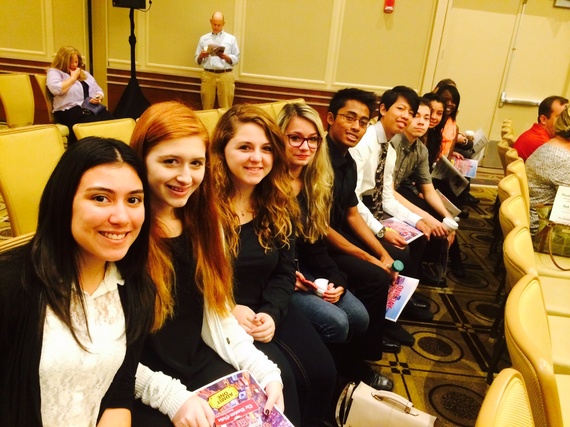 It all started with a newspaper clipping. One of my students brought in an advertisement for something called "One Day University"--and asked if we could go. For one day, some of the greatest professors in the world would gather to give talks on a variety of subjects including art, music, political science, psychology, and history. As a high school teacher, I couldn't think of a better way to introduce my students to college!
My students and I were hooked instantly--but how could I pull it off? Tickets to the event were $209. I teach in a high poverty school-- 80% of my students receive free or reduced lunch, meaning they live at or below the poverty level. They couldn't have afforded a minute of One Day University. But I knew I had to make it happen.
I've never been one to shy away from a challenge, especially when it comes to my students. So I quickly dashed off an email to the director of One Day University, Steven Schragis, explaining our situation. Mr. Schragis graciously invited us to ODU--completely free of charge! So on Sunday, September 21, 2014 at 8:15 in the morning, 1 of us set off to the chic Westin Hotel in Boston for a day of learning.
Deciding between sessions was extremely difficult because each course offering was so appealing. And while all the sessions we attended that day were extremely enlightening, my students and I both agreed two in particular were life changing.
The first was "The Science of Happiness," presented by Amherst College Psychology professor Catherine Sanderson. Professor Sanderson was named one of the country's top professors by the Princeton Review--and it was easy to see why. Her style of teaching was relaxed and informative-- and hysterically funny.
Sanderson examined the role money, I.Q., marriage, friends, weather, and religion play in making us feel happier. She also discussed what doesn't make us happy--and provided practical ways to increase our own psychological well-being. The information was extremely valuable for my students, who are often given conflicting messages about what constitutes happiness in today's world.
Next, Cornell Professor James Maas' "Everything you Must Know about Sleep (But Were Too Tired to Ask)" was eye-opening (excuse the bad pun). My sleep-deprived students and I listened attentively to Professor Maas explain how the lack of sleep causes reduced concentration, productivity, and quality of performance--as well as an increase in moodiness, stress, accidents, and illness.
Maas' stories of his work with NBA players and Olympic athletes were extremely compelling, and my students and I were so affected by this workshop that we went home and immediately bought his book. One of my students gave up caffeine, and several of us now set our alarms to go to sleep. We hoped to be better scholars and athletes as a result, with an increase in our daytime alertness, psychological mood, productivity, creativity, health and quality of life.
Attending One Day University was an invaluable experience for my students. It sparked an interest in subjects they never considered--and it introduced them to professors at colleges where several now will apply. Some of my younger students weren't even sure they wanted to go to college because they were so fearful of what to expect. Those students felt much more empowered after ODU, and they have started their college planning.
One of the aspects of the day that students enjoyed the most was being with a group of older learners. These experienced pupils welcomed their younger counterparts and often engaged my students in conversation. One of my students met and got her picture taken with a published author, who happened to be in the audience that day. It was a huge thrill for my students to be treated with such respect and interest.
Immaculate, a senior, said, "I loved being surrounded by such a large number scholars--lifelong students, really. One Day University reinforced the notion that education is indeed a progressive process. I felt unique being a high school student in a pool of older, and far more educated, students."
Another student, Vanessa, said, "The ODU sessions were truly inspiring. The lectures on sleep made me want to change my sleeping habits for a better and healthier life. I felt very lucky to be able to be with so many intelligent individuals and to become enlightened on so many different and important topics."
ODU returns to Boston in March. I'm hoping my students at Revere High will once again be able to attend. The opportunity for my low-income, urban school students to experience college while still in high school is inestimable. And I can already tell that witnessing what it truly means to be a lifelong learner will have a long-lasting and significant impact on my students.
Nancy Barile (@nancybarile), a National Board Certified Teacher, has taught English language arts at Revere High School in Revere, MA, for 20 years. She advises the Culture Club and Future Teachers Club and is an adjunct professor at Emmanuel College. A Center for Teaching Quality Collaboratory member and blogger, Nancy won The Kennedy Center/Stephen Sondheim Inspirational Teacher Award in 2013 and serves on the College Board New England Regional Council.