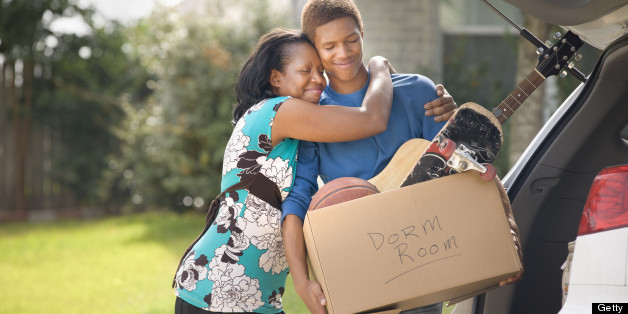 When the Princeton Review released its list of top party schools this week, parents of college-bound students began pumping up their lecture material on drug and alcohol use. While these safety conversations are critically important, there are also a few conversations most parents don't think to have until a problem emerges. Here are five topics you might want to explore with your child.
1. Cybersecurity
After the pepper spray and "don't walk alone" discussions, consider chatting about computer and personal identity protection. College campuses and dorms are ripe for identity theft because students often let their guard down. Of course, there aren't any parents living in the next room issuing reminders, but that's a whole different blog post. Discuss computer safety strategies and the importance of document shredding. Yes, you'll get a few eye rolls, but if you've been a victim of identity theft, you'll agree that it's worth it.
2. Neighbors
Hopefully, our kids head to campus with a backpack full of good manners, but it doesn't hurt to remind them that not everyone in their vicinity is an enthusiastic college student. Students who live in residential areas often need to be reminded that their lifestyles might clash with the family across the street. Being considerate, clean and a little quiet can go a long way in preserving the peace and the lease.
3. Bikes
I have to admit that I didn't see this one coming. When I learned that my sons were biking around New York City, I had a panic attack. We'd covered muggings and subway safety, but I hadn't talked about helmets since the days of training wheels. Yes, they knew about bike safety, but I wanted another shot at getting them to opt out of the behavior or hammering home the critical importance of helmets in preventing head injuries.
4. Academic Problems
We all want our kids to ace their courses, but sometimes it doesn't happen, and it's not always about studying more. Encourage your child to be academically proactive and to investigate study options and possible course transfer possibilities early in the semester. Keep the lines of curricular communication open so that you can guide your student toward a solution before the end of the grading period.
5. Emergencies
When saying "goodbye," no one wants to get all doomsday and dreary, but slipping in a serious chat can be a life saver down the road. Discuss with your child an evacuation plan should an emergency situation occur. Identify nearby contacts and transportation options. Examine hospital emergency room options and your medical insurance situation and make a note of options and preferences. And don't forget to include a flashlight, batteries and electronics charger in the back-to-school duffel bag.