Ten years ago this month, former President Bill Clinton emerged from a lifesaving quadruple bypass operation feeling like a new man.
With the blockages in his heart cleared, he of course came away healthier. And with his new status as a survivor of heart disease, he also came away eager to make a difference in the heart health of our nation.
I'm proud to say that the William J. Clinton Foundation sought guidance from my organization, the American Heart Association. We agreed that the area in need of the most attention at the time was the fight against childhood obesity. This led to the birth of a new group: the Alliance for a Healthier Generation.
The Alliance's signature campaign -- the Healthy Schools Program -- launched in 2006. It is now the nation's most extensive effort to prevent childhood obesity in schools, and is building healthier school environments for nearly 15 million students in more than 25,000 schools in every state and the District of Columbia and Puerto Rico.
Every fall, top schools are honored at an event that showcases just how much of a difference they're making. The Alliance's highest recognition is the Gold National Healthy Schools Award and, prior to this year, only six schools had earned it. Yet this year, we matched that total; that's right, a whopping six schools earned the gold in one year, a clear indication of the strides being taken around the country.
Those schools -- James Bowie Elementary of Dallas; Durfee Elementary of El Monte, California; Namaste Charter School of Chicago; Northeast Elementary Magnet of Danville, Illinois; Spout Springs School of Enrichment of Flowery Branch, Georgia; and West Side High in New York City -- were celebrated this past weekend during a two-day Leaders Summit in Washington, D.C. A total of 250 schools, from 30 states, were recognized for reaching various benchmarks in physical activity and healthy eating. This includes the first honoree from a Native American school -- Monument Valley High School, which is on a Navajo reservation in Arizona.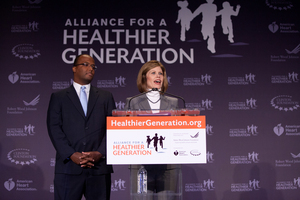 As a member of the Alliance's board of directors, I was honored to present an award on Saturday night. But the highlight of the weekend was a welcoming speech from President Clinton on Friday night.
President Clinton outlined many of the massive accomplishments thus far, such as the beverage industry agreeing to cut by 90 percent the calories in drinks shipped to schools, and groundbreaking commitments with powerhouse companies such as McDonald's and General Mills. He also mentioned a new program with Boys & Girls Clubs and the National Recreation and Parks Association, and a USDA-endorsed online tool, the Smart Snacks Calculator, designed to help schools determine whether specific foods comply with the new federal nutrition guidelines that could eventually be in 100,000 schools.
Here are other selected remarks from his stirring presentation.
"When I spoke here last year at this event, federal nutrition standards were just being implemented in schools. There were and remain a lot of skeptics out there -- people who said, and some still say, `Schools can't make these healthy changes. They will lose money. Kids won't eat the food' ... There's now a concerted effort among some members of Congress to roll back the nutrition standards. They're saying, `Why should we ensure that our kids have access to healthy foods during the school day. Why should we fuel our kids with more nutritious meals? Why should we support schools in their efforts to build healthier campuses?' Well the answer is: Our kids deserve the best start in life we can give them.

"There are reams of research that show that the practice of healthy habits, including a good diet and regular physical exercise improves not only learning in schools, but overall life outcomes. Healthy children will perform better academically, have better attendance, and have better focus both in and out of the classroom.

"Sadly, we all know that the reason you're here and the reason you're enthusiastic is that this battle is far from won. For all the schools we honor today, too many of our kids are growing up in unhealthy environments. They don't have access to healthy food and activity throughout their day. And that is having a very destructive impact on those who don't. Today about 1 in 3 of our children remain overweight. Studies show that these children are likely to become overweight and obese adults.

"Now the good news is, it looks like we might be leveling it off. ... People like you are manifesting the necessary commitment to start to educate kids, to educate their parents, and to follow through.

"The evidence is stronger than ever that with proper planning and support, manufactures can and will make and sell healthier foods, schools will offer it, and most important, kids will eat it.

"New research released today shows that the Alliance helped to influence manufacturers to develop healthier products for schools through agreements brokered back in 2011. Since then, total sales of healthier products to participating schools increased 71 percent in just two years. That means we helped to get millions of dollars' worth of unhealthy products - the trans fats, the processed foods - out of schools and away from our kids. ...

"The overwhelming number of schools who were winners and schools that are observing strictly the new standards have a lot of kids who come from low- and modest-income families, that qualify for the federal school lunch and school breakfast program. And that's another thing I'd like to say. That's a matter of leadership.

"I'm very proud that last year, the summer feeding program in my native state, Arkansas, that has one of the five lowest per capita incomes in the country, fed more people that were in the summer feeding programs in New York and California. So we can do this, together. ...

"Now, in the six schools represented on stage, more than 3,700 students are served each day, students who are growing up in a culture of health and wellness. They have better test scores, fewer dropouts and the foundation for long, productive, healthy lives.

"Every child in our country deserves the same. We have the responsibility - and the power - to make it happen. We can make it happen. You are making it happen. ... We have escaped - let's not put ourselves back in the trap. Let's keep going forward."