As part of my job, I'm frequently on the go, traveling all across the country. I love interacting with people from coast to coast and seeing which trends are taking over which areas.
Sadly, no matter where I go, there's one constant: Kids who are smoking.
Long after their parents and grandparents learned of the serious health risks of tobacco products, young adults, teens -- and, even more frighteningly, pre-teens -- are still lighting up.
The news isn't all bad. Statistics show there are fewer smokers than before. That may be why those who smoke stand out more. It makes me wonder: How did we miss reaching those who take up this filthy habit? Why can't we get them to quit, or, best of all, never start?
The Campaign for Tobacco-Free Kids is devoted to answering those questions. And, as a member of the organization's board of directors, I am proud to say we are making progress, advocating for clean-air laws, promoting cessation programs and protecting nonsmokers from the ills of secondhand smoke. I am also proud to say that the American Heart Association has been with the Campaign for Tobacco-Free Kids since its inception in 1996.
On Wednesday, the Campaign for Tobacco-Free Kids celebrates its top annual event, the wonderfully named Kick Butts Day. To tell you more about it, I eagerly turn this space over to the organization's president, Matthew L. Myers.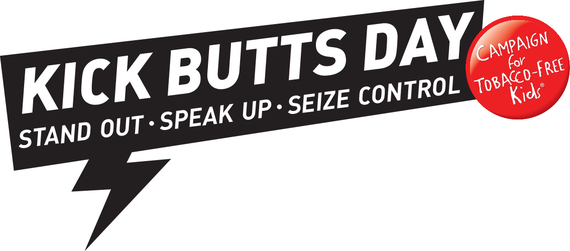 ---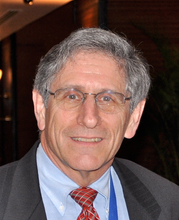 The latest Surgeon General's Report on tobacco, released in January, included one especially disturbing statistic: 5.6 million kids alive today in the United States will die prematurely from smoking-caused disease -- unless we act now to prevent it.
Tobacco's continuing threat to our children is no accident. It stems directly from the fact that tobacco companies spend $8.8 billion a year -- $1 million every hour -- to market their deadly and addictive products. The Surgeon General found conclusive evidence that tobacco marketing causes kids to start and continue smoking.
America's kids are the key to preventing the tobacco industry from getting its way. On March 19, kids in every state will celebrate the annual Kick Butts Day by standing up to the industry and rejecting its manipulative marketing. Elected officials at all levels of government must stand with them by supporting strong and effective measures that protect kids from tobacco addiction and save lives.
The need for bold action to fight tobacco use -- the nation's No. 1 cause of preventable death -- is more urgent than ever.
This year, the United States is marking the 50th anniversary of the first Surgeon General's Report on Smoking and Health. While we've cut smoking rates by more than half in the past 50 years, the latest Surgeon General's report found that cigarette smoking is even more hazardous than we thought. It causes even more diseases, kills even more people and costs us even more money.
Tobacco kills 480,000 Americans -- causing about one out of every five deaths in the U.S. -- and costs us more than $289 billion in health care bills and other economic losses each year. Tobacco use is first and foremost a pediatric epidemic -- 90 percent of adult smokers begin at or before age 18, and more than 3,000 kids try their first cigarette each day.
We cannot allow this epidemic of addiction, disease and death to continue. As Acting Surgeon General Boris Lushniak put it in releasing the latest report, "Enough is enough!"
That's why on the 50th anniversary of the first Surgeon General's report, the Campaign for Tobacco-Free Kids joined the American Heart Association and other leading public health and medical groups in launching a national campaign to achieve three goals:
Reduce smoking rates, currently at about 18 percent, to less than 10 percent within 10 years;
Protect all Americans form secondhand smoke within five years; and
Ultimately eliminate the death and disease caused by tobacco.
Achieving these goals will require leadership from all segments from our society. We're off to a great start this year. CVS Caremark recently announced that it would stop selling cigarettes and other tobacco products, setting a powerful example that should be followed by other drug stores and retailers. The federal government has launched unprecedented advertising campaigns to prevent kids from smoking and encourage smokers to quit.
It's critical that our elected leaders do their part. The deaths, diseases and costs caused by tobacco use are entirely preventable if we do what we know works to end the epidemic:
Significantly increase tobacco taxes
Enact comprehensive smoke-free air laws in every state
Conduct hard-hitting mass media campaigns
Fully fund state tobacco prevention and cessation programs
Provide tobacco users with access to treatments that can help them quit
Effectively implement the Food and Drug Administration's regulatory authority over all tobacco products, including graphic cigarette warning labels.
On Kick Butts Day, we challenge our nation's leaders to implement these solutions with a level of urgency and action that matches the enormous scope of the problem. We cannot claim victory until every child is tobacco-free and we have ended the tobacco epidemic for good. It must not take another 50 years.
Matthew L. Myers helped found Campaign for Tobacco-Free Kids, and has been its president since 2000. He participated in the 1996 negotiations that led to the first-ever settlement with a tobacco company and, at the request of the State Attorneys General and the White House, participated in the negotiations that led to the landmark settlement with the tobacco industry in 1997.