Research is the engine that propels science. Every mile we've gained in the treatment and prevention of all diseases comes from researchers discovering new way of doing things, or ways to do them better.
Research has come so far that we've learned something else about it. Like two highways overlapping to share the same stretch of asphalt, the road map to beating one disease often overlaps with others.
Outside the federal government, my organization -- the American Heart Association and the American Stroke Association -- is the top funder of cardiovascular research in the country. We've been encouraged by evidence showing that many of the steps that can help you stave off heart disease, the No. 1 killer of Americans, can also help you avoid stroke, the No. 5 killer.
As you can probably guess, some of those steps are not smoking, maintaining a healthy diet and regular exercise.
Here's some good news for non-smokers, healthy eaters and routine exercisers... and perhaps a call to action for those in need of incentive to join those clubs: Those steps also can keep you ahead in the race to avoid cognitive decline such as dementia and Alzheimer's.
The connection between preventing heart disease, stroke and Alzheimer's is fascinating, especially in light of the recently-released statistics of the top killers of Americans. Last week's column focused on stroke slipping to No. 5; well, Alzheimer's is No. 6. For further discussion about this devastating disease, I'll turn this space over to Harry Johns, the president and CEO of the Alzheimer's Association.
---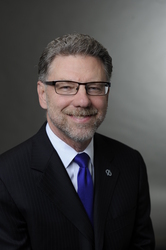 For several years, accumulating scientific evidence has been suggesting that what is good for the heart is good for the brain. Lifestyle factors that science has identified through many studies over time as beneficial for cardiovascular disease, diabetes and cancer, such as physical activity and a healthy diet have shown potential for improving cognitive function.
A new study presented at the Alzheimer's Association International Conference (AAIC) 2014 in Copenhagen provides some of the strongest evidence yet that cognitive health can be improved when those lifestyle factors are modified in combination with life-long learning, social engagement and the management of cardiovascular risk. That kind of scientific evidence on the potential to improve cognitive health is exciting. However, when it comes to Alzheimer's disease, the most common type of dementia, there are not such definitive answers.
We just don't have the scientific evidence.
Far too many people are doing everything right with their lifestyles and still develop Alzheimer's, officially the sixth-leading cause of death in the U.S. and, as a result of under-reporting, regrettably, likely even higher.
Alzheimer's is not normal aging, as too many still believe. But, like many other diseases, age is the biggest risk factor. With baby boomers entering the age of greatest risk, the Alzheimer's epidemic is poised to explode in the coming decades.
More than 5 million Americans are living with Alzheimer's disease, according to the Alzheimer's Association 2014 Alzheimer's Disease Facts and Figures report, and that number is set to triple in just over a generation.
While devastatingly common, Alzheimer's is still widely misunderstood.
Many people do not realize there is not yet a way to stop or even slow the progression of this fatal disease. The brain is extremely complex, and we need a better understanding of what makes it healthy -- and unhealthy -- if we hope to one day effectively treat and prevent Alzheimer's disease.
The only avenue to a better understanding of brain health and Alzheimer's disease is research.
We have seen from the impressive successes in heart disease, cancer and HIV/AIDS among others that investing in research yields life-altering treatments and prevention. The scientific community is in agreement that if given the right opportunities, the same successes could be seen in Alzheimer's research. With sufficient research we can reasonably hope -- no, expect -- to have our first Alzheimer's survivor. Without adequate research we will remain at the mercy of this disease.
Learning from the path of those before us, the Alzheimer's Association and its advocates worked tirelessly to secure the inclusion of the Alzheimer's Accountability Act in the Fiscal Year 2015 Omnibus Appropriations Bill that was signed into law last month. At the request of Congress, the Alzheimer's Accountability Act establishes a mechanism for connecting scientists directly with Congress to help them determine appropriate funding levels to be provided to succeed at the U.S. government's National Plan to Address Alzheimer's Disease and its specific objective to successfully treat and prevent Alzheimer's by 2025. We are now primed for the expert insight of the Alzheimer's scientific community to finally be heard in 2015.
Ending Alzheimer's disease is critical to the health of America. To learn more about Alzheimer's, other dementia, and how you can join us in the fight, visit alz.org.