The highest-ranking doctor in a hospital is known as the institution's Chief of Staff, and the highest-ranking doctor in our country goes by the title of Surgeon General.
In many organizations related to health care, the leading voice holds the position of Chief Medical Officer.
And in families everywhere, this lofty role carries another label: Mom.
With Mother's Day rapidly approaching, this is a wonderful time to recognize this sometimes-overlooked aspect of motherhood and to appreciate its crucial role.
Whether she is kissing a boo boo or covering it with a Power Rangers bandage, providing a pill to thwart a throbbing headache or simply offering a hug when the only thing wounded is a child's pride, Dr. Mom tends to know exactly what her patients need in every situation. (And she makes house calls!)
In honor of this theme, I'm turning this conversation over to someone who embodies every aspect of this role: Dr. Freda Lewis-Hall, a mother and grandmother who also happens to be the Chief Medical Officer for Pfizer.
Freda is an outstanding advocate in the cause of better health for people everywhere. You can often see her on CBS-syndicated TV shows such as "The Doctors" and "Dr. Phil," as well as on the website Get Healthy Stay Healthy. I'm honored to share her voice here, and I wish her and all moms everywhere a happy, healthy Mother's Day.
---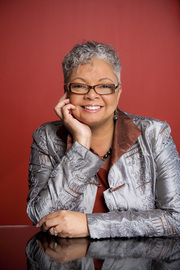 This Mother's Day is an especially meaningful one for me and for our daughter. She's a new mother -- her first child -- and I'm a new grandmother, my first grandchild. The prospect of spending a day being pampered by the men in our family already warms our hearts. The only person likely to have a better day than us is the newest addition to our family, our grandson. Besides not having to go back to work on Monday, he gets his choice of cuddlers for the day.
Mother's Day honors the role of women as nurturers and caregivers. It should also remind us of another undervalued but powerful role women typically have in society -- that of the family's Chief Medical Officer (CMO).
Around the world, women consistently make 80 percent of their families' health care decisions. These range from deciding if a child is well enough to go to school to researching and recommending thoracic surgeons for their extended families. The role of family CMO is expanding as health care systems become more complex and the greatest age wave in human history begins to crest. Women usually bear the heaviest burdens of the sandwich generation -- simultaneously caring for both children and elders, increasingly, under the same roof.
We will all face family health emergencies, and that's where CMOs shine. But we're also learning that the step-by-step, day-by-day behaviors we teach and model for our children can make a huge difference in their health outcomes. Helping our children make the right choices on food, salt and sugar intake, and exercise, and later, on tobacco, alcohol, drugs and sexual behavior have lifelong consequences, for our children and for the society around them. Caregivers have to execute their roles as Chief Medical Officer, but also, remember another "CMO" role -- Chief Motivator of Offspring. Success in this role can add both years to children's lives, and life to their years.
Like everything else about raising children, being the family CMO isn't easy.
Children are not likely to be happy with those who press them to forgo that soft drink, eat their veggies, and put down that remote. It's tough to stay the course when it comes to good habits, but in the long run, guiding children on a path to health and wellness will pay off for them, and for all of us in society.
For all the welcome knowledge we've gained in medicine, the simplest lessons are still the most important. Watching weight, avoiding risky behaviors, staying limber and active, even taking care of dental health -- all of these will make a difference for our children 50, 60, 70 and even 80 years down the road, as well as the generations behind them. It takes vision, but if we can guide our children to good habits now, the more prosperous, secure and optimistic their future is likely to be. Even modest cuts in mortality from readily preventable heart and metabolic diseases can add millions of quality years to the lives of our nation's children, along with trillions of dollars to their collective wealth.
So, yes, for my daughter, for me, and for many Americans charged with being the family CMO, Sunday means a welcome day off to enjoy the families we've all helped to build. I hope everyone who plays a caregiving role, whatever that role may be, is honored and appreciated this Mother's Day.
Come Monday, let us return to our roles, hopefully a bit more pampered, but certainly refreshed and aware. We can make a real difference in the healthy aging of those in our care, starting now, as both family Chief Medical Officer -- and Chief Motivator of Offspring.