Companies all over the country recognize that employees are their most valuable asset, and they know that healthy, happy employees are more engaged and more productive. That is why many organizations invest in programs designed to create an environment focused on the health and wellness of their staff.
Their intentions are great. But...
Do such programs really work?
Are enough employees taking advantage?
And if they are participating, are they getting results?
Simple, powerful questions like those became the driving force behind an exciting, ambitious new project known as the American Heart Association CEO Roundtable. The aim is enhancing the entire landscape of workplace wellness and, if all goes as planned, ultimately improving the health of all Americans.
First, we need to fully understand that workplace wellness landscape.
Successful companies are constantly studying what works and why, and the equally important notion of what doesn't work and why. That is, they do it with their core business, yet they rarely are so introspective about their efforts to improve and extend the lives of their employees.
About a year ago, two of our nation's most visionary leaders -- Terry Lundgren, chairman and CEO of Macy's, Inc., and Henry Kravis, co-CEO and co-chairman, KKR & Co. L.P. -- recognized that gap and came to me with a solution.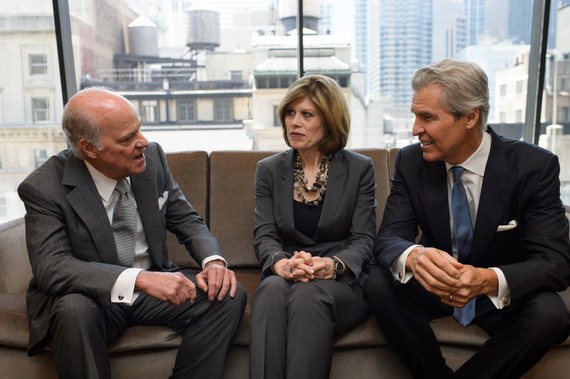 From left: Henry Kravis, Co-CEO and Co-Chair of KKR & Co. L.P.; American Heart Association CEO Nancy Brown; and Terry Lundgren, Chairman and CEO of Macy's, Inc.
They wanted to gather CEOs of other Fortune 100 companies and combine their resources and workplaces, all under the scientific guidance of the American Heart Association. Together, we would create a learning collaborative to not only come up with pilot programs, but also to measure and evaluate them, examining the return on the investment from all sorts of key measurables: participation and satisfaction by employees and families, improvements in health such as changes in blood pressure and blood sugar and, yes, cost.
A program that works in one organization will get tested in others. As those best practices get shared and fine-tuned, we'll have a better idea of what can work on a broader scale. That leads to my favorite part, the expansion beyond the 22 organizations already taking part.
The "playbook" that's being created will be available -- and practical -- for companies of all sizes. Similarly, we expect communities to be able to take advantage, too.
Imagine that: Your local rec center could one day offer the same proven formula for wellness as companies such as Macy's and KKR.
The potential is incredible.
The organizations involved have a combined 2 million employees in the United States; add spouses and children, and that figure could double, triple or soar even higher. Branch it out to our nation's entire workforce (roughly 150 million people) and their families, and then to the communities, and you can understand why I believe this is both exciting and ambitious.
Another lofty aim is improving the cardiovascular health of all Americans by 20 percent by the year 2020, which is a goal set by the American Heart Association. I'm proud to note that these CEOs are eyeing this same prize, and I'm equally proud that they've chosen several of our existing, proven tools to help them reach their goals.
A great example is the AHA's "Life Simple 7," which breaks down potential areas of improvement into easy-to-understand actions: get active, control cholesterol, eat better, manage blood pressure, maintain a healthy weight, control blood sugar and stop smoking (or don't start). Research shows that people who meet the criteria for three to four of these measures cut their risk of heart-related death by more than half.
Among the CEO Roundtable's first steps was having Nielsen, a CEO Roundtable member, survey 2,000 employees regarding their health. The answers illuminated a troubling juxtaposition:
74 percent considered themselves in very good or good health.
However, 42 percent were diagnosed with a chronic condition, including high cholesterol or high blood pressure, factors that greatly increase chances of heart disease and stroke.
This shows a fundamental disconnect between people's self-perception ("I'm pretty healthy"), and their actual state of health ("You have two of the major risk factors for heart disease, and should be paying attention").
Interestingly, this overestimation of health -- Americans thinking they're healthier than they really are -- is something we've seen before.
A few years ago, when we launched that 2020 goal, another study we conducted found that 39 percent of respondents believed they were in "ideal" cardiovascular health. In fact, less that 1 percent were. And, of those 39 percent who considered their heart health to be ideal, 54 percent said a health professional had told them they were at risk of heart disease and/or needed to make a lifestyle change to improve their heart health.
An encouraging aspect of the Nielsen survey is the finding that CEOs and senior leadership can have a significant impact on workplace health programs. Simply put, if management takes part in visible ways, employees are likely to follow.
Terry enjoys 5Ks and has even started a Macy's 5K. As part of his training, he gets off the elevator a few flights early and walks up the stairs the rest of the way. Colleagues seeing that simple step toward moving more can create a culture shift across his organization. Similarly, the personal fitness tips Terry provides in Macy's all-employee magazine resonate more because employees see him doing what he recommends.
Henry found a way to get almost everyone at KKR to participate in biometric screenings, a mini-physical of sorts in which trained professionals collect key information such as blood pressure, cholesterol, blood sugar and body mass index (BMI), a formula based on height and weight. KKR generated 99 percent participation with a formula of everyone knowing that Henry would be getting screened, holding the screenings at the office and offering an incentive.
A successful business is based on more than financial reports. It's about the people.
If leadership creates an environment where health is a priority, evidence shows other things are likely to fall in place -- important things, such as increases in job satisfaction, productivity and retention, as well as decreases in sick days and hopefully the anguish and expense of long-term medical care. It's a winning formula for everyone.
We know we are working toward solutions that will make a difference. We know we can build the culture of health in these organizations -- and in our communities.