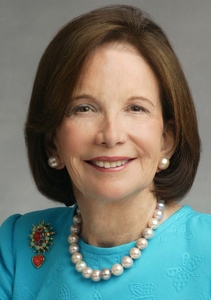 One day in 1998, Sally Soter was walking up a hill when she felt oddly out of breath.
Then came the ache in her side.
The symptoms hit just as she and her husband, Bill, were headed out of town. Fearing a problem with her appendix, Bill insisted that Sally get checked out right away.
She didn't understand why the doctor kept listening to her heart. She even suggested he pay more attention to her midsection.
"No," he said, "you are here because you have an extra heartbeat."
Her life has been different ever since.
And, thanks to her, so has the fight against heart disease in women.
***
Sally turned out to have atrial fibrillation, also known as AFib or AF.
Instead of a normal beating pattern, her heart's two small upper chambers (the atria) weren't beating properly. This is significant because of all the other problems that can come from an irregular heartbeat.
She tried controlling it with medicine. It helped, but not enough. She could feel her body going "in and out of rhythm." It was particularly bad at night, when she would lie in bed a certain way.
The infrequent episodes were one problem; the stress of knowing her condition wasn't under control was another obstacle. The combination affected the couple's lifestyle.
"It was always there, always on my mind," she said. "I didn't like that feeling. I wanted to conquer this."
The episodes were frequent enough that she underwent a minimally invasive procedure called an ablation. Radiofrequency waves are used to destroy the problems spots - the tiny areas in the heart that are sending the abnormal electrical impulses. She needed a second ablation to fully resolve it.
Prior to her ablations, Time magazine ran a cover story emphasizing that heart disease is the No. 1 killer of women. She read about the differences in symptoms, treatment and even research for men and women. It made her "rather feisty."
"That's when I thought I could make a difference," she said.
***
Philanthropy was instilled in Sally at a young age. Among her family's many incredibly generous gifts, her mother, Elizabeth M. Ross, made a donation to The Ohio State University so that its heart hospital is named for Sally's father, Richard M. Ross.
In 2005, Sally established an endowed chair in women's cardiovascular health at OSU.
Since 2011, that chair has been held by Dr. Martha Gulati, who was among the co-authors of the American Heart Association's most recent guidelines for prevention of heart disease in women.
Dr. Gulati also is very involved in Go Red For Women, the AHA's movement that teaches women about their risks of heart disease and how to reduce them.
At Dr. Gulati's encouragement, Sally became involved in Go Red, and very much liked what she saw.
No, check that. She didn't like what she saw. It disturbed her very much.
The statistics were dreadful. So were stories of women like Michelle Kellim.
***
In January 2011, Michelle was a 32-year-old mother of 3-year-old daughter, Brenna, and 9-month-old son, Ryder.
She'd long known she had a heart murmur, but it was under control. She kept herself in great shape, running several miles almost every day. So when an annual cardiology appointment ran long, making her youngsters quite restless, she thought it was a big waste of time. She ended up being told she had ventricular tachycardia, or VTAC, a type of rapid heartbeat.
She had an ablation a few months later. Shortly after, her family moved from Little Rock, Arkansas, to Palm Beach, Florida.
Three days after meeting her new cardiologist, Michelle's heart stopped in the middle of the night.
Her sleeping husband, Erik, somehow sensed something was wrong and woke up to check on her. He discovered bluish skin and eyes rolled back. He called 9-1-1 and started CPR.
When paramedics took over, she wasn't responding. They lowered her body temperature, putting her into what's called a hypothermic coma, in hopes of keeping her brain from swelling and preserving cognitive function. They hoped for the best, but warned Erik to expect the worst.
There was little reason to expect otherwise. Soon, her odds became even longer.
She spent nearly a week on a heart pump. Her heart function became so poor that other organs were failing. Her body swelled, adding about 100 pounds.
The only hope came from a tear that rolled down Michelle's face one day when Erik was talking about Brenna and Ryder. A nurse said she'd never seen that before from someone in a coma.
Michelle was taken to another hospital, where she was expected to get a heart transplant. Only, a funny thing happened: She started to improve.
She came out of the coma about three weeks later. There were many lingering problems, some quite limiting. But the most important things were that she was alive and that she had no brain damage.
"Since then, everything was good," Michelle said last week. "Until now."
Earlier this month, she was diagnosed with mitral valve prolapse, a condition in which the two valve flaps of the mitral valve do not form a perfect seal. It quickly worsened to the point where blood was leaking back out of that poorly sealed valve, requiring open-heart surgery last Thursday .
Doctors said the valve repair went great.
Days before the operation, Michelle lamented how hard her ordeal has been on her loved ones -- those who've been told repeatedly that she wouldn't make it, and who've made sure that she did. Speaking for them and for herself, she said, "You don't realize how strong you are. But when you don't have a choice, that's when all your strength comes out."
***
As a fellow Palm Beach resident, Sally knows Michelle's story, and is amazed by her recovery. She's never met her, though, and would like to.
Told of Michelle's recent setback, Sally became quite concerned. Yet it also reaffirmed her latest generous gift in the fight against heart disease in women.
Last week, we announced that Sally and Bill are donating $5 million to fund research in the prevention and treatment of this issue. The project will be called the Sarah Ross Soter Center for Women's Cardiovascular Research, and it will feature collaborations among several elite research institutions.
"There are so many more people that can be helped," she said. "I hope this gift does that."
Sally and Bill have become wonderful supporters of our organization, having also helped launch Teaching Gardens in Palm Beach. She also notes that at least three women who attended heart-health-oriented luncheons she's hosted ended up being diagnosed with heart problems.
"They wouldn't have gone to the cardiologist if not for the luncheon," she said. "My great wish is that all women -- all people, really -- pay attention to what the American Heart Association says about getting exercise, not smoking and eating right. We must get through to more people."