Three months before her wedding, Natalie Morales had all sorts of things to do to get ready. Something not on the list was deciding who would walk her down the aisle.
Then came the call from home. Her 51-year-old dad had a massive stroke.
One of Natalie's sisters was with him at the time. Luckily, she recognized all the classic symptoms -- face drooping, arm weakness, speech difficulty -- and called 9-1-1 right away. Because he received immediate care, he not only survived, he quickly entered the road to recovery.
Quickly enough, in fact, that he met his top goal: walking Natalie down the aisle.
Natalie's dad had high blood pressure for many years, yet hardly did anything about it. Ever since, the entire family has learned more about the warning signs for stroke and heart disease, and taken steps to lower their risks. Natalie, meanwhile, has played an even bigger role in the fight for a healthier America.
As the "Today" show news anchor and third hour co-anchor, she's long supported the annual National Wear Red Day. Her wardrobe and that day's broadcasts have spotlighted heart disease in women, such as the startling fact that heart disease claims the lives of more American women each year than all forms of cancer combined. On Tuesday, Natalie is taking on another role in the Go Red For Women movement.
She and I will co-host the American Heart Association's third Women in Media luncheon, an intimate gathering of some of the country's most respected journalists. We're looking forward to a meaningful dialogue about women and heart disease, such as the inequalities and gender disparities that exist in cardiovascular research, funding and clinical diagnoses.
I'm thrilled to share this space with her, too.
---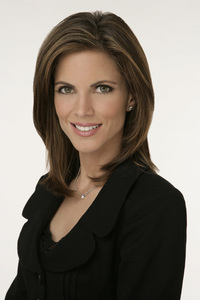 As February approaches each year, I know one of my favorite annual events is coming: the day all of us women in television wear red dresses on the air as a bold way to spread the word about heart disease and women.
Raising awareness is always fulfilling; raising awareness of the No. 1 killer of women is especially satisfying. That is why one day is not enough. As women in high-profile roles, we need to do better. We need to do more.
So when the American Heart Association asked me to co-host the Women in Media event, I was thrilled. Beyond having another reason to wear my favorite red dress, I'm excited to work with my peers to keep burning the passion we feel every February and to find meaningful ways to save and improve lives in our communities.
The truth is everyone is or will be impacted by this disease. Statistics show that either you will be a patient or someone you love will be. That is why everyone needs to know how to prevent heart disease, how to recognize the warning signs and what to do next should you or a loved one be diagnosed with it.
Heart disease does not discriminate. It is the No. 1 killer -- period -- of women, and of men, regardless of ethnicity. However, the statistics for Hispanic women like me are especially frightening: on average, we face heart disease 10 years earlier than Caucasian women.
Why? I believe it comes down to diet. In my house, holidays are spent with family, all of us indulging in rich Puerto Rican and Brazilian foods. These items are delicious, but they are also usually fried or coated in thick, rich sauces that are no friend of the waistline. And we know what hurts the waistline can hurt the heart. Also, in our culture (as in others), women are taught to put everyone else's needs and concerns ahead of our own. I fear this is largely the reason we may ignore those signs or symptoms that could be early warnings of heart disease. So the first steps toward making a difference are easy: Take charge and listen to your body. Go for regular checkups and screenings. Know your family history and look into any added risks based on your ethnicity.
A great second step is taking control of your lifestyle. For instance, I exercise for an hour most days and do my best to eat healthy meals. I follow a Mediterranean diet and try not to eat a lot of red meat. I also try to be positive and keep stress under control. This last point is important because, as the center of the family, we must take good care of ourselves to be able to care for others. I'm reminded of the instructions we often get from flight attendants, to first place the oxygen mask on you before then putting it on your child. (Otherwise who is going to do it for them? You're no good to them if you pass out.) This ties back perfectly to the challenge of heart disease. We must recognize that it is the No. 1 killer of women and we can't continue to treat it as a man's disease.

So think of this as a call to action for all women. We need to raise our voices as well as raise awareness. And we need to do it every month, not just in February.
Be an example not just in your home, but in your community, your neighborhood, in your kids' schools. Teach others how to live healthier, cleaner lives. We empower and embolden others by our own actions, so take charge.