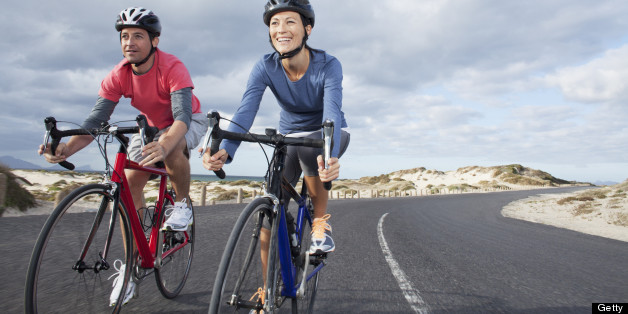 With a brutal winter behind us, spring is breaking out all over the country. Warm days are yielding to cool evenings. Sprigs of green grass are popping up, as are aromatic flowers of all colors.
Hopefully, you've already been lured back to your favorite outdoor activity -- say, a walk or bike ride around your neighborhood or a park. If not, today could be a great day for it.
Today also is a great day to chart a bigger embrace of this change of seasons. Because while taking a walk or a bike ride is nice, making it a part of your lifestyle is even better.
On April 2, my organization celebrated National Walking Day, a wonderful reminder of the importance of strolling your way to better health. Yet that event is meant to be a trigger, a day that highlights walking as a way to inspire a commitment that lasts for weeks, months and years.
As great as that sounds, I realize it's not always that easy. So I asked Gerald Jerome, Ph.D., associate professor in the Department of Kinesiology at Towson University and an American Heart Association volunteer, for some tips on using the change of seasons as a way to "spring into action."
Dr. Jerome offered up a step-by-step process that he calls the Four Rs. It's a smart way to set up a plan that could carry you into summer, fall... and, perhaps, well beyond.
"Let the excitement of spring get you going," he said. "Use great weather to go outside for 10 minutes. Then make a commitment and keep going outside every day."
Here is his plan, with added insight:
What's your reason?

Everyone needs motivation to get active. What it is can vary.

Many people adopt an active lifestyle because they feel better with regular exercise or they know it helps with a health problem (high blood pressure, or diabetes). Others are motivated to fit into a favorite pair of jeans or a new outfit. Then there are people who simply enjoy being outdoors, riding a bike or using exercise as a means for quality time with family and friends.

The fact you have read this far into this column indicates you have a reason, so write it down and remind yourself of the why. Look at it each day to remember why you are staying active.

You need a routine

You're ready to get moving. But, how?

Everybody has a busy schedule, so it's important to pick something you can do at a time you can do it. Saying you're going to squeeze it in usually doesn't work. Putting it on your calendar really helps.

If you are a morning person, consider whether you have -- or are willing to make --- time before work or school. If that's not a good fit, maybe something later in the day can serve as a great way of de-stressing.

Say you plan to attend classes at a gym on Mondays, Wednesdays and Fridays. The next step is building your day around it. That could mean signing up for a class during your lunch hour, or making sure all your appointments wrap up by 4 p.m.

You also need to figure out what kind of activity makes sense for you. This means doing what is practical and what your body can tolerate. (Consult your doctor if you're not sure.)

A walk after dinner can be an easy place to start, especially in the inviting spring season. The key is taking it from a pleasant way to spend one evening to making it part of your daily routine. This will go a long way to ensuring that it becomes an improvement in your lifestyle, and in your long-term health.

Set reasonable expectations!

The concept of "no pain, no gain" might work for some athlete, but it does not work as a lifelong approach.

Don't say you're going to run a half-marathon unless you have time to train for it. Signing up for a race can be an awesome challenge (a great reason), but without a realistic routine, hoofing it for 13.1 miles is not realistic.

What is reasonable if you are just getting started? If today's workout is so strenuous can cannot repeat it tomorrow, try a more moderate intensity. Maybe it's as simple as a brisk walk for 20 minutes, or adding 1,000 steps to your day.

Keep a log and monitor your progress. Marking down five days in a row of workouts can be very satisfying. Success should not be measured by how hard you pushed yourself in a single workout, but rather how many days were you active.

If your goal is unrealistic to start with, it is easy to get frustrated and give up. By keeping it realistic, you have a better chance of sustained success.

Renew your commitment

Just like spring comes around and awakens our senses, every so often we must take a fresh look at the other Rs.

Do you have a different reason for being active? Is your routine still what fits best in your life? What about those expectations -- should you bump them up?

Maybe it's time to start using a new fitness app or electronic tracker. Seeing daily feedback can be a great way to renew your motivation.

Add to your list of reasons why you exercise. Keep an actual list or journal. If you just had a good walk or run, write a sentence to yourself as a reminder and motivator. Try keeping a photo journal of the beautiful scenery you see on you walks or hikes. The more you add to the "why" collection, the easier it will be to kindle your desire on days when motivation might be running low.

As you recommit, remember your boundaries. Make choices designed to keep physical activity a constant in your life.
Let's be honest. Most people know there are mental and physical benefits to increasing their activity level. The hard part is getting started, or remaining with a program. The four Rs can provide the structure needed for you or a loved one.
If you're doing nothing, do something. If you're doing something, try doing a little more.
Spring has sprung. By summer, a new you could be in full bloom.