In 1763, during the siege of Fort Dix by the Delaware, Mingo, and Shawnee nations, American colonists bestowed a parting gift of two winter blankets and one handkerchief on the Delaware's diplomatic delegation. Small-pox infected blankets and handkerchief. The Bush men, elder and Shrub, seem to have a similar sense of how to manage uncomfortable political moments.
America's democracy stands or falls on peaceful transitions of power. We can all be proud of our nation that, after the vitriol of the last eight years and a brutal presidential campaign, President Bush is cooperating in the transfer of power. We should expect no less. It is, however, worth remembering that it is on such transitions that democratic government in world history has often foundered.
But 77 days is plenty of time to loot the mint and wreck the house.
After the 1992 election and before Bill Clinton's inauguration, the Bush I administration sent American troops to Somalia and revised its budget deficit projections upward by a third--some $60 billion. When mutilated American soldiers were dragged through the streets of Mogadishu, President Bill Clinton, not George H. W. Bush, was held responsible. Compelled to clean up the fiscal mess bequeathed to the nation by 12 years of trickle-down economics, Clinton had to shelve his promise of middle-class tax relief, public investment, and a $60 billion educational program.
Different judgments about the intentions of Bush senior in the transition period can be reached. In the sequel, however, it is becoming ever clearer that Bush junior is devoting his last days in power to a final orgy of cronyism.
A 34-year old Texan named Jeb, who worked for Karl Rove in the White House, is in charge of the Treasury's disbursal of the first $350 billion of the bailout package. He's been shoveling out the bailout money to a legion of lobbyists and there's hardly any left, according to a report by the New York Times' Mark Landler and David D. Kirkpatrick Now Jeb might be a stand-up guy who has only the nation's best interests in mind as the lobbyists pound down his door. But what about this picture, given the last eight years, gives you that confidence?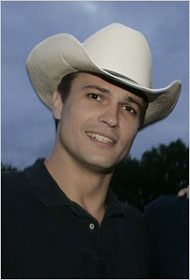 The Washington Post's Amit R. Paley reports, in "A Quiet Windfall for Banks (November 10)," that the Treasury changed an obscure provision of the tax code while Congress was occupied with the bailout bill. (WP registration required) Even more alarming is the stealth ploy by Henry Paulson's subordinates at the Treasury Department. The result? An early holiday gift of $140 billion in tax breaks to America's banks for the public service of gobbling each other up, to be paid in full by the American taxpayer.
This article should be required reading for everyone still celebrating and catching up on their errands after months of obsessive-compulsive election watching. Here are some of the most important revelations:
The financial world was fixated on Capitol Hill as Congress battled over the Bush administration's request for a $700 billion bailout of the banking industry. In the midst of this late-September drama, the Treasury Department issued a five-sentence notice that attracted almost no public attention.

But corporate tax lawyers quickly realized the enormous implications of the document: Administration officials had just given American banks a windfall of as much as $140 billion.

The sweeping change to two decades of tax policy escaped the notice of lawmakers for several days, as they remained consumed with the controversial bailout bill.
....

The change to Section 382 of the tax code -- a provision that limited a kind of tax shelter arising in corporate mergers -- came after a two-decade effort by conservative economists and Republican administration officials to eliminate or overhaul the law, which is so little-known that even influential tax experts sometimes draw a blank at its mention. Until the financial meltdown, its opponents thought it would be nearly impossible to revamp the section because this would look like a corporate giveaway, according to lobbyists.
Subtract that from the revenues the government will have available when President Obama takes office. Or just pencil out that campaign promise of a $150 billion clean energy investment and the 50 million green collar jobs it was designed to create.
The reports of such last-minute attempts to institutionalize Bush's conservative economics and tie President Barack Obama's hands are multiplying. Kudos to the many MSM investigative journalists who are breaking these stories. But what about us, the legions of Obama supporters and activists? Where's the outrage? Here's a modest suggestion. Call your representative (phone numbers here) and your senators (phone numbers here) and tell them to do all in their power to rescind the illegal change to Section 382. Let them know that you are watching as the bailout money is paid out and that you will hold them acountable for any give-aways that occur on their watch.