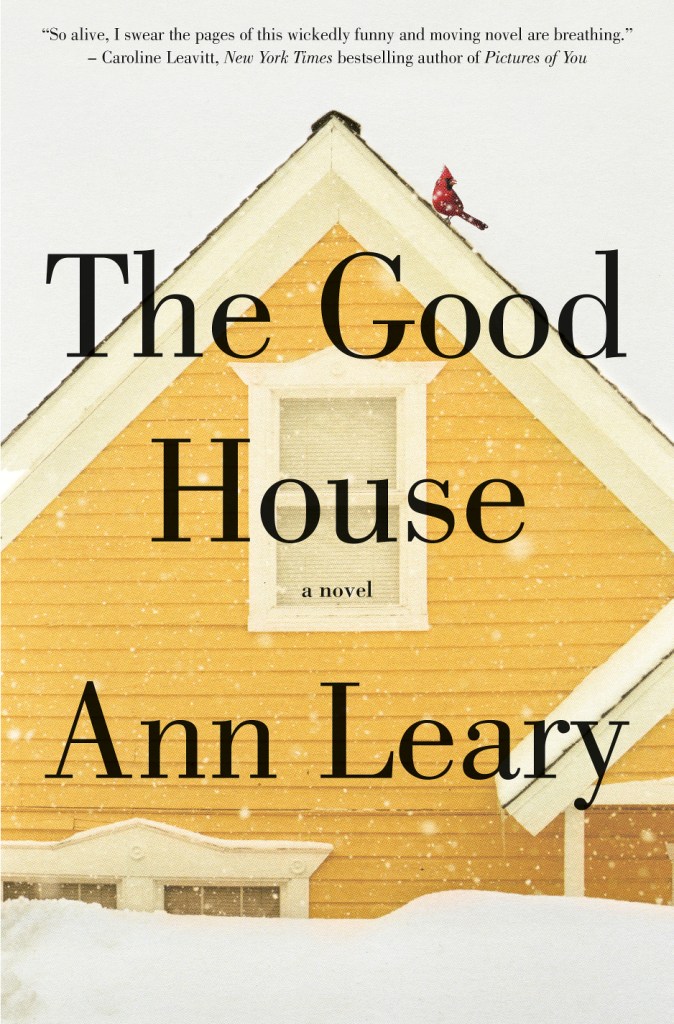 Ann Leary's latest novel The Good House will have you reaching for a big glass of wine then pausing before that perfect first sip -- both a paean to drinking and a cautionary tale told with a fresh, yes, gimlet eye.
And so much more -- The Good House extols small-town life in a coastal New England town, the deep pull of the company of horses and dogs, the snooping thrill of real estate, a hint of witchcraft and the threat of scandal involving a psychiatrist and his patient. A sophisticated turn on guilty-pleasure reading that is so well-written it won't make you feel guilty after all, except maybe about reaching for that third glass of pinot noir.
This is Leary's third book; her first, An Innocent, a Broad, told the real story of the premature birth of her first son, with her husband, the actor, standup comic and writer Denis Leary, while on vacation in London. Her second, Outtakes From a Marriage, is the fictional but dead-on story of a stay-at-home wife's discovery of her successful TV actor husband's infidelity.

The Leary marriage seems to be one of those pairings of identical twins -- both are lean, mean and gorgeous with an old-world penchant for family, love and story-telling in the most Boston Irish of ways. Ann is a mother of two, a horse person of the first degree, an accomplished blogger, and trained EMT in the small Connecticut town where she and Denis live on a property that includes, of course, a regulation ice hockey rink.
This time, while Leary keeps her own story under wraps she once again delivers a sharply honest narrative. Because even though the voice of this book is a 60-plus, flinty overweight real estate agent who fellow townspeople think may be a witch and also just got out of rehab, Ann Leary's own sensibility and story echoes throughout.
Hildy Good of Wendover, Mass. (which bears close resemblance to Leary's own hometown of Marblehead), suspects one of her new clients, a beautiful young wife and mother whose wealthy husband has bought one of the finest homes in town is having an affair with a local psychiatrist whom Hildy has known since childhood. Hildy is also trying to score a contract on the biggest house in town and while helping a local family with their severely developmentally disabled son she reacquaints herself with her first love, now the local garbage guy and Mr. Fix-it.
And she's slowly but surely falling way off the wagon and is drinking alone all night. It's these passages that detail both the euphoria of becoming that better boozy version of yourself along with the stabbing remorse of a Class A hangover the next morning that find their way into the best takeaway of this Good Read.
I recently interviewed Leary about The Good House and her own recovery and how she ended up with a book she didn't quite intend to write.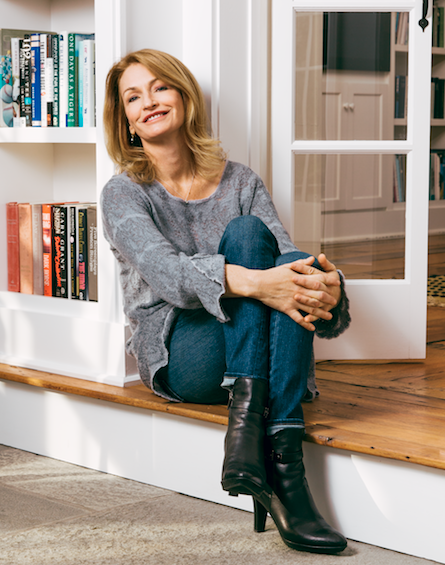 I love the personality of a small New England town so I wanted that to be the setting. I've learned in my own community that there are people with a kind of strength and even sort of a shy nobility to them even though they may not be important in the way the world sees them. And then I knew I wanted to write a love story. That inspiration came from an article I had read about a shrink who had a love affair with a patient and then tried to kill himself when she threatened to reveal the affair because it was against the law.
Talk about your choice of narrator as an older alcoholic realtor who may be a bit of a witch?
I began by writing in the third person and developing these characters and one was this Hildy character, who at first was just the realtor showing the house to the protagonist, Rebecca. That was the character that I knew best -- one of these New England types where I knew exactly what she would say next so I thought what if she's the narrator?
And I made her older because I wanted her to have some kind of wisdom that comes with age, the kind of wisdom that I think that I am starting to have, that I know I admire. And then there is always someone in a small town who is a little bit off, who has this sensibility with animals more than people, so the whole theme of the witch came to me as well.
Talk more about these elements of witchcraft and real estate.
As all writers do I spend a lot of time on the Internet to get distracted and I came across this guy Derren Brown in the U.K. who basically explains ESP, other tricks, magic, mind-reading -- and I was fascinated. He literally explains every trick and exposes all these charlatans who just use these techniques. Hildy has very strong intuition plus knows some of these tricks.
And I also go online whenever I'm stressed out to look at real estate -- it's sort of like porn to me, you know, a quick little house tour in Wyoming, anything like that. Once a good friend of mine up in Connecticut became a broker and was hired by a local real estate firm. There were these houses that were on the market that I loved, not that I wanted to actually live there but I just wanted to see inside... so she took me to one. Then she went in for a meeting at her office and her boss said, "Is Ann Leary really looking for a house?" and my friend said, "I don't think so" and he said you maybe should stop showing her people's houses, and added, "I know the type!"
Once we were once considering buying a house that was really a wreck, I took a contractor friend in to get an idea of what we'd have to do to fix it up and even though the owners were gone and had moved most of their stuff out this contractor said, "oh, they're alcoholics." I asked how he knew and he said I've been doing this for 30 years and I can tell you so much about the owners just by the state of the house. He'd noticed all the empties they had stashed that I hadn't noticed, and he saw all the marks on the counters where they'd left their cigarettes.
So all this went into the book as well, this idea that if you know what you're looking for a house can tell you a lot about a person. That's Hildy, that intuitiveness.
This story is also about Hildy's alcoholism. As the book begins she's just come out of a stint in rehab after an intervention by her family.
I'm in recovery. I drank when I was much younger, then stopped for about 14 years then tried it again for a few years and stopped altogether.
I also know a lot of women in recovery and I've met a few of them who went through interventions and felt like they didn't have a problem. That brought me back to this witch concept -- being persecuted for being different. Hildy felt the whole thing was an intrusion and that they should have minded their own business. That they attacked her and she doesn't think she has a problem at all. Everybody has somebody in their life who has a problem with alcohol, and some people can't stop. I'm not a recovery fanatic.
As Hildy starts sneaking drinks again, you write about the pleasure of that with great detail.
I love to drink! And she does, too. I wanted to get this really intuitive woman who knows a lot about people in her town and is constantly telling the reader about herself but she doesn't really know herself. That was my challenge in writing this -- how to get the reader to see that she's telling me this but she's actually doing that... which is really what it's like if you've ever been in a relationship with an alcoholic -- they way they see themselves and the way the world sees them are very different. I wanted to underscore that -- have her be a person you like and trust and then have her be another person when she's drinking and not herself.
She has to keep telling herself she's okay and wasn't in a full blackout, which was a part of my own drinking, I was a blackout drinker -- I drank for about four or five years like that. I would go out and have a couple of glasses of wine and then I would go home and put away another bottle by myself -- I didn't tell anybody, no one knew -- and I really liked drinking by myself.
For me it was a switch that would flip and then you don't stop. I'd meet someone who had seen me after I'd been at one party and then I'd find out I'd gone to another party I wasn't aware of -- I actually didn't know I was drunk -- that's how I drank . And I started lying about my drinking immediately -- and I wondered who is this automatic pilot person who takes over? Who's in charge that I can't remember that -- I really wanted to show that.
You bring two fresh ideas to alcoholism -- one is that maybe interventions don't really work and the other is that drinking isn't that easy to give up because it's so great.
There's a Thanksgiving scene that was really fun to write that reveals what drinking did for Hildy. When she's drinking she's really nice -- she came in there hating everybody and then she sneaks a few drinks and suddenly she loves them . And that is what alcoholics do -- the intensity of her hate for them and then she really loved them... drinking didn't just soften her, she had a total personality change.
And even though she didn't get that drunk when she's driving home she's saying to herself, you know, it's actually better for everybody if I do drink.
This book is also like a love letter to both drinking and recovery.
I loved writing those parts! My editor told me when she went to a meeting with the other editors after they had read it she said, "I drank a bottle of wine when I read it," and another one said, "I drank a bottle of wine when I read it" ... and one said "I am still hungover from reading this book!" -- she basically reported to me that everyone got so drunk reading this book!
And I thought, great, I love to hear that!