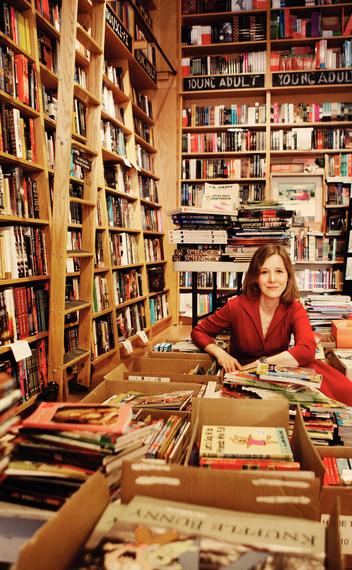 If Ann Patchett were a singer she would be an alto. Sopranos carry the melody but altos bring a direct clarity and depth to the music that resonates.
So does This Is the Story of a Happy Marriage, Patchett's new book that is a collection of non-fiction pieces she has published in her 20+ year career as one of America's premier writers.
While best known as an astonishingly imaginative writer of fiction (Bel Canto, State of Wonder) Patchett has a longer and perhaps deeper legacy in non-fiction including magazine articles that began with Seventeen, extended to The Atlantic Monthly, The Washington Post Magazine, Granta and others, as well as the remarkable Truth & Beauty: A Friendship, an account of her friendship with the late poet Lucy Grealy -- a complete keeper in the annals of books about original lives and the art of writing.
Patchett has carefully selected pieces that not only capture whatever story she wanted to relate at the time but also in toto present an evolution of both a writer and a person of significant complexity and depth.
Plus she has things to tell us. There is a 'how-to' quality to this collection, a compilation of 'what I've learned' that this seasoned writer and even more seasoned person wants to share. A full reading tells us what it's like to qualify to be a Los Angeles Police officer, drive a Winnebago, weather a painful divorce, care for an aging relative, care for an aging dog, hide out in the Bel Air Hotel, start a book store, love a nun. And the lessons of the title piece -- why you marry someone you said you wouldn't.
Most important, Ann Patchett gives a tutorial on both what it's like and what it takes to be a writer.
She shares her own struggles, triumphs, and lessons learned. How she waited tables at a TGI Fridays while making up Bel Canto in her head. How a Christmas story about giving away colored pencils to a poor gypsy girl rescued her from the Christmas reality of fractured step-families. How she confronted censorship of her own book with an address to students at Clemson University -- a speech that required a body guard.
And what she learned from teacher Grace Paley that informed her literary career:
...Writing must not be compartmentalized. You don't step out of the stream of your life to do your work. Work was the life, and who you were as a mother, teacher, friend, citizen activist and artist was all the same person. People like to ask me if writing can be taught and I say yes. I can teach you how to write a better sentence, how to write dialogue, maybe even how to construct a plot. But I can't teach you how to have something to say.
Ann Patchett most definitely has something to say, in her fully realized and beautiful voice.
I recently interviewed Patchett about her new book:
Nancy Doyle Palmer: At the start of the book you make a clear distinction between your fiction and non-fiction writing -- "the things I make up and the things that have happened" Is it reasonable to say that this collection of essays tells your true story? The autobiography as essay?
Ann Patchett: Well, it tells as much of my true story as I wanted to tell. We all tell each other stories from our lives, and those stories have very little to do with what our lives have meant and what we've done with them. We curate our experience, shape different parts through repeated telling over time. I took a trip with a friend recently and because of the conversation we were having I wound up talking about some things that happened a long time ago, things I hadn't thought about in over twenty years. It was as if they were stories that had fallen out of rotation along the way, and no doubt the reason they fell out of rotation is because they didn't reflect well on me. So even though all the stories I tell in Happy Marriage are true, the sum total is definitely less than the truth. I wanted to give the book a novel's shape. I wanted to make it engaging.

NDP: Along those lines - while it's clear you are a deeply private person who cherishes solitude you also have a very public life as a best-selling author and now book store co-owner. These essays reveal even more about your family life and your personal history. While there is clearly a great deal of control in what you publish about yourself and your public persona do you ever wish you were J.D. Salinger and could just hide and write and not deal with the consequences of sharing?
AP: I don't think J.D. Salinger beat the system. I think he created a life in which he was more hunted and hassled than he would have been if he had lived like other authors. The question I've asked myself is if I could do it all again and no one had any idea I was this writer -- no one -- would I do it? If I could have the life of a comic book hero and be Bruce Wayne or Peter Parker, and then go upstairs and write at night without anyone knowing and without getting any of the glory or the irritation, would I do that? And the answer is I think I would. Not that the non-writing aspects of my career are so overwhelming but they are extremely time consuming. If I got that part of my life back I could get a lot more work done.
NDP: You write that you always knew two things from an early age -- that you wanted to be a writer and that you did not want to have children. There is, however, a very strong theme of caring, love and devotion in these pieces -- for your grandmother, for your husband, for your dog Rose and for Sister Nena, among others that might be described as maternal. Is it fair to say you have been able to have both the interior life and career you wanted and a life that has included a lot of giving to others because of your choice to not have children? (And yes, I know I would not ask this question of a man)
AP: Well, at least I appreciate your willingness to acknowledge that fact. I'm a loving person who didn't want children -- that doesn't strike me as strange. I never wanted children, never regretted it, and never gave it much thought. It just wasn't in me. The fact that I've loved many people and have taken good care of them doesn't mean I missed my calling to motherhood, nor did I give up having children in order to write. If I had been a welder I wouldn't have wanted children. If I'd had them I would have loved them. I didn't have them and I'm glad.
NDP: I think great authors are not just very talented writers but also people who have spent a great deal to time examining their values and developing a moral character. Not only being really good at saying something but having something important to say. You seem to have both a willingness and mission to share what you have learned about yourself and the world. Do you see This is the Story of a Happy Marriage as also a story of wisdom and confidence?
AP: I don't have a mission to share my thoughts with the world. Writing is how I think. Writing is where I put my experiences. When I was putting this book together I was surprised to see the extent to which I'd taken the things that had happened, the things that I couldn't just carry around every day, put them on paper, and then put the paper away. I'd love to think that This is the Story of a Happy Marriage is the byproduct of wisdom and confidence, but I think it's more my way of making sense of my own life. I'm grateful that other people want to read these pieces. If my writing about my life can help people make sense of their life, well, that seems like a good thing.