Melissa Leo is, without question, an unrecognizable wonder as Alice Ward in The Fighter - a teased and acid-washed Lowell, Mass. version of the Spartan mother in a film performance that promises all kinds of honors in the coming year.
Known to fans for recurring TV roles on Homicide Life on the Street and Treme and her astonishing lead role in the film Frozen River, Leo completes my own recent triumvirate of women actors (joining Patricia Clarkson and Amy Ryan, who are so fiercely intelligent that you have that "oh good, she's in this" feeling when you see them on screen.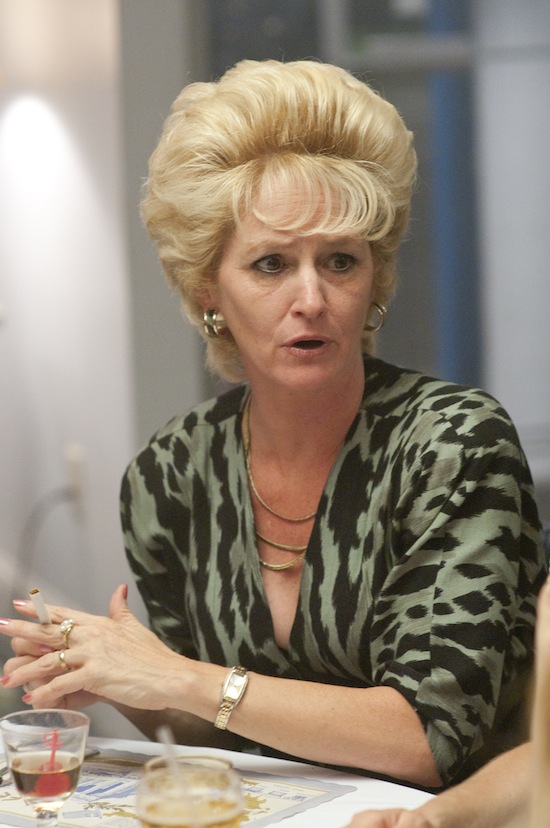 She says, however, that's not so.
"It's my biggest secret," she told me in a recent interview, " I'm a smart cookie but I have a low intelligence." She went on to explain that she didn't complete 8th grade and finally received a GED from the state of Vermont with the "lowest possible passing grade" in math, which she got by drawing random patterns into the answer sheet. She says that's why she loved playing Detective Kay Howard on Homicide. "Being intellectual is my delight in a character...I have other capabilities - the other kind of intelligence that's been discovered in more recent years, what's now called EQ." Which I guess makes her an emotional genius.
She's more confident about her acting ability. "You hold your own," she says, when asked about working with co-stars Christian Bale, Amy Adams and Mark Wahlberg. "I suppose I can understand getting intimidated or anxious working with greatness but I love it.... it's that thing when acting is not necessarily what's going on between people, you're actually believing what you're doing is real."
Playing the real-life mother of boxers Dicky Eklund and Micky Ward (along with seven of the most entertaining daughters in cinematic history) was a first for Leo, "I've never played a living, breathing person before," she says. "And I did not waltz into the role." Between painstaking efforts to match the iconic '80s clothes, hairstyle and makeup along with extensive research and spending time with Alice Ward, she finally made the transformation - people thought she was Alice. "I realized I could do it and believed it when I walked out of the trailer there and the whole freaking town of Lowell believed it."
Leo admires Ward and says the portrayal in the film doesn't do justice to this mother's devotion to her sons. "She dressed in white when she went to the fights because it would show up on TV," says Leo, "Bless her heart, she wanted to make something out of those boys and it's a mean-ass game. I admire her so much."
Her take on how Alice handles her son's meth addiction is singularly tolerant. "Show me the human who is without addiction in the world today," she says, "It's so beautiful how David (director David O. Russell) depicts Dicky's problem with meth and does not judge it. Alice understands better than anybody why the boy would go smoke meth - he's from a long line of Irish...she's upset with him because he's keeping it from her. She can't have a family if that kid is sneaking on her."
Boxing was also new to Leo."I don't watch sports at all. I have all sorts of feelings about fanaticism and sports, but boxing? I learned it's truly a heroic sport full of skill and strategy. There's a serious level of usury in that industry - I whine about it in acting but those guys kill and have been killed on purpose."
She's a big fan of the real Dicky Eklund. "With all the abuse to his body, he's one of the most inspiring and charismatic cats I've ever met," she says and calls Christian Bale, who channels Eckland in a similarly amped and admirable performance, "a perfect match as a genius, a dedicated actor and a beautiful human being."
Leo, who has a 23-year-old son, Jack, from a relationship with actor John Heard, says her own maternal instincts were incidental to the role in The Fighter. "Jack is my life - he's the best thing I ever did but I'm very careful I don't use him the way I use other experiences in my life. I have the experience of being a mother to fold into the mix, but far more important is who the mother is that the script writer wrote."
Reviews consistently praise Leo's standout performance and her recent Golden Globe nomination may finally bring A-list celebrity to, as one critic put it, "One of American's most under-rated character actresses."
Leo is skeptical about that. "I was at my mother's nursing home today and one of the nurse's there asked 'what do you think about being famous' and I had to tell her I'm not really famous...when I'm at the airport I walk right by the paparazzi when they're looking for celebrities."
She adds, however, that, "Fame can get you work and the more fame the more interesting the work. But I'm grateful that I'm not having that shape me now. I'm too old to get shaped."
Something we are all grateful for.