It's an old story that's not often told or told well in Hollywood, but this year's Sundance Film Festival premiered two films --Smashed and Predisposed -- that showcase addiction and all its glorious collateral damage with effective grace and a deft touch, thanks to some outstanding writing and performances. Without delivering too much of a message -- as one of the filmmakers put it, "We're not Fed-Ex."
Smashed -- directed by James Ponsoldt and written by Ponsoldt and Susan Burke, tells the story of Kate and Charlie -- an indie couple living on the outskirts of Los Angeles who really love each other and really love getting really drunk together. Kate (played by the mesmerizing Mary Elizabeth Winstead) teaches elementary school, and is so hung over in the first scene that she vomits in front of a class of second graders. She's married to Charlie (Breaking Bad's intense Aaron Paul) who spends most of his 'freelancer' time hanging out with his buddies in bars until the love of his life comes home from school. Kate decides to join AA and get sober (The Help's Octavia Spencer is her sponsor; the world's funniest real life couple Megan Mullally and Nick Offerman are her colleagues at school, and Mary Kay Place plays her mother -- all are sublime) and in doing so begins a journey that takes her far away from her husband. All of which hurts.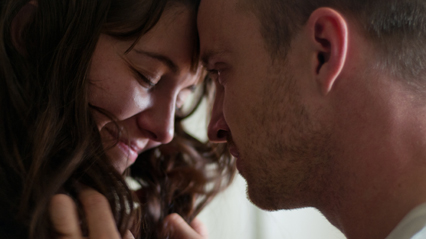 Predisposed, which premiered just this past Friday, is written and directed by Phil Dorling and Ron Nyswaner (who also wrote Philadelphia) and stars Jesse Eisenberg as Eli, a piano prodigy who needs to get his mother Penny -- the glorious Melissa Leo -- into rehab so he can attend a critical audition for a prestigious music school. The problem is that rehab can't take her unless she's recently taken drugs so mother and son set out to score with dealers Tracy Morgan and Isiah Whitlock Jr. They all pile into a broken down vehicle just a little too reminiscent of Little Miss Sunshine and so the journey begins.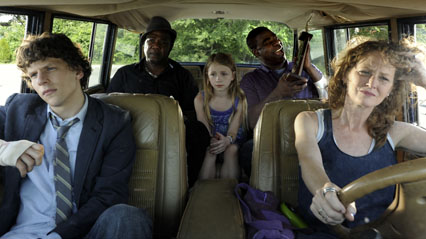 Both films conjure up the handful of movies that have become iconic for addiction -- Days of Wine and Roses, The Lost Weekend, Postcards from the Edge and Leaving Los Vegas -- as well as providing a new humanity for today's drinkers and drug- abusers and a fresh approach to the unavoidable plot points -- hitting bottom, tearful confrontations, admitting there's a problem and falling off the wagon.
It's not surprising that both screenwriters are themselves in recovery. Susan Burke is a writer and standup comic who says she stopped drinking when she was 18 for her parents and again at 21 for herself.
"I don't walk around and tell everyone but I'm proud of that... I think people know it means I'll show up," she says, "In society there is still that otherness -- in a lot of films and books they show you the low-bottom alcoholic so you can separate yourself from that, to show they are different, a bad person who is really messed up. I want people to see Kate and say I know that girl, or that girl is me."

Predisposed's Ron Nyswaner points out there are all kinds of addicts, including highly functional ones. "To me this is a disease of the mind and spirit -- this is a disease of self-delusion" he says, "I was at the highest peak of my career a few years ago when there were a lot of awards and things and I was in the depths of my addiction... I can make sure you don't know what you don't need to know."
And both filmmakers say they worked hard not to judge their out-of-control protagonists. "We were very purposeful in creating this story that did not pass judgment on someone's disease or even someone's behavior," says Smashed's Ponsoldt, "We wanted a sense of humor born out of a reality, out of getting the details right but also out of a humanism and charity and love of these characters -- there was no desire to punish them."
Susan Burke adds that having the main drunk be female was also groundbreaking. "We felt we hadn't seen a fully dimensionalized woman in a portrayal like this, we didn't want to depict a shrill woman or a weak woman," she says, "Kate can be raging, she can be cruel to people when she's drunk, she can also be vulnerable, she can also be all of these things that men like this have had the opportunity to be."
Melissa Leo's portrayal of the spacey, hipster painter Penny in Predisposed is equally fresh.
"There are a lot of kinds of addicts in the world and the notion that someone must be dribbling snot and homeless has more to do with maybe who they were before they became an addict," she says, "For my money Penny was a woman who grew up in a certain time with an accepted norm of behavior within a certain socio-economic strata and she had a husband who was an artist living in that kind of world ... I think that like many an addict before her is simply and utterly aware of how her behaviors are affecting her family. She has a house they live in, the little one does get to school, the big boy takes care of the little kid, isn't that what a family is for?"
Both Kate and Penny aren't in this alone, of course , Kate's husband Charlie has lost his best drinking partner and struggles to stay part of her newly sober world, while Penny's son Eli has been holding the family together and wants to escape.
"Sobriety made their whole dynamic completely different," says screenwriter Burke, "I feel for the character Charlie so much -- the most difficult thing to have your best friend go on a completely different road."
Neda Armian produced Predisposed as well as Rachel Getting Married, and says addicts can create addicts, too. "Eli (Jesse Eisenberg) has an addiction to wanting to escape his life and that's through music, where he can get away from everything," she says, "For me, that audition is about a better life for him -- it's his way out."
(Worth noting here -- Eisenberg learned to play the piano for this role and was so good that there was no need for a double for the audition scene -- "The boy is a genius!" says Melissa Leo)
Both filmmakers insist that addiction is just one aspect of their movies.
"The story is about forgiveness, love, hope and change," says Smashed's Ponsoldt, "It's just about a relationship, a love story where one person makes a life change and the other doesn't -- without judgment."
Predisposed's Nyswaner echoes this disclaimer. "Really this movie is about art" he says, " Penny is an artist, in the first scene she is painting, later in the film she spontaneously makes a sock puppet from the art supplies in her car for her daughter and she has said to her son "Honey, you are a great artist , it's just like your father' and she's right. Art, like drugs, allows you to escape something, but while art actually allows you to escape and elevate you, drugs allows you to escape and then kill you."
And both films use a blessedly light touch.
"We didn't want this film to look like these people were having this rough, raw time," says Ponsoldt, "We wanted you to see people in this nice town, not this dark world of drug dens and needles. It's people you see in your everyday life who are going through this. These are people with families and friends and they need help."
Adds Melissa Leo "Think of The Kids Are Alright and the many subjects they were tackling lightly...it's shot bright, it's not dark and gritty, there's a way to share these stories by lightening it somehow so you can get audiences in the seats watching the thing and then learning the lesson."
And the lesson?
"'Sometimes when I start I can't stop'", says Leo, "that's the closest Penny gets to understanding this problem that her son Eli, who is pretty fucking smart, has pointed out to her.