The third week of February marked the inaugural Rehoboth Beach Writers Project that brought my friends Wendy Burden, Amy Dickinson and Pamela Hart to this coastal town in Delaware.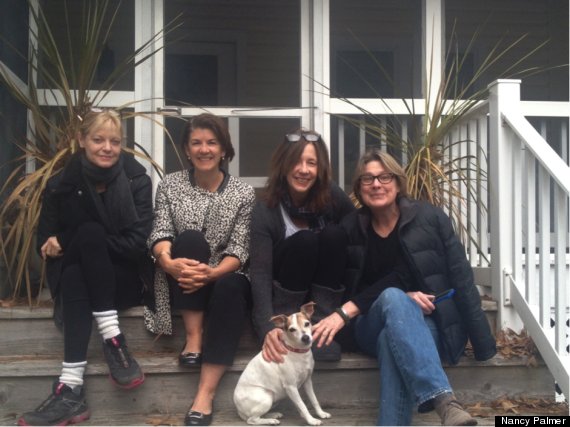 We stayed in a beautiful cottage a block from the beach and I think we all agree the week both met and exceeded all expectations. The idea was to work all day and come together at night to share dinner and writing. I think the biggest challenge was not to have as much fun as the situation presented - by and large we did stayed the creative course.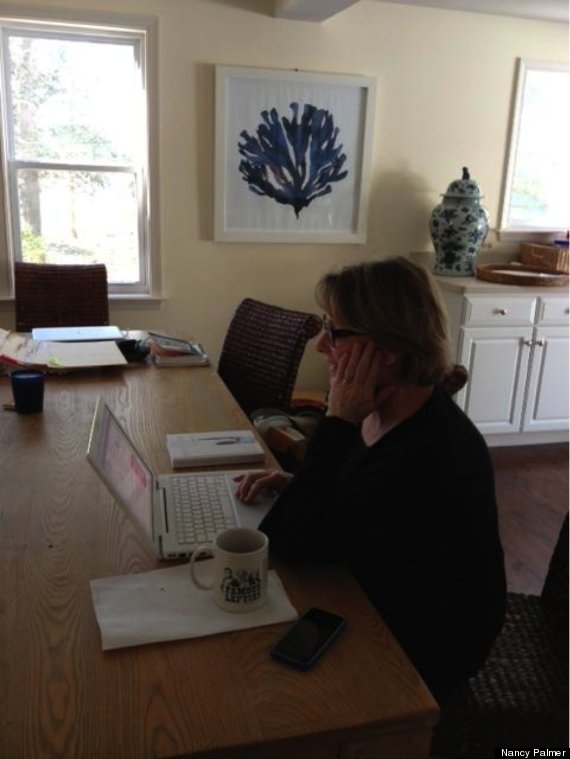 Pamela Hart is a poet and Writer in Residence at the Katonah Museum of Art and recently received an NEA grant to create a collection of poetry about military service and its effect on the family. She's interviewing families at bases around the country as well as researching and reading a range of literature, including classic texts like The Iliad and The Art of War by Sun Tzu. She's exploring the meaning of term "mother of" as in mother of a soldier, mother of invention, etc. Working title - Penelope at the Shooting Range.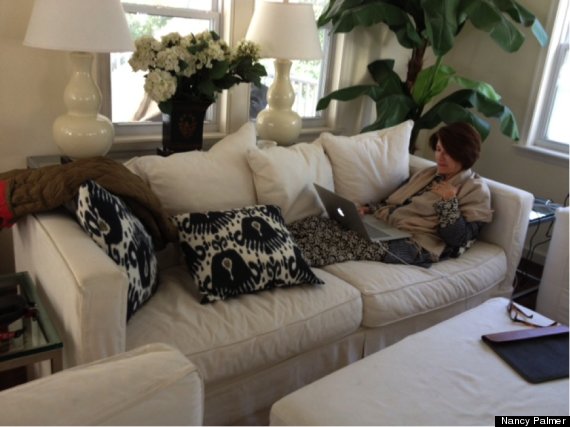 Amy Dickinson, advice columnist and frequent panelist on NPR's Wait, Wait, Don't Tell Me is starting her second book. Her first bestseller, Mighty Queens of Freeville was a memoir about her life (and redemption) in her small hometown in Upstate New York. This one will be a compilation of some of her columns from her syndicated daily feature "Ask Amy".
After ten years of writing this column she will explore some recurring themes and lessons learned as well as share more of her own advice-worthy moments. Working title "Quotidian" - that's not true we made it up one night at dinner, but I think it's a chapter title for now.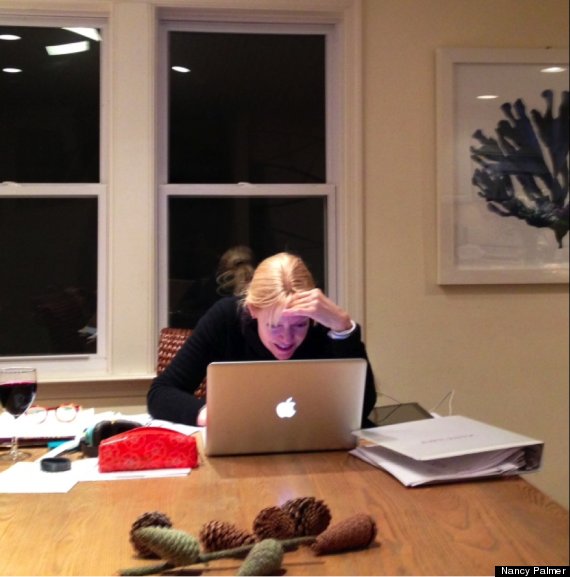 Wendy Burden is also working on her second book. Her first book, an Indie Bestseller, Dead End Gene Pool, was a memoir about her fractured childhood as a great-great-great-great granddaughter of Cornelius Vanderbilt that really put the fun in dysfunction. Her next book, entitled Machinery of Love + Death, takes place in Portland Oregon, and is a memoir about love, death and airplanes. In a recent change of plans she has scrapped the traditional form of an all-text manuscript and decided instead to present some chapters in graphic narrative.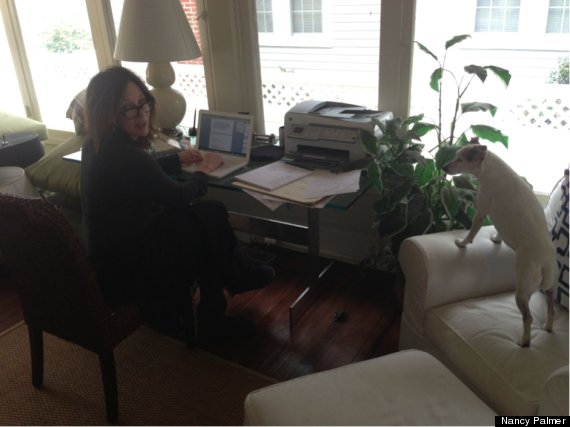 I'm Nancy Doyle Palmer and my work is twofold. I have begun work on a screen adaptation of a novel by one of my favorite writers, Phyllis Theroux. It's a Christmas story called Giovanni's Light and it's beautiful. I worked out a treatment and outline and happily Phyllis thinks it's all a go. I also spent time bothering my friends all week with questions about writing for this piece for the Huffington Post.
My Jack Russell Terrier Ivy was a vital member of the project as well, both as muse and companion to all. Amy took this picture.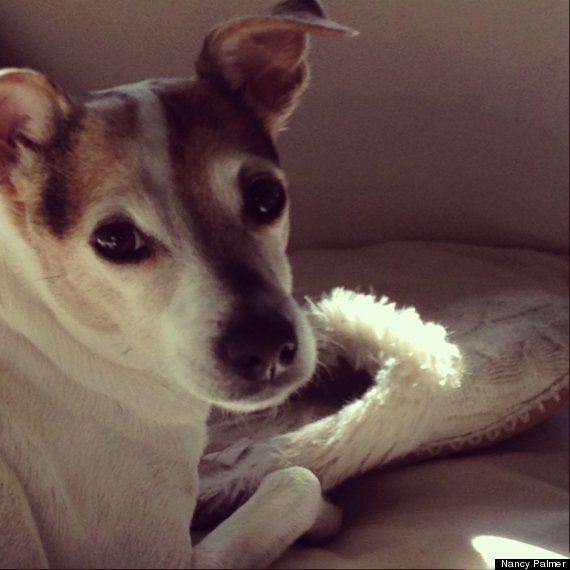 This brings up another participant in the week's study and that was nature.
We saw a seal on the beach: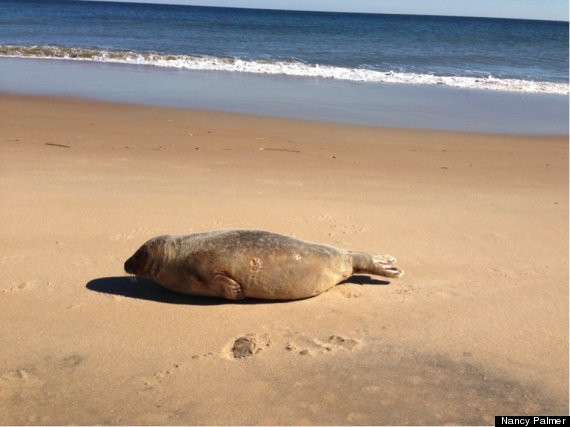 And these swarming flocks of birds called grackles:
February in Rehoboth brings eye-watering winds off the ocean that didn't stop Pam from being the first (and only) in the water: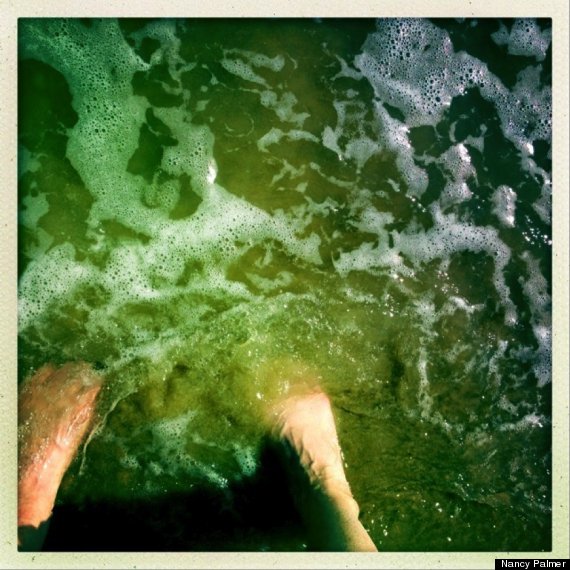 And Ivy found this horseshoe crab shell: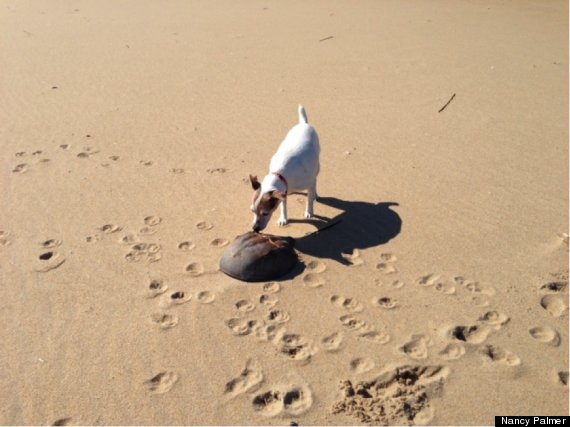 We soon established a pattern of working quietly in different spots around the house then, like grackles, swooping together spontaneously in the kitchen or over a computer screen for quick 10 minute catch ups and chats then scattering back to work. The day was also punctuated by runs - both on the beach and to the nearby Starbucks and liquor store.
We even got to watch Amy give a live advice podcast from the living room - she just put on some pearls and could have been anywhere.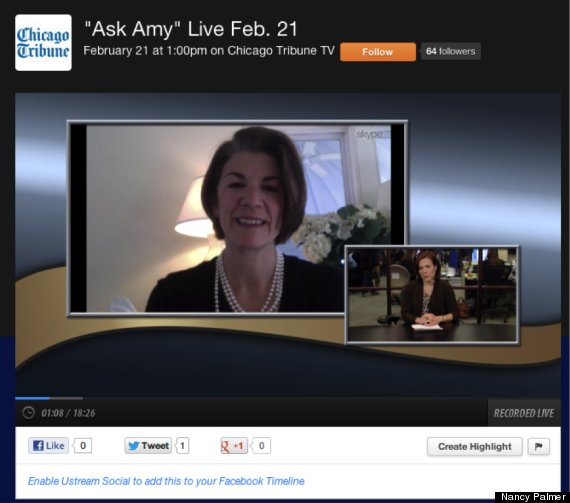 In the evening we would come together - Wendy is a fantastic cook - and we would read aloud from the work we'd done that day or chose other pieces to offer up to the group. We discovered we're all good editors and had solid suggestions for one another. Sort of like a book group but it's your book.
Each shared our inner internet life - favorite YouTube videos, Tumblr, Head Butler, and way more obscure threads of writing, photography and postings. I came to the happy realization that it's absolutely not wasting time to surf the internet - or at least that it's not just me doing it for hours at a time.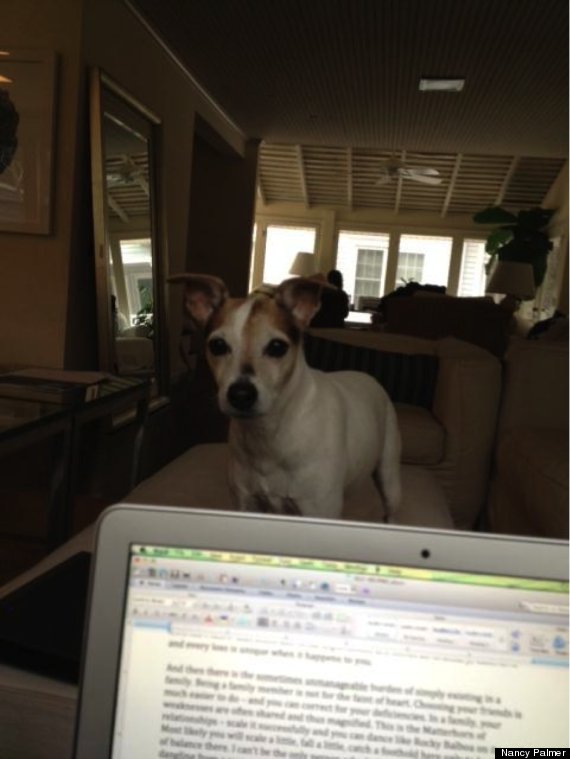 Wendy made everything more visual, Pam made us look for better words, Amy made us consider intent more deeply and I was so glad to be able to create the time and space for this project and prompt the following discussion about writing:
Monday: Who are you when you write?
Pam:
Within my work, I explore various personas to represent other points of view, other stories, enter moments not my own that I want to try and represent. (Perhaps this comes from a journalism background where I reported on others.) But James Joyce famously said (and I'm paraphrasing drastically here) that no matter whom we write, we end up writing about our self. Ultimately, along with all the Pams and other folks who show up at my desk, there's always Pam the writer. There's immense joy and frustration in that. Emily Dickinson wrote, "Exaltation is the going of an inland soul to sea." I follow her lead as I take my own small inland self out on the wild waves.
Nancy:
When I write my orderly, smart and friendlier (to me) inside voice takes over - and sort of tells me what I've been thinking about and what's going on. What I really think and what it really means. It's observational and way more judgmental than I dare to be in real life.
Sometimes it's all me, other times it's someone I don't really know or recognize - and I look at what I wrote later and even see a word I didn't know I knew how to use or spell. It can become dreamlike. Until I have to pop up from my chair and either go eat a slice of cheese or go look at my eyebrows in the mirror.
Like that.
Wendy:
In writing memoir one has a bifurcated role: there's your one self, of course, as master of ceremonies, and then there are all the other self you have been in the story you are telling.
The book I'm working on spans about fifteen years, so it's not like I'm a kid and then I'm Grandma, but it deals with a lot of craziness and life changes and tragedy and heartache and, oh, you know, the usual. To be a reliable narrator you must utilize whatever mnemonics get you there, employ your diaries and pore over old photos and all that, but most importantly for me is to be who I was at the moment I am recalling. I particularly like to have conversations with my then self, and I get so carried away⎯wild gesticulations notwithstanding⎯ that I had to stop using the Lake Oswego public library as my office because even though a library is the best place to find safe haven if you are a lunatic, there are limits on behavior.
So in answer to your question, when I'm writing I am, alternately: slutty New York party girl, mother of the year, race car driver wannabe, sweaty palmed aviaphobic, tested to the limits stepmother, saddest person in the world, budding taxidermist, designer of aviatrix jumpsuits, over-served psychotic, restaurant chef/owner, chronicler of widow dating, and a person quite possibly infected with rabies. Would you like me to show you how I get into character for that last one?
Amy:
I love this question. Honestly it depends on the day. Mainly when I'm writing I feel like I'm myself -- but like a better, more clever version of myself. Ideally less messed up and all over the place. Like when I'm stumbling around out in the world I'm a work in progress, but when I'm writing I'm the more edited. Concentrated and flavorful.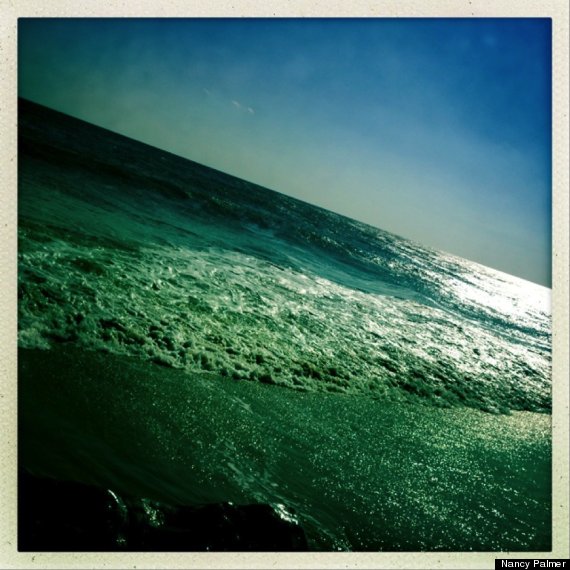 Tuesday: Who are writers than influence you?
Nancy:
I'm an easy reader. I love giving myself to the voice of the book or article I'm reading and switching to pure intake mode. I have an UNeasy relationship with book clubs - my book club is my friend Jannie Gerrish who tells me what to read and I tell her - we are never wrong.
Some writers reinforce my own voice and let me know I'm where I belong, others take me very far away and it's thrilling. I always like strength and confidence in a writer - they are in charge. This is starting to sound like I also like being tied up or something but trust me - I loathe everything about Shades of Gray.
Literary journalists are my heroes - James Agee, Pauline Kael, Nora Ephron and more currently, Caitlin Flanagan. I also love Cheryl Strayed, Elizabeth Strout, Ann Patchett and Barbara Kingsolver.
Jane Mendelsohn's I was Amelia Earhart changed everything for me as a reader and writer.
Right now I welcome the clear, clean voice of Phyllis Theroux in my head - I'm working on adapting her book Giovanni's Light into a screenplay and I'm also writing a review of her upcoming book The Good Bishop. Her book Night Lights helped teach me how to write and how to be the mom I wanted to be.
Wendy:
I love essayist Anne Fadiman, to a degree that borders on adoration.
The early writing of David Sedaris has been an influence, though now he's depressingly Walmartian; I mean he's everywhere.
I routinely pick over the columns of Caitlin Moran, and Frank Bruni, and Guy Trebay, and try to glean from their easy brilliance.
I love the poetry of John Burnside, and I am a zealous fan of the graphic novelist Alison Bechdel.
Pam:
As I start to write, I like to read work by my "go to" poets. The list has evolved. Louise Gluck because of the way she folds mythology into contemporary life. Anne Carson, because she is inventive and out there -- not like me and I admire this tremendously. Mary Ruefle is another wonderful quirky smart poet on my list, especially her new collection of essays. Wallace Stevens became hugely important for me when I went to grad school. I learned so much from reading his poetry. I return to Stevens to see how a poet becomes large.
Amy:
Lately I'm very into Nora Ephron, partly because she died this year and I knew her a little bit. I can't believe I'll never be able to read another essay written by her or see another movie scripted by her.
I also love my mother's writing. She was so talented, warm and funny. I'll carry her voice in my head forever. Also Cheryl Strayed, of course, because she writes like a motherfucker. She hasn't influence my work so much as made me want to quit.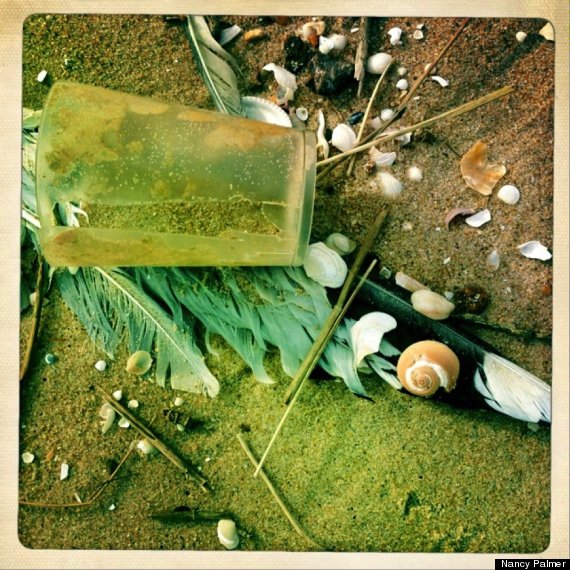 Wednesday: Describe your workspace at home:
Nancy:
Planet Nancy - it used to be the swanky and useless bar attached to the front room of our house but was pushed out a bit and outfitted with shelves and a nice wide built-in desk to become my study. Study!
I do all my work in there - paid event work, blogging, emailing, and writing of all kinds. I also play my music there on my amazing Bose speakers. It's not unusual for me to crank up either Junior/Senior "Move your Feet" or more lately Bruno Mars "Locked Out of Heaven" very late at night and dance my brains out to celebrate and keep going.
We live across the street from a guardhouse to a museum and I know they have video cameras trained on our house and while I sometimes hide from the big windows as I Risky Business-like slide around the front of the house I've stopped caring. It's my study.
Amy:
I feel like I can work just about anywhere, if I have a deadline. One time I wrote a column sitting on a crate in my mother's barn, surrounded by a cord of wood. I tend not to work at desks; I like to sit in a Stickley chair in my little house in Freeville; it has wide arms where I can rest my coffee cup and it's in front of the fireplace. In the summer I like to sit on the porch, but that increases the odds that someone will swing by to say hello, and I definitely don't like that.
I have a memory of writing much of The Mighty Queens of Freeville sitting up in bed, both in Freeville and Chicago; I wouldn't mind going through life propped up with pillows...
Pam:
I have two workspaces at home. A small couch near a window where I write early in the morning. I like the way the light comes awake there, to watch it dawn throughout the year as I write. The changing colors of the sky from a deep blue to mauve create a background for the generation of poems. The other workspace is at my mother's desk -- also near a window. This is more formal. I've got my books nearby, plus all the other desky things -- pencils, pens, scissors and so on. This desk was where my mother would pay bills, write her daily lists and organize her life. When I write here I sense her form, her hands, the back of her head. Once I looked up at the window from some revision work, and there on a branch was a white hawk. So the distractions can be kind of wonderful too.
Wendy: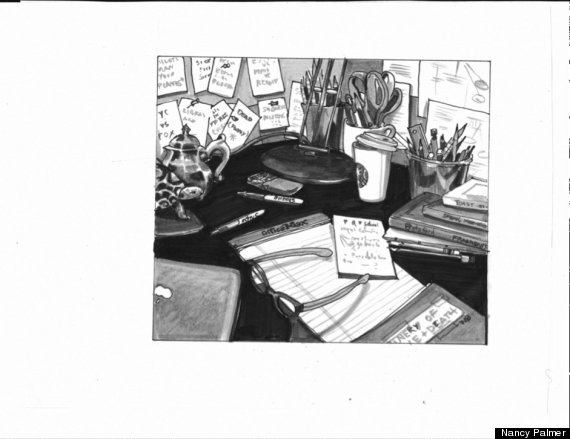 Thursday: What is your deepest insecurity as a writer?
Amy:
I think I may be living my deepest insecurity; that I've got nothing, nothing whatsoever to say. Like -- it's all been said by smarter people who are more original and funnier and who have shinier hair.
But part of the writing process for me involves staring down my insecurity, challenging it to a duel, and beating it into submission.
Also super nervous that I never seem to have a pen when I have a BIG THOUGHT.
Nancy:
My deepest insecurity as a writer is probably that sometimes I write like writers I can't stand. Writers who are showing off, who want you to wish you were them, who are playing tricks, if you will, and performing a sleight of hand to conceal their real motives, whatever they may be.
I guess it's about honesty. I know when I'm bullshitting and when I'm writing the truth. Of course, creative writing is just that - creative - and that's why I love screenplays and making stuff up. But even then, no copying and nothing false. Which of course I do all the time.
We all write because we want to be heard - to show, to reveal, to present. To illuminate. My insecurity is when the light I am shining is a cheap fluorescent.
Just walked in town and saw a sign in front of a junky art poster store that read "Bare Walls?" That's my point - I don't want to stick something crappy up there just to cover the empty space.
Pam
One thing I think about a lot is whether I will be able to make my poetry big enough so that it encompasses more than my story. The poet Stanley Kunitz said writers should make a myth of themselves, their life. That sounds grandiose. But, it's really about taking a particular experience/event/memory and representing it in a large way. So my insecurity is about being able to write broadly and deeply.
Wendy:
This is so transparent, but I believe my longest shadow of self doubt tells me I'm never funny enough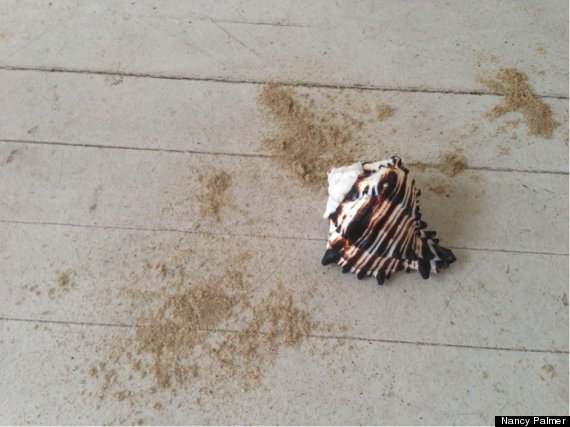 Final Question after we left:
What did you get out of the Rehoboth Beach Writers Project?
Wendy:
I've been tentative about this, my second book, mostly because of my decision to combine text, illustration, and narrative graphic chapters. I came up with the idea of combining these two genres in order to bring better connotation to the book, and the graphic narrative is a way of my being able to relate implausible, even WTF scenarios to the reader more effectively.
This retreat was the perfect venue in which to present the idea, read a couple of chapters, and discuss the format of text and graphics, especially with such a cool and diverse group.
The word trust comes to mind here: I never casually let on to friends or family what I'm working on because a lot of non writers are in awe of what they often perceive as almost mystical, and I don't really hang out with writers. So it was great to have a mini Think Tank scenario and get support and criticism.
Plus, now I know the title I had in mind was a really really stupid idea.
Pam
For me the week was about concentrated time to dig into my project. I had a list of revisions and other work on my to-dos and actually got through the list. In addition to the gift of time, the week was about being with a great group of three women writers. We each write in different genres and this proved wonderful. I loved evenings when we came together at dinner to talk about the day's writing and share work and ideas. For this poet, it was useful/helpful to hear from non-fiction and screenplay writers. Finally, being near the ocean was an unexpected treat. A place to stretch and clear the mind. To look at the light on water in February can only be a good thing for a writer's spirit and imagination. And I look forward to seeing how all of us proceed now that we're underway.
Amy
What I loved the most about our week together was the combination of solitude, the absence of family responsibilities, and the opportunity to work on a project in a concentrated way without distractions. Most importantly, it was really a joy (and important) to be with other creative people who were all working hard on their separate projects. Being with other women who are so skilled in other genres was inspiring. And I loved sharing our work and enjoying the honest feedback, affirmation, and creative ideas. And for me, lying down on the couch and reading a novel in the middle of an afternoon was like being on a month-long literary vacation.
Here is what greeted Amy when she got home in upstate NY:
Nancy:
What I got was all of this - I hope readers and writers and everyone enjoys reading this blog. I found myself just passing by Pam or Wendy or Amy and waving madly at them as we padded back and forth into the kitchen, headsets on, thoughts elsewhere and everywhere.
Upon reflection the word that comes to mind when I think about this week is generosity. The generosity of the Hersh family who shared their beach home with us, of Kerry Foley who fed us and took our group picture, the generosity of our families to let us have this week to work on our own, the generosity of these three friends of mine who are so gifted and so good to me and to each other.
I'm not sure if it's because we're all finally secure enough or just plain old enough to support each other so well. If generosity is not the opposite of competition, it's certainly the antidote.
As Wendy and I pulled out of the driveway on the last day after packing up the house a huge flock of grackles descended on the pine trees around the porch to say good-bye. I swear this happened and I didn't write it to make the week sound as mystically perfect as it was.
But I could have.