 "Nancy Jo, this is Alexis Neiers calling..." I went on Twitter a few weeks ago to promote my book The Bling Ring: How a Gang of Fame-Obsessed Teens Ripped Off Hollywood and Shocked the World (pub date May 21, shameless plug). Immediately I started getting tweets from mostly college-age kids quoting lines back to me from the clip of former E! reality star Alexis Neiers calling me to complain about my March 2010 article in Vanity Fair on the Bling Ring. That's the band of teenaged thieves who between 2008 and 2009 robbed the homes of Paris Hilton, Lindsay Lohan and other members of Young Hollywood -- now the subject of Sofia Coppola's film The Bling Ring (premiering June 14, and showing this week at Cannes).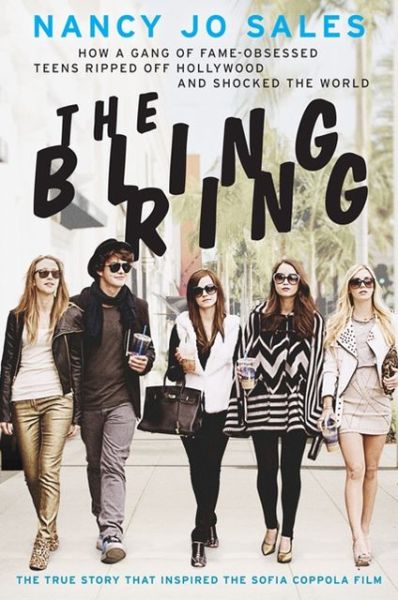 "IF YOU KEEP INTERRUPTING ME I HAVE TO RERECORD IT!" someone tweeted, paraphrasing Alexis shouting at her mother, former Playboy model Andrea Arlington Dunn.
This clip from Alexis's short-lived reality show, Pretty Wild (2010), seemed to have become a thing. "#LifeWouldBeAlotBetterIf Nancy Jo answered the phone when Alexis Neiers called," tweeted YouTube satirist/blogger Tyler Oakley. I wondered what about that moment people still found so entertaining, three years later. Was it because Alexis -- who had been charged with the burglary of Orlando Bloom (she pleaded no contest in May of 2010 and was sentenced to 180 days in jail; she served 29) -- was upset because I had allegedly misidentified her shoes? "Like, you saying that I wore six-inch Louboutin heels to court with my tweed skirt," Alexis complained, "when I wore four-inch little brown Bebe shoes!" "29 dollars!" chimed in her mother.
I don't mean to be a party pooper here, but I've never found the clip all that funny. Alexis was in real distress during that call -- but not over the mislabeling of her shoes, I think, or even my story. She later revealed in an online interview that she was using drugs at the time (she was sentenced to a year in rehab in 2010 after police found black tar heroin in her house. She says she is now sober). Nick Prugo, another Bling Ring member, confessed in an interview with me that he had been addicted to coke; and Rachel Lee, the gang's alleged ringleader, who is still in jail in California for the burglary of The Hills star Audrina Patridge, said in a letter to the court that she had been using drugs.
The Bling Ring kids did outrageous things, stealing celebrities' designer clothes -- and jewelry, makeup, underwear and art -- but in many ways they were no different than a lot of kids in America. The problems some of them struggled with are epidemic ones: drug and alcohol addiction; ADD and ADHD diagnoses; anxiety and depression. Not to mention a pop culture that led them to believe that living the lifestyle of the rich and famous -- a lifestyle actually available to one percent or less of the nation -- was the most desirable thing possible. "I think she just wanted to be part of the lifestyle," Prugo told me of Lee. "Like, the lifestyle that everybody kind of wants."
There's more depression and suicide among kids today -- and more sense of entitlement (the kind of entitlement that made some waltz into Paris Hilton's house and take her stuff). A recent article in Time on the precipitous rise in narcissism among the young was rejected by millennial bloggers who found it insulting. (The Time piece quoted Alexis telling me in Vanity Fair, "I want to lead a country for all I know.") But technology drives culture, and modern technology has provided ways for teenagers to become even more self-absorbed than teenagers usually are. We've entered a new age of celebrity where "kids are obsessed with the idea that anybody can be famous and everybody should be," as Sofia Coppola said last week in The Hollywood Reporter.

The Bling Ring kids wanted to be famous, it's true, but these days, it seems like everybody does. Social media addiction isn't confined to the young; nor is celebrity obsession, driven by an unprecedented number of celebrity news outlets reporting on celebrities 24/7. The New York Times just cited a study saying that 35 percent of Americans don't know the century in which the American Revolution happened, but many people would be able to tell you, as writer Kelly Oxford has pointed out, the names of all five Kardashians. The story of the Bling Ring, which touches on all of these themes, isn't just about a bunch of burglar kids, but America now.
In interviews with me, Alexis actually seemed very aware of how the society in which she was being raised was influencing her values and her aspirations. Although her turns of phrase sometimes smacked of Valley Girl, she railed against how "in the news today we're so hooked on celebrities and teen culture... Like, your clothing or your style of car, just, like, anything these celebrities do, kids follow." And that includes the never-ending quest to become more and more famous.