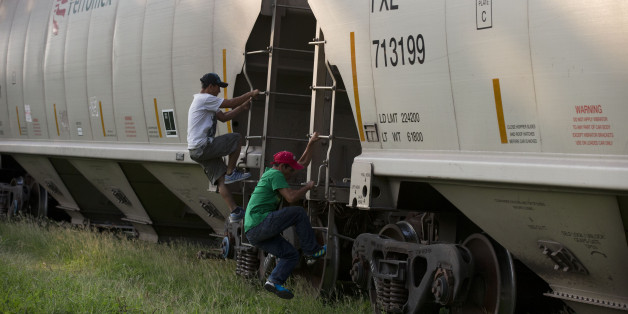 We are instructed in the Hebrew bible, the Torah, to welcome the stranger, feed the hungry and clothe the naked. Those teachings are being put to the test with the recent influx to our country of more than 40,000 mostly Central American children seeking refuge from violence and poverty. As the rate of violence in Guatemala, Honduras, and El Salvador has increased dramatically in recent years, so has the number of young children and families seeking safety in the US and elsewhere. The journey here almost always includes its own horrors -- but families know the chance of their son or daughter surviving the trip outweighs the certainty of violence, drugs, and death in their communities.
Once they are in the US, a law enacted in 2000 and amended in 2008 to address child trafficking gives these children the right to request asylum through established legal procedures. That law -- the Trafficking Victims Protection Reauthorization Act -- requires that all unaccompanied alien children be screened as potential victims of human trafficking, with different screening processes for children from contiguous countries (Mexico and Canada) and non-contiguous countries (all others). Additionally, the law mandates protections for these children to be overseen by the US Department of Health and Human Services (HHS), including a hearing and placement with family in the US. It also requires "to the greatest extent practicable," that unaccompanied children in HHS custody have counsel, not only "to represent them in legal proceedings," but "protect them from mistreatment, exploitation, and trafficking."
This law was passed with full bipartisan support to deal with the very real issue of child trafficking. To disregard it or change it just because it has become inconvenient or politically inopportune to uphold is unconscionable. Congress and the White House should treat the current situation as the humanitarian crisis that it is -- a profound dislocation of women, children, and families driven by dire conditions in the home countries of origin.
Far too many Americans and lawmakers have responded by blaming the increasing numbers crossing the border on changes in immigration policy made by the Obama Administration. Some have responded with irrelevant recommendations, such as demanding tighter border security. This kind of response ignores the fact that children typically walk up to a border patrol officer and hand over their identity papers -- something that increasing border security would have no impact on whatsoever. Others have called for changing the asylum law so that Central American children can be returned to the chaos of their home country without the due process now guaranteed to them. Strangely, one bill to expedite deportations is called the "Humane Act." Still others would use the fate of the children as a bargaining chip in the ongoing struggle to win immigration reform.
It is difficult for Americans to grasp the horror of conditions in Honduras, El Salvador, and Guatemala, where gangs control entire communities, government is unable or unwilling to protect their citizens, jobs are scarce, people are impoverished, and the future is grim. These children are just as much refugees as those displaced by civil war in Africa or Syria. In fact, the United Nations High Commissioner for Refugees has found that almost 60 percent of children fleeing to the United States from Guatemala, Honduras, and El Salvador may have a valid claim to asylum or other legal protection. And the influx is not limited to the United States -- growing numbers of adults and children from these countries are also seeking refuge in Mexico, Panama, Nicaragua, Costa Rica, and Belize, where the number of asylum applications from these three countries has increased by 712 percent since 2008.
So what should be done? Congress should robustly fund the existing adjudication system to ensure that every child has the opportunity to appear before an immigration judge, with counsel, to receive fair and full consideration of his or her legal claims in a timely manner. We need to make more use of community-based shelters and alternatives to detention in order to avoid additional human and financial costs. And we need expanded post-release caseworker services to protect children, assist families, and ensure attendance at proceedings. The president should exercise the authority he does have to accelerate some cases.
The US has a legal and moral responsibility to protect children fleeing violence. Rolling back the Trafficking Victims Protection Reauthorization Act with its important procedural safeguards for unaccompanied children, who must navigate the complexities of the immigration process, is not an appropriate humanitarian response.
As a people with a long history of being rejected in times of crisis from this and many other lands, we Jews know how devastating such rejection can be. When the doors of almost every country -- including the US -- were closed to us in the 1940s, we lost millions of our people in the Holocaust. The most vivid symbol of that time was the ship St. Louis, turned away from US shores with hundreds of people aboard who sought shelter in our country and were instead sent back to Europe to certain death. Our modern history and our biblical mandate to welcome the stranger, clothe the naked, and feed the hungry makes us forceful advocates for assisting children and families at the border. We call on the President, the Congress and all Americans to join us and save the children who seek refuge and safety in our nation.