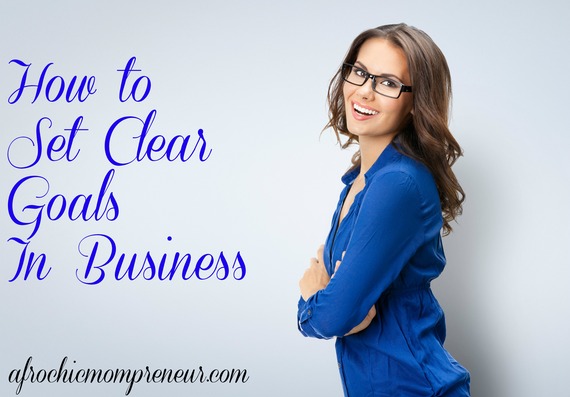 Can a business survive without having clear goals?
Having goals for your business helps to give you direction. The entrepreneur that not only has the dream, but the mindset, understands how to be a creator. This involves having a plan for your creation, understanding not only where you hope to go, but how you will get to your destination.
Setting clear goals is no easy task, however.
More than just what you want your business to be, having clear goals includes being able to predict the challenges that you will face and having an out or actionable plan in place, that will help you to overcome and succeed.
Knowing which goals to focus on can be challenging as well. Prepare yourself for success by making the time to understand how to set clear goals, and dedicate the time to setting and preparing goals for your business.
Are Your Eyes Larger Than Your Stomach?
My mother asked me this every time I went to serve myself my favorite food. She knew that I was taking too much, and that I would most likely not be able to finish my portion, as a child looking at her favorite food however, that was the last thing on my mind.
I find that passion for business is the same for me.
I get so excited about my business, because I love what I do! There are times when my goals may be a bit much for me, especially at the stage I am currently in. All that does is set me up for disappointment.
Dreams are rarely realistic, they have no limits because they are your dreams. You have the ability to create anything and find success because, in your dreams, the realities of what it takes to grow a business do not exist. The only challenges you will face are those that you allow yourself to create or acknowledge.
Unfortunately, those realities are not the same in business. You have to have realistic goals for yourself.
How Clear are Your Goals?
Everything should be stated clearly.
Under "Hire an Employee" clarify how you will hire this new employee, is it within your budget at the moment, and if not, how will you be able to get there?
Are you prepared to take on the responsibility of a new team member?
Are your leadership skills where they should be?
Why do you need an employee, and how soon will you be able to hire your new employee?
Be clear, be detailed, in order to not only understand your goals, but to be able to relay those goals to your team.
Have a TimeLine
I find, the best way for me, to stay motivated is to give myself a deadline, and that deadline may not match that of my client, especially if I have multiple projects to complete.
I prefer to get started early in order to give myself a bit more flexibility during the week. I write for several clients, one needs 14 articles completed by the end of every week, one needs a script each week, and several clients in between that need business support and more.
Completing all articles at the beginning of the week gives me more flexibility for providing thorough business support during the rest of the week. Of course, this same process can be applied to your long term goals, if you have a timeline set for yourself.
**Bonus Tip:
Be aware of the resources at your disposal and add that application to your goals. Sometimes, as we set our goals, we forget the immense amount of resources we have at our disposal as business owners, many of which are free. From Tools for the Entrepreneur on a Budget, to Tools for your business website, and productivity as well as project management.
Add these details to your goals in order to give direction to not only yourself, but to your team members.
Follow Nancy on The Blog For More Tips and Support