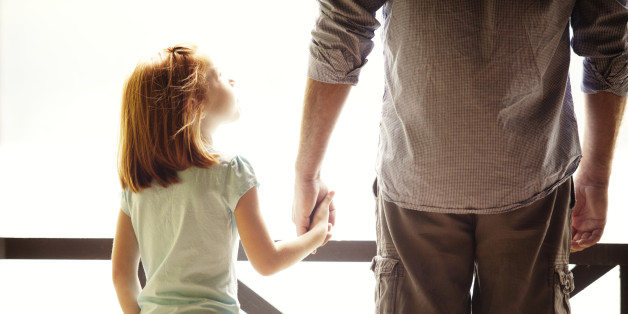 September 27, 1968, a bomb dropped on my mom, my siblings and me. As I was rushing to the front door to catch my bus to school, the ring of the telephone startled me. It was 7:05 a.m. and the sound from our rotary phone implied no good news. "Hello," I said gingerly. It was one of my father's team of physicians who asked to speak to my mom. In spite of the potential miss of my yellow livery to 11th grade, I lingered close to my mom to hear the report. Putting down the receiver, with a quivering voice, she said, "Your father died this morning. Go get your brother at the bus stop." My dad's agonizing three-month hospital stay had ended. This began my longest day.
I adored my father. In spite of his early passing at 42 years old, his influence on my life has been palpable for nearly a half-century. My father, a navy veteran, instilled in me the value of an education. He developed a successful plumbing business with his dad, yet in spite of his accomplishments, he lamented about his blue collar job and lack of a college degree which placed him several rungs below his college-degreed peers with invitations to serve on community commissions and boards. He instructed me to "do well in school" as "education is your ticket to independence and an abundant life." This lecture was repeated weekly until his voice was silenced when I was fifteen, a junior in high school.
My kindergarten teacher informed my mom and dad at Open House that I was one of the smartest students in the class, however, I needed to work on self-control. I had difficulty following classroom rules -- namely, raising my hand to be called on before blurting out the answer and I was an incessant chatterbox, entertaining my pint-size schoolmates non-stop for the half-day morning session.
This 'flaw' continued throughout my elementary school years, receiving the big U (unsatisfactory) for "practicing necessary self-control." I would continually remind my parents that this character flaw never affected my subject-matter grades, yet my mom was convinced that the poor marks on my personal attributes impugned the Marcucci name, giving my two younger brothers a negative reputation by school staff. Conversely, my dad defended me, dismissing the U's as an acknowledgement of my bubbling personality which he believed would be an asset as I grew older.
My mom was the disciplinarian in the house, which made my dad even more fun to be with. He was generous, witty and kind. One Saturday afternoon, after wandering in our local department store's pet shop, I fell in love with a monkey, named Susie. When I enthusiastically mentioned to my dad that Susie would fulfill my childhood dreams, he agreed to take me to visit her, but cautioned me that this visit was no guarantee that Susie would be living at the Marcucci house. Fast-forward -- Susie became the talk of my neighborhood and my school however, her short residence fulfilled only a week of my childhood dreams. My mom, after having nightmares that Susie had escaped from her cage and caused havoc in the house and neighborhood, gave my dad an ultimatum -- either Susie goes or she does. My three siblings and I voted for Susie to stay however our dad convinced us that without my mom we would starve and never have clean clothes to wear.
My appendix ruptured when I was 12, causing a hospital stay for nearly three weeks. Within a few days of my arrival, a moratorium on visitors was issued because of a flu epidemic. Communication with my family came through bedside telephone calls. During one conversation, I was complaining to my dad about the hospital food and reported that I was starving and craved a pizza from my favorite local pizza parlor. Ignoring the warning posts, my dad drove to the back of the hospital and found an employee entrance door, adjacent to the loading dock. Flashing a 20 dollar bill to the custodian after he refused to let him in, within 45 minutes of my distressing phone call, my dad miraculously appeared at my bedside with a steaming pizza in hand! The nurses thoroughly enjoyed the pizza with me -- never commenting on the intruder who delivered it.
There were countless moments in my life that my dad's absence was palpable. When I was awarded a college degree, I thought about his infectious smile that would cover half of his face knowing that his education lectures paid off. A few decades later, when I was presented with a doctor of philosophy degree, I envisioned my dad sitting in the mammoth auditorium with my mom, my siblings and my husband, so proud to witness his daughter achieve such an accomplishment. I imagined my dad and my husband being best friends, offering his time, talents, and wise words to us as we began our life together. When diagnosed with advanced-stage breast cancer, my dad would have comforted me, offering priceless wisdom, reducing my fears and tears with his bubbling personality.
As I remember his passing at the 46th anniversary of his death, I ponder about the 'what-ifs' and how we miss his presence all these years. I also acknowledge my good fortune and blessings as I enjoyed 15 years with a phenomenal dad whose legacy has lived on through his children and grandchildren. His short biography has made a profound influence on my life for good. Thank you dad!