My brother Michael turns 65 years old today. Happy Birthday, Mike!
Mike is a football coach turned horse whisperer; he trains and boards horses at his sprawling ranch in Upstate New York. He calls his place Overtime Farm. And that's because Michael works Overtime. Everyday. And he makes sure everyone knows it.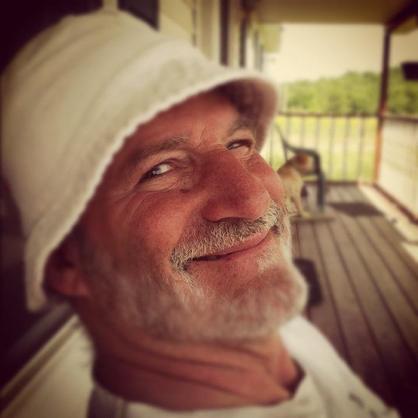 I've always appreciated the name Michael gave to his farm, because it's true: Overtime is Overtime, and somehow it just feels good to put things out there as fact. It also feels good to complain about a little too. Nothing beats a good bitch session to help clear the decks and move to the next thing on the to-do list.
But, in truth -- the frantic pace of life is getting old. Whether it's life on Overtime Farm, or life in Manhattan where I live, everyone seems to be working, doing and racing around --- all at warp speed. And well -- gee whiz, as a life coach specializing in helping others create Zestful Living, this can't be all that good for well-being.
The conundrum: how best to squeeze time in for you? Meaningful time, that is. Coffee with a friend, a movie, dare we engage in the idea of a girl's night out? Will this constant cacophony ever quiet to a mild roar? Is it me, or is it all just moving too fast?
Aside from work schedules, personal appointments, those of us caught in the crosshairs of our kids and their college admissions, and all that contributes to managing a busy demanding life -- we've also got technology coming at us from every direction.
Email and voice mails are piled up waiting for us before we even get out of bed in the morning. There's just never enough time, and everyone wants a piece. As much as we can tell that is, if the person your talking to is even looking at you vs. staring into their phone . . .
As for daily living responsibilities -- aside from the time and energy required at the office, or in Michael's case, working The Farm -- we've got household upkeep, laundry, groceries, personal admin, home improvements, caring for aging parents, shift duty as the homework police, pets, special event obligations -- the list is seemingly endless.
Out of our 24 hours each day, we've got an average commute time in the USA of 25.4 minutes, add 1 hour on to each end for the start up and wind down, 8+ hours of work, 6-8 hours of sleep, 1-hour of reflection time (maybe), 1 hour of exercise (perhaps), and of course we need time to eat to refuel the tank. At this point we're borrowing time from tomorrow, and haven't paid for what's overdue from yesterday.

So, what's the first thing to fall away in your busy day? And on the flip side, what are you adding in that truly fuels your soul?
It's usually sleep and/or exercise that winds up diminished -- all on top of more hassle, stress, and continual juggling. And the soul fuel: that's often skipped all together. Now come on people, that's no way to live.
Suffice it to say, the result of running out of time in a day has a negative impact on our well-being. Stress, lack of sleep (midlife women report a myriad of insomnia issues), and limited exercise all contribute to the tipping point. And what's more, spending important time with adult friends can become a rarity. This increases negative affect, diminishes life satisfaction, and lessens belongingness. We've all been there -- but it's ours to fix.
The question becomes: how do you create "ME TIME" in the midst of your hectic, too busy life?
The good news is: women are genetically encoded to build community. That's what we do. So, by making the conscious decision to schedule time with friends, and acknowledging adult relationships as being deeply intrinsically rewarding, we'll realize many benefits to us and to our loved ones.

Relationships with others is a key component to boosting the health of our well-being. The late Chris Peterson PhD., an award-winning teacher and an internationally recognized researcher on positive psychology, who served as professor of psychology at University of Michigan noted, "It's in the company of others that we often experience pleasure and often certainly how best we savor it's aftermath."
So, if we deem relationships with others as a priority, ultimately we'll have more to fuel in the tank to serve ourselves and dedicate to our loved ones. We'll feel socially integrated and connected. We'll gain a greater sense of the meaning of our life and we feel more competent and effective. Additionally, we'll be able to better cope with our own stress by shifting our focus to others. Socializing with other adults and managing our stress levels will serve ourselves, and our friends and families in profound ways.

Remember: energy is viral. And human beings are the most social creatures on the planet. Decide who in your circle nourishes and energizes you the most and focus on spending personal time building the strength of those bonds. Think about savoring those times and memories, while you're weaving in the activities that best serve you. Life will be better as a result.
Try a couple of these for starters:
Make a standing date with friends on a specific evening every month: i.e. a book club, or a dinner night where perhaps each person brings a guest to the gathering. This time should be protected from all other appointments/to-do's/obligations.
Say "No" more often. Saying "No" results in 2 minutes of discomfort vs. 2 weeks of self-loathing and exhaustion from agreeing to do something that was too much of a stretch. Just stop and think before you blurt out: "Ahhhh, sure! I can do that." (note to self: grrrrrrr . . . )
Take a course focused on a passion of interest: i.e. flower arranging, ceramics, jewelry-making, cooking, wine tasting, volunteering in your community for an interesting cause, or consider taking an international politics course -- just dream up something that feels intriguing and fun and do it.
Don't sweat what doesn't get done. Remember, if you can't get to it, you can barter it or just bag it. More important that you refuel your precious reserves in order to better serve yourself and those you hold dear.
Create priorities. Don't allow yourself to be consumed with work pressures. Take a stand! Decide you are going to set boundaries, and do it. Taking a break will actually refresh you so you can remain on top of your game.
Enjoy coffee time with a friend after your workout to nurture those important connections, and maximize the time you've already got set aside.
Carve out time to engage in recreational activities like walks in the park, a movie night, or if baking brings you joy -- make a carrot cake with gobs of cream cheese mascarpone frosting!
Join a group organization of like-minded people to create and maintain connectivity and exchange support as you navigate your path to well-being.
Let's face it: time flies. It's really important that we be thoughtful about our priorities and carve out time to do the things we love. The laundry can wait. So can the email.
And as for Michael -- he may rant and rave about working Overtime at Overtime Farm, but deep down: he loves being a horse whisperer, and that's great for him. And, on top of it -- he couldn't have named The Farm anything more befitting.
Way to go, Mike. I love you. And Happy Birthday!
Nancy Sherr coaches Bravehearted Women through Big. Life. Changes. A coach, writer and speaker, she works with clients privately and is the creator of the Society for Zestful Living group program for women. Visit here to get Nancy's free five-part eCourse: Fierce Grace for Bravehearts: a Practical Crash Course in Navigating Change.
Earlier on Huff/Post50:
PHOTO GALLERY
What Have You Stopped Stressing About?