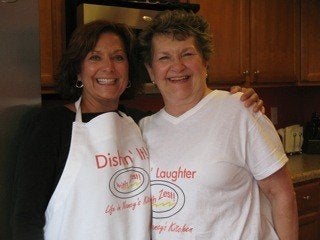 When my mother was 25, she divorced her abusive husband -- my father. In retaliation for this courageous act, my mother and my 4-year-old intellectually disabled brother and I were locked out of our house, with some of our belongings scattered out on the lawn. That day, our lives changed forever.
My mother was determined to live a better life and to provide for her children. At first, she went to her church for support. At that time women were not allowed to divorce their husbands in the Catholic faith, and so my mother was kicked out of her church. She found herself broke, lost, alone and in pain. She was forced to seek financial assistance and went on welfare. She found us shelter and rented a one-bedroom apartment for our lost family of three. My mother persevered and worked her way off welfare and earned a law degree while working full-time as a secretary and raising two kids. (Way to go, Mom!) My mother showed me early in life how to make lemonade out of lemons. Our circumstances were tough but they showed me how to be resilient, perseverant and courageous. I am grateful for being born into such an inspiring family.
Through my mother's struggles and perseverance, I learned about the power of choice. My mother had a choice: to stay complacent and stay on welfare, or to make something of herself and her life. I'm glad she chose the latter because she became a great role model with her career-focused determination. It became ingrained in me that people have to work hard for what they want, especially if they don't want to settle for less than they deserve. But I did not "get" this until after I dropped out of high school. I made a choice to drop out of high school, which did not follow the path of my role model.
Being an at-risk teen and high school dropout who hated life and herself, I had to overcome my internal baggage that was keeping me stuck and unhealthy. I needed to turn my life around. I could not help anyone until I helped myself. To get where I am today took a positive attitude, perseverance, resilience and action. I had to realize that I matter and am worthy enough of happiness and respect -- and it took lots of tears and therapy! When I made a choice to drop back into life and high school, I proudly realized that I inherited some great traits from my mother. Like my mother, I became determined to live a better life and earned my college degree in Human Resource Management at the age of 35 -- the same age my mother was when she graduated from law school!
I learned that I must never give up when struggling to achieve my goals because the rewards will be better than the unhappiness and pain. Over the years, I have learned how to keep making good things happen -- not only in my life, but also in the lives of others. I am empowered to live but more importantly, I am empowered to do what it takes to live the life I truly want. When you make something positive out of negative, tragic or painful circumstances, you can more easily deal with them. Life is hard for everyone at times. How we react to each tough experience, however, is a choice we can make -- not one that others make for us. We can either choose to face the challenges we encounter and take control of our situations or we can wallow in them and let life and work difficulties direct us.
While my mother made a wise choice to leave my father, it was not easy for her or my brother and me. Her struggles roused anger within her and chaos in our house. Sometimes our mother's anger scared us and made us feel bad about ourselves as we grew up. We were young and impressionable, and these were normal reactions to anger. As youngsters, we didn't understand why Mommy was mad. Today, I understand it. Although some of my mother's anger spilled over onto us, most of it was directed toward productive activities. My mother needed her anger to keep us fed and clothed and to protect us. It made her do positive things with her life. It pushed her to succeed. She needed anger to protect her hurting heart and soul. Anger made her feel in control. Anger made her take control of her life. Anger made her want to prove to herself that she could do whatever it took to have a better life for herself and her children. That's healthy anger. It makes good things happen for good people. When we use our anger to energize and fuel us into doing something positive and productive for ourselves and others, we make our lives better. Even better, we improve the lives of others too.
My mother truly is an inspirational role model for anyone who is broke, lost, alone and in pain. Not only do I love her deeply, I am very proud of how she made a difference in her life and mine. When I stop looking at her as my mother and see her as a woman, my heart fills with heartache, joy and compassion. The financial and emotional burdens of divorce or any other one of life's toughest circumstances take a toll on your spirit. It is critical to find strength and hope through the power of choice to help you overcome your struggles.