When the call came on that Thursday afternoon in early spring nearly three years ago giving me the devastating news about my breast cancer diagnosis, I was alone, but yet not alone.
My husband was at work and none of my children were home to be with me when the call came. I don't reveal this to make them feel badly. I didn't want them hanging around with me waiting for bad news.
The only ones around me that afternoon were my two dogs, Elsie and Sophie. I know many people would think I imagined it, but it was almost as if my dogs knew something was up that entire day. Perhaps they sensed my acute anxiety even before that call came, and decided they needed to do some extra hovering. For whatever reason, they never once left my side that entire day.
Elsie is a golden retriever and definitely one of my greatest admirers. Her main role in life is to adore her humans. Some might say that, like most goldens, she is perhaps too clingy, but I find it comforting to have her total focus and loving attention whenever she is by my side -- when she's awake, anyway. Sophie, our other four-legged canine companion, is an English springer spaniel and she is also totally devoted, unless outdoors and on the trail of a captivating and enticing scent.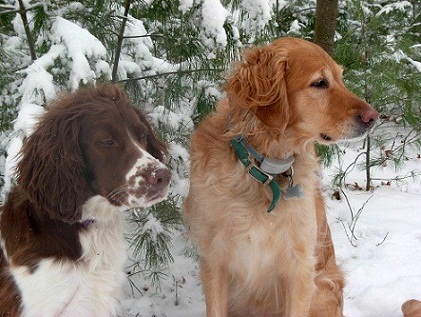 After hanging up the phone that afternoon, Elsie and Sophie silently, patiently and non-judgmentally observed me rant, rave, cry and just carry on. Without knowing why, they understood I was seriously upset and did not back away or even flinch. If anything, they stuck by me even closer and unknowingly provided me with the unconditional love, support and concern that only canine souls are capable of giving.
I believe their presence and gentle nudges pulled me back into a calmer state of mind that day. By the time my husband arrived home an hour or so later, I had gathered myself together enough to at least appear somewhat stable on the outside.
Pets are powerful allies. The devotion and caring they dole out is invaluable during the good times, but even more so during the bad. Without even realizing it, Elsie and Sophie brought me great comfort that day, as well as during my mother's illness two years earlier. Granted, I belong to a family of extreme dog lovers. We sometimes joke that besides having the BRCA2 gene mutation in the family, we have some kind of "dog gene" as well. Luckily, my husband is just as much a dog lover as I am, and even refers to our daughter's big black-and-white mutt Ace as his grandson.
I'm even more grateful these days to have dogs in my life. They continue to teach me a lot about appreciating the simple things and are usually remarkably successful at just making me feel better.
I know my dogs sensed I was in crisis the day of my cancer diagnosis, and I also know they helped me get through it.
Thanks, girls.
Do you have a pet that has helped you get through a crisis?
How does your furry friend help you on a daily basis?
Read more at Nancy's Point
Be sure to like Nancy's Point on Facebook