The most important thing with any job is to arrive with energy. No matter what the job, whether it is on the runway, at a photoshoot, producing and filming for The Face, my charity work, or even doing interviews, I always ensure my energy levels are at their best as soon as I arrive to work.
I usually start the day with yoga or pilates, which helps to get my energy flowing. This is followed by a light breakfast or my beloved green juice, which provides me with the fuel I need. When my day is spent in front of the camera, I use the time in hair and make-up to get into the zone, so the moment I walk out of the dressing room I'm feeling positive and ready to work.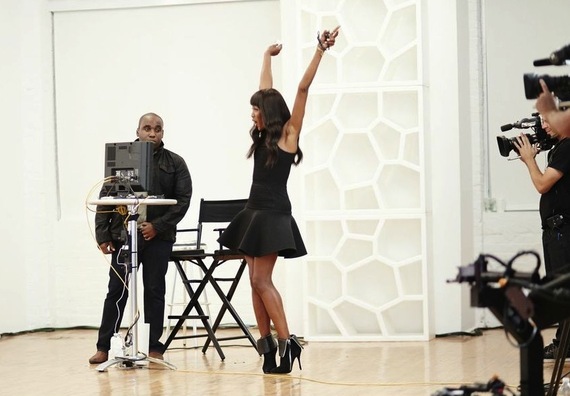 Being aware of your energy levels makes a big difference, because when you're working long hours, it is vital to keep your energy up in order to deliver the best performance. The camera can pick up on when you're feeling flat. You don't want to be inconsistent, you have to give your all from the moment you're on set, to the moment when you've done the job. During breaks, I make sure I have a little bite to eat. I like something healthy that will sustain my energy, like nuts and dried fruit, and for lunch perhaps a salad and vegetables. When I'm off camera I'll have a quiet moment to myself to reserve my energy and focus on the task at hand. I suppose it's like being an athlete, always striving for optimal performance.
A photoshoot requires a different mindset to filmed work. They both require full commitment and energy. You can see someone's energy in the final product of a still photo -- and even more so in a video.
With still photos, you get a selection to choose from. If you have an off moment, the photographer can just delete the image. However when you're filming, your energy during each take has to be up until the director calls "cut." There's no room for your energy to dip, you have to maintain it.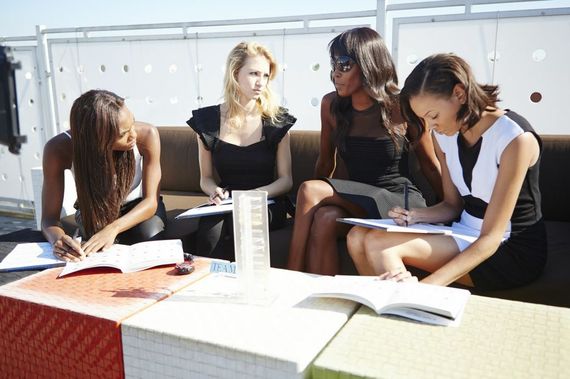 This is what our girls experienced on last night's episode of The Face. The challenge was to keep consistent levels of energy and focus for an entire take.
I was surprised to see how some of our girls struggled with this. Many of our girls look great in photos, but ask them to remember lines, give energy to the camera, and show off a product in a single take and they fall apart. Of course, some girls were naturals too, but I was surprised at how even the best modeltestants found this difficult.
I firmly believe that if you make sure your energy is up, everything else will fall into place. You'll automatically become more focused, your body language and posture will reflect that and you'll seem more alive and engaged. Each of the mentors in their own way tried to impress upon our girls that energy is the cornerstone to delivering a great final product.
Not only that, but if you have good energy, you'll be able to block out all the negativity that can interfere with doing a good job. I can't tell you how many jobs I've been on when someone has brought negativity to the set -- whether another model, or one of the production team. You can't let that affect your work. You have to block it out. At the end of the day you are responsible for your performance, and you shouldn't let anyone else affect your delivery or reputation.
Unfortunately Team Naomi did not win the challenge, and I had to put one of my girls up for elimination. This choice was based solely on her lack of energy during the task. Unfortunately she didn't make it through to next week, but she's a very beautiful and talented girl, so I'm sure she will use this experience as a learning curve and bounce back.
I hope our girls will use this challenge to understand how important it is to give off good energy. The biggest point of all is that when you have good energy, you are able to keep your eye on the goal and succeed.
Love and light,
Naomi
And a special thanks to my dear friend Giovanni Feroce, CEO of Alex and Ani, for taking part:
"The Face was the perfect vehicle for a fast growing lifestyle brand like Alex and Ani. As a CEO, I made the decision to partner with iconic brands like Naomi Campbell, Anne V, Lydia Hearst and the Oxygen Network. The uniqueness of the program is we have the additional benefit of tying in to new up and coming talent as well.
Great show, great people, congratulations to all involved, it was a pleasure and honor to be part of the show."
Regards,
Giovanni Feroce