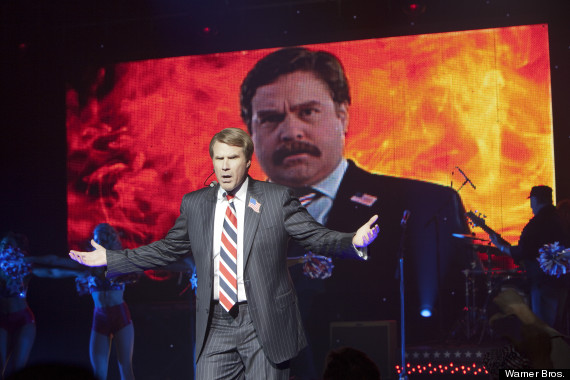 OK, so here's what you need to know about me before reading this review of The Campaign: I think Will Ferrell is a brilliant man with an enticing halfro and Zach Galifianakis is a demigod. So, you know, this review might be a bit biased, but I assure you there are no spoilers.
With two of the strongest comedic actors working today, it's easy to think you know what you're going to get when you walk in the theater to see The Campaign. And the film definitely meets expectations, with Ferrell's hairy chest getting plenty of screen time and Zach G's unpredictable brain serving up tons of randomness. But The Campaign really stands out when it comes to the unexpected surprises and nuances* in the characters. (Cameos by Wolf 'the Blitz' Blitzer, Chris 'I LOVE YELLING SO MUCH' Matthews, 'Take a long walk off of a short' Piers Morgan, and other pundits add the social commentary needed to help elevate the film without directly commenting on the specifics of the upcoming elections.)
With the opening line of "America, Jesus, and Freedom," one instantly expects the beady-eyed George Bush impersonation that Ferrell perfected on SNL, but his Cam Brady more closely resembles -- at least, outwardly -- the polished John Edwards. What spews from his mouth as he devolves into pure venom and stupidity, however, is the perfect combination of the best of every SNL character that Ferrell ever played: Selfish, childish, self-centered, and anything but tactful, Cam Brady is the perfect villain, one you love to see fail over and over again.
Galifianakis' Marty Huggins clearly draws from his "twin brother" Seth Galifianakis, but Seth has been due for his moment in the sun. His evolution from effeminate man-boy to slightly less effeminate man-tween works well and showcases his ability to play things with more subtleties. Galifianakis' characters are all united by a dignity that doesn't fit their ridiculousness. Whether holding a petite pug in The Campaign (which, by the way, was the finest canine acting I've seen since Dog the Bounty Hunter) or arranging drug deals in The Hangover, he always deserves to be there, and I don't think audiences disagree.
Speaking of people who deserve to be there, I must take a moment to honor the tour-de-force performance of Dylan McDermott. As campaign manager Tim Wattley, he's the season one Don Draper to Huggins' Peggy Olsen. With every hilarious gaze and soul-crushing pep talk, steely-eyed McDermott lets the comedy world know that when Jon Hamm's on vacay, he's the guy to call.
(Seriously, McDermott has redeemed himself after American Horror Story, and for that I am pleased.)
(Also, sidebar: I cannot tell you how many times I thought Marty Huggins and Tim Wattley were going to kiss; I was on the edge of my seat.)
And I must also give a heartfelt shout-out to Karen Maruyama who, as housekeeper Ms. Yao, steals the movie and just gained a new stalker in the form of ME.
The Campaign keeps a brisk pace, never seeming self-indulgent (which, if you've seen The Hangover films, is easy to do). Utilizing audience expectations and knowledge of the actors, director Jay Roach employs two key montage sequences that help to make the 87-minute running time feel satisfying. All of which is to say: I think you need to go see it post-haste, obvs. At the very least, do it for America. (Or Jesus and Freedom, if you must.)
* Yes, I wrote 'nuances' in an article about a Jay Roach film. You're welcome.