What do Katy Perry, Emily Blunt and Chelsea Clinton have in common? Aside from being boldface babes, each woman is reportedly tying the knot this season. Who doesn't love a summer wedding? Picture garden settings, gossamer fabrics and tables decked out with snap dragons. Naturally, if you ask me, makeup is just as important as the bridal gown or bouquet. The key to bridal beauty is makeup that goes the distance -- and lasts through the ceremony, the tears, the kissing, the hugging, the champagne, the cake and the dancing. No matter what colors you choose on your special day, you don't want them melting, so smudge-proof formulations are critical. The aim is to be a flawless vision, as winsome on camera as in person.
I know a thing or two about bridal beauty. My earliest jobs as a makeup artist were weddings, and it was an incredible initiation into the beauty sphere. It's one of the most intimate moments in a woman's life: advising on airbrush tans, covering up tattoos and helping create a timeless look. I worked with women of all ages, all skin types, all eye shapes and all aesthetic tastes -- from makeup minimalists who never strayed from beige to rocker types who requested raccoon eyes ringed in kohl. And I witnessed my fair share of bridezilla antics, like the woman who asked me to make her mother-in-law "look ugly." (Of course I ignored her.) Or the woman who insisted her groom needed concealer and bronzer. (He did.)
In the flurry of last-minute RSVPs, pushy wedding planners and moody bridesmaids, makeup can be relegated to the bottom of the list. To get the most of out of your bridal look, be as specific as possible with your makeup artist. Meet with him or her a few weeks prior to the big day and bring plenty of photos clipped from magazines; Audrey Hepburn was always the most cited reference for me. Experiment with different looks and photograph them to see how they register. Consider how the dress, hair style and makeup work in harmony. Two of my bridal essentials include Auto Pilot Pre-Foundation Primer, since it ensures longevity, and Mesmer-Eyes Mascara in Waterproof. That way you're covered when the waterworks kick in. Here are some more specific looks that will surely last until the final dance.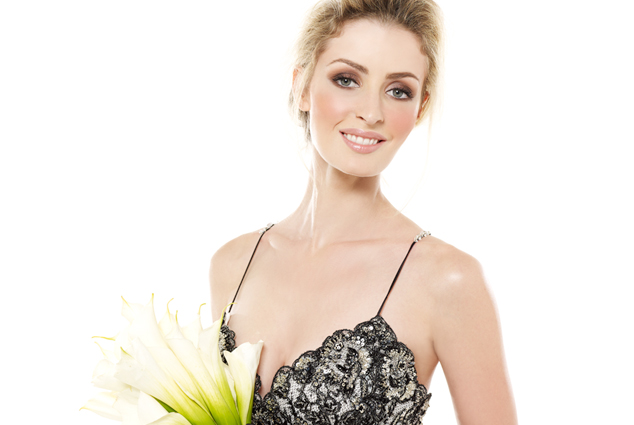 The Classicist: Kate Middleton, take note. A grand wedding, with layers of chiffon, lace and silk satin, deserves an equally eternal look. Focus on elegantly defining your eyes, cheeks and lips. Select a muted palette like my Prismatic Eye Shadow Quad #4, and blend the beige color all over the lid as a base. Then add pink on the crease and finish off your eye look with dark brown on the V-shape of the eye. Contour the cheeks by sweeping a blush right under the cheekbones for a blushing bride effect, and highlight with a matte nude tone for extra definition. For lips, choose a classic red like my DeVine Goddess Lipstick in Aphrodite or a delicate nude for peerless elegance. I always love a set of faux lashes: Keep it natural by only using a section of the lash and fixing them to the outer corner of the eye.
The Fashion Maven: The bride who elects to make an avant-garde statement with her gown might also appreciate artful, dramatic makeup. To create a matrimonial look that's your strongest accessory, start with the right base by using a sophisticated aerosol foundation like my Boudoir Mist Spray Foundation. It creates a gorgeous, luminous finish, and can be used for quick touch-ups later in the evening. Then choose your statement lifted straight from the spring runways: A bright purple lip, metallic smoky eyes, or a mushroom manicure a la Chanel. But choose just one. You still want to look like you.
The Minimalist: Imagine a delicate veil, strapless gown and side-parted bun. The low-key bride likes to keep thing super-simple. A zero-fuss beauty look can be created using just a tinted moisturizer and a luminizer, like my Light Patrol Palette, on the eyes, cheeks and lips. Using a contour brush, blend the lighter shades in the palette to highlight the cheekbones for a glow that looks fetching in photos. Opt for a champagne-colored lip lacquer on the lips that will stay put even after your second glass of bubbly.
The Bohemian: If you're invoking ethereal chic with a flowy dress and a whimsical floral wreath, your makeup should be suitably breezy. Subtly define the eyes with shades of lavender and violet using my Prismatic Eye Shadow Quad #1 and #8. Apply color to the lids and the lower lashline for a carefree insouciance, and use a white liner on the inner rim to create freshness. For fresh-faced beauty, use a gel stain on the apples of the cheeks. Perfect for walking down the aisle barefoot.