With super-sized September issues hitting newsstands and the next fix of New York Fashion Week just weeks away, fashion fans are busy plotting how to incorporate oxblood (widely touted as the must-have color for next season) into their wardrobes and daydreaming about brocade coats and boots. While temps are still a bit high to test drive the massive, feathered chapeaux that paraded down the runways, it's never too early to begin experimenting with makeup trends. I'm a firm believer that a woman should commit to a makeup refresh at least twice a year -- and fall is the perfect time to incorporate bold shades and luxe textures.
Before Planet Fashion starts sending out Spring, let me show you how to take some runway inspiration into (your) reality this season.
EYE EXOTICA
On the runway: Designers looked far and wide for inspiration for Fall, from pop art to peacock feathers to tribal liner. Anna Sui took a nod from the '60s with matte, cobalt-blue cat eyes and a tiny blue dot in the center of the lower lash line. Prabal Gurung took inspiration from birds of paradise, splashing shades of electric blue and peacock green all around the eye to add a strong, exotic edge. Miu Miu and Vivienne Westwood showed makeup as art with theatrical looks in paint-like textures creating intriguing character drama on the runway.
In reality: For a touch of drama, try violet or a teal along the upper lashes, and make the liner thicker toward the outer corner for a party-perfect look.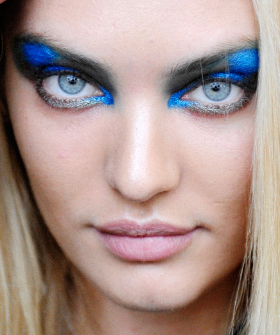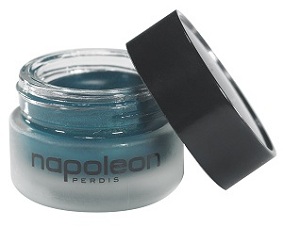 Photos: Nina Westervelt/MCV Photo, Napoleon Perdis
SMOKE HAZARD
The smoky eye continues to evolve in shades of urban gray and classic black, with strong accents of pine green, midnight blue and violet. Rock-'n'-roll and grunge were huge inspirations at the fall 2012 collections, and Marc Jacobs and Rag & Bone both carried the look through by employing shadow with edge. It was all about looking perfectly imperfect; intensity was kept at the lash lines for that DIY touch. Gold glimmered down countless catwalks and Roberto Cavalli combined pine green and violet over the classic black smoky eye with a gold highlight on the inner corner of the eye for a luxe finish. Last but never least, Prada had the show-stopping smoky eye. Pitch-black pigment painted the eye from lash line to brow and was framed with a haze of orange cream shadow. Purple pencil lined the lower lash line to finish and frame with an almond shape. Finally, the eye was then cut through the water line with white liner, extending to make the eye appear larger.
In reality: Don't be afraid to get a little messy! This is a look you can achieve in the back of a cab from the office on the way to the bar. Just grab my China Doll Gel Eyeliner in Equinox and get smudging! It's beautifully undone in that effortless, East Village kind of way.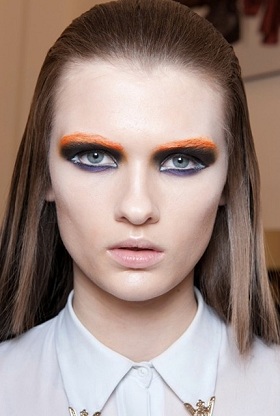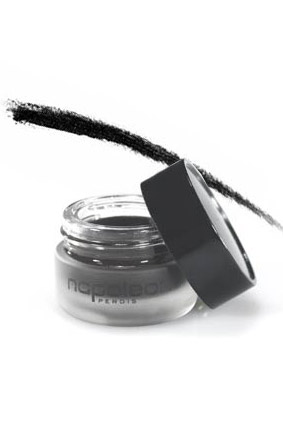 Photos: Greg Kessler, Napoleon Perdis
FLASH SOME LASH
One of the most foolproof ways to get in on the season's alluring eye looks is to pop on a fab pair of lashes. With an effect to suit every mood, lashes were pumped up with layers of jet-black mascara or adorned with faux lashes from the most subtle, doll-like extensions to thick, separated clusters and neon color. Elie Saab's girlish pink palette was emphasized with lashes on both upper and lower lash lines, a sparse full set on top and short individuals on the lower for a doll-like feel. Colored mascara was the key to Stella McCartney's look, a neon marine shade was layered to the upper and lower lashes to open the eye.
In reality: Outsource the artistry and add the drama with a faux lash. For a subtle flash of color Stella McCartney style, mix a little loose powder in a vibrant shade with clear mascara for instant drama.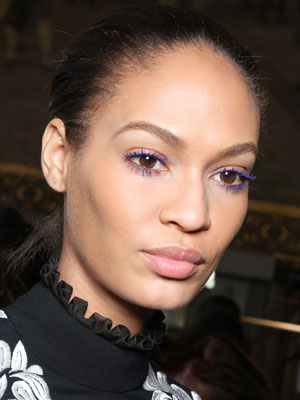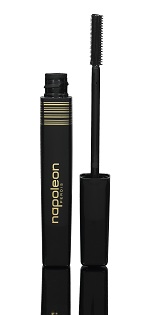 Photos: Fairchild Archive, Napoleon Perdis