A summer sojourn is all about escaping from your daily routine; while on vacation you shape shift to suit your location and a more relaxed timetable -- if there's a timetable at all! You dress in a different way, dine at different times in different locations, you lighten up on the demands of your day. So why then, should you stick to your same signature makeup look? While sunscreen, a coat of mascara, and a lick of lip balm may be sufficient for sun-soaked days, amping up the glam factor for an evening out is all part of the (holiday) fun. Mastering the art of jet-set glamour is simple: consider your destination and the mood you want to evoke prior to takeoff in order to create maximum glamour with minimal makeup baggage.
The Greek Islands: A Look that Lasts from Sunset to Sunrise
Every time I visit Greece, I'm inspired by the beauty of the islands and the women who live and play there. A mere mention of the Mediterranean conjures up images of sun-drenched goddesses with a hint of European glamour and glitz. To create a look that lasts through dinner, dancing and beyond, it's essential to start with a primer that works overtime to keep your skin fresh and any base you're wearing in place. A hydrating, pre-makeup base like my Auto Pilot Pre-Foundation Skin Primer is ideal for hot, humid summers. Forgo foundation and choose a tinted moisturizer or a BB cream to even our your skin tone and add a hint of color. To fake a glow worthy of a sun goddess, choose a blush that combines coral and bronze hues and sweep it up toward the temples. Finish with waterproof mascara, some liquid eyeliner (pencils don't last well in the heat), and a slick of lip gloss and you're a goddess!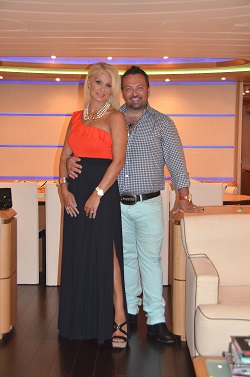 Vacationing with my wife and Goddess Soula-Marie
Palm Springs: Lo-fi Desert Chic
My home in Palm Springs is my year-round retreat and the beauty approach for 'desert rats,' as they're known, is definitely dialed down from the perfectly polished looks seen back in Hollywood. The earthy tones of the desert seem to inspire a subtle approach to makeup that's understated but undeniably chic. Skin appears naturally flawless, a look that can be achieved with a weightless base like my Off Duty Tinted Moisturizer. Work some shape into the face by contouring with a bronzing powder. Be sure to make room in your makeup bag for a multi-tasking palette of creamy metallic shades to add subtle contours and highlights that add texture with minimal color to keep this look on the light side. If you want to add volume to your lashes without the maintenance of mascara, apply a few individual faux lashes to define the lash line and you're ready for cocktail hour!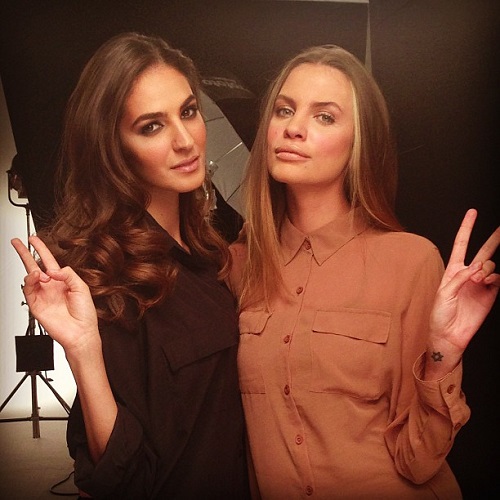 Palm Springs chic models from an NP Set photo shoot
Martha's Vineyard: Pretty Preppy
Best known as the summer retreat of the Kennedy family and countless politicos who followed, Martha's Vineyard plays host to an impeccably groomed set of vacationers each summer. To look the part of American royalty, clean, fresh skin is a must. Pack a multi-tasker with a fab finish like my new Auto Pilot BBB Cream SPF 30 for a base that will take you to from days by the beach to nights dining al fresco. For a healthy flush of color (essential for a day of sailing or sunbathing) make your favorite lipstick work overtime by smoothing a touch of color onto the apples of the cheeks and up toward the temples. To add a touch of pure glamour for evening, punctuate your pout with a perfect red lip.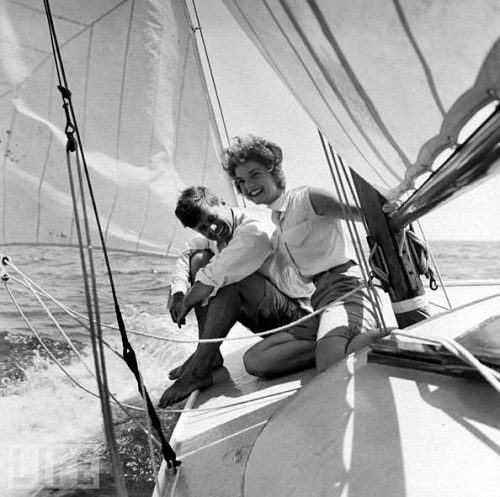 a classic shot of JFK and Jacqueline Kennedy (credit: Life magazine)
Capri: La Dolce Vita
Sitting pretty in the Gulf of Naples, the isle of Capri marries awe-inspiring views with the dolce vita luxury of Italian culture. If you've sighted the latest Dolce & Gabbana campaign, you'll get the look to channel: quintessentially Italian beauty including a bold matte lip, carefully sculpted brows and glamorous black liquid liner. Few of us are blessed with naturally flawless brows so an all-in-one kit like my NP Set Essential Brow Set is worth finding room for in your beauty bag. It packs tweezers, shaping wax and two shades of brow powder for brows that go the distance from day to night. Of course you can't beat a classic red lip for insta-glam and it's a great cheat move when you want to make a statement without going to too much effort. Just remember to stick with a matte formula that's less likely to move and won't require as much maintenance as a glossy finish demands. Line lips last to further contain the color but trust that in some sense, you'll be sure to make your mark!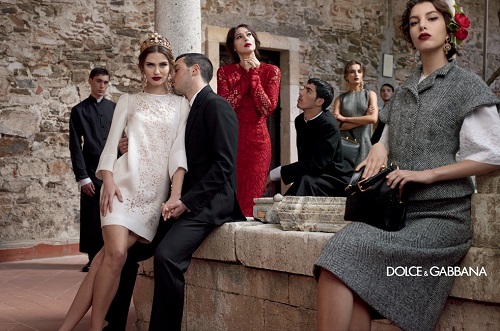 a shot from the Dolce & Gabbana fall 2013 ad campaign