One of my key creative influences is fashion -- specifically the latest looks from the runway -- and I am constantly searching for new and inventive ways to share these trends with my customers. However, the vast majority of runway looks may be too extreme for day-to-day wear, but are perfect to recreate for an oh-so-glamorous Halloween! Here are a few of my personal faves from the catwalk (with application tips included) to inspire you this All Hallow's Eve.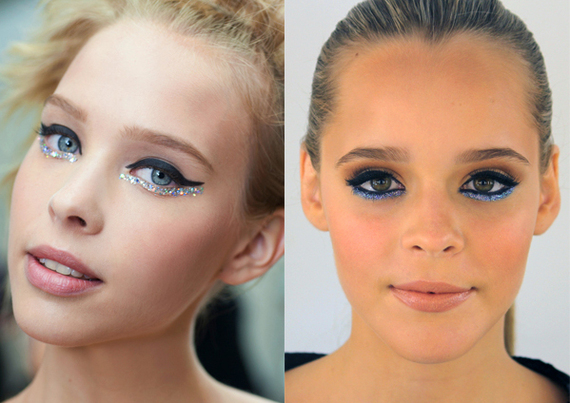 Chanel's Glitter Eye Makeup Spring/Summer 2014 Haute Couture
Who doesn't love a little sparkle? This dazzling eye makeup is perfect for a fabulous fairy or pixie costume. Plus, it's super easy to recreate at home! Simply define the top lash line with winged eyeliner (try my Matte Eye Ink for precise application) and line the lower water line with a gel eyeliner. For the glitter eyeliner on the lower lash line, mix together an eyeliner sealer and glitter dust or an eyeshadow (I recommend my Cake Eyeliner Sealer and Loose Eye Dust Disco Glitter) and apply. Let that dry, then reapply to ensure the glitter is opaque. Have fun with it! Experiment with different shades or mix colors together -- the options are endless and the results are magical.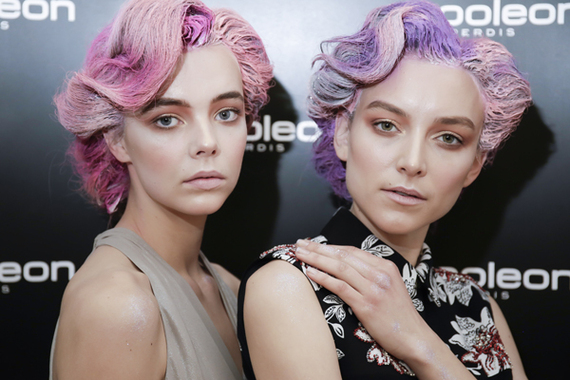 Myer Scandinavian Mermaid Spring/Summer 2015
I actually created this look to be worn every day for an on-trend, ethereal glow, but you can easily pump up the volume a little, adding a chic professional touch to a mermaid costume! With glowing skin and golden peach highlights, all you need is some pastel hair and a few sparkling body jewels (for scales, of course) and you're ready to go! Begin by warming the entire face with a bronzer (like my Matte Bronze). Achieve the golden highlights around the temple and eyes with my Loose Eye Dust Honey Child. Complete the look with an elegant, nude pout by mixing my Pro Lips Lipstick Blanc with DéVine Goddess Lipstick Atalanta.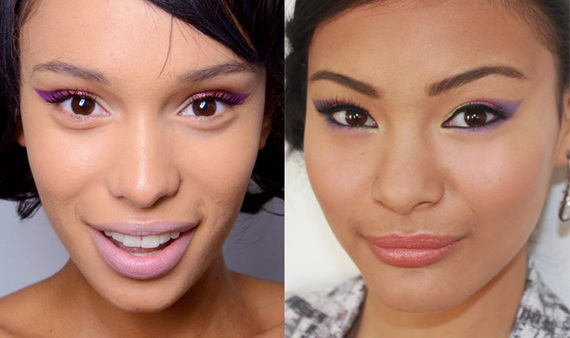 Jeremy Scott's Lilac Cat-Eye Spring 2014
If your go-to get-up each Halloween is a sexy kitten (yawn!), set yourself apart from everyone else with this vibrant eye look. The bright purple, pink, and yellow hues will take that tired kitten costume from familiar to fabulous! Begin by applying a coat of mascara and curling your lashes. Next, pat a pink eyeshadow (like my Color Disc in Pink Slink) to the inner half of the eyelid. Layer with a glitter eyeshadow to really make the color purr! Continue on the outer half of the eyelid with a lavender shade. Blend the shadow upwards and outwards to create a winged shape (this elongates the eye and gives a feline feel). Repeat these same steps on the outer half of the lower lash line. Tap a yellow shadow (try my Loose Eye Dust Contrary Canary) to the inner corner of the eye, then line and define the eyes with a gel eyeliner. Just add whiskers and cat ears, and your once stereotypical costume is now completely revitalized and on-trend.