 I recently returned from a beautiful resort in Greece with my family. We stayed at Sikyon Coast, a gorgeous resort in Xilokastro that brings together the unrivaled natural beauty of the Corinthian Gulf with incredible architecture originally designed by the great Greek poet Angelos Sikelianos. The resort itself is perfection: perfect rooms, perfect service and perfect food anchored in the most stunning natural setting. Sikelianos built an amazing villa there with his first wife, American Eva Palmer, where they lived for twenty years. They shared a love of the arts, Greek culture and, most importantly, each other. So much so that during our stay, the air of romance was palpable; it's impossible not to fall in love all over again there! As a couple, they revived the Delphic Festival that showcased Greek art, music and theater and promoted peace and harmony in Greece and beyond. You can still see Eva's influence today, as Greeks, Americans and Europeans gather in this part of the world and make an effort to recreate that romance and beauty.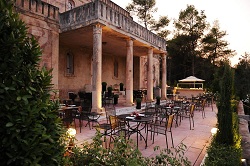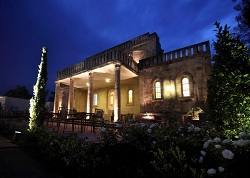 Photos courtesy of Sikyon Coast Hotel & Resort
Greece may be in a recession at the moment, but it will always be the birthplace of civilization and I always come away from my time there inspired. As a makeup artist, I wanted to recreate that Americana-meets-Mediterranean approach to glamour and come up with a romantic look that will flatter every woman. Makeup is a wonderful way to tell your story, whether reflecting your inner glamazon or as a nod to the romance of a summer past.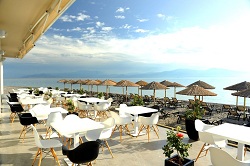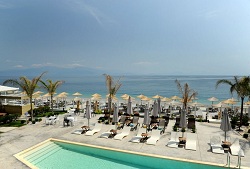 Photos courtesy of Sikyon Coast Hotel & Resort
Start with a primer and tinted moisturizer for an even tone while keeping your skin looking youthful and fresh. My Off Duty Tinted Moisturizer gives the skin a shot of radiance and a moisture boost with just enough coverage. If you suffer from dry, dehydrated skin as the weather turns colder, apply a serum before your primer for an additional moisture boost. After you've built a fresh, flattering base, choose a cheek color that combines bronze and coral for an ultra flattering flush (my Mosaic Flushing was designed for just this purpose) and lightly contour the cheekbones. Finish with a red-orange lip and plenty of mascara for that Euro-glam polish.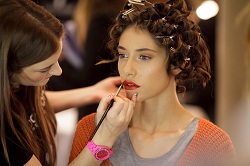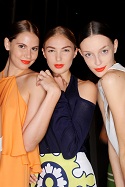 Photos courtesy of Napoleon Perdis