"I never forget that a woman's first job is to choose the right shade of lipstick." So said the bawdy thirties screen siren Carole Lombard, with tongue planted firmly in cheek. The quote is admittedly hoary in its thinking, but I do applaud the return of lipstick trumpeted my many makeup brands, mine included. After years of gloss domination, lipstick, especially red lipstick, is finding more fans--on the catwalk, on the sidewalk and on the red carpet. Applying lipstick is akin to a ritual, and many women recall their first time with reverence. Watching my mother swipe her lips inspired me to become a makeup artist. The impact of that little magical bullet has not faded, and it still embodies so much--glamour, seduction, power.
On runways lately we've seen all kinds of flirtations with morbid tones like grey and black. But as Anne Varichon writes in the weighty tome, 100,000 Years Of Beauty, there's a reason that red, pink and orange shades have ruled since at least 1850. Colors like blue, green or black are "distress signals that cannot be taken lightly ... The color red embodies a biological dynamism and thirst for life." Women have arguably known that since Cleopatra had carmine beetles and ants crushed for her scarlet lip color. Queen Elizabeth I, meanwhile, favored beeswax and plant-derived stains during her reign. More recently style icons from Marilyn Monroe to Sandra Bullock have all rallied around pretty, traffic-stopping shades.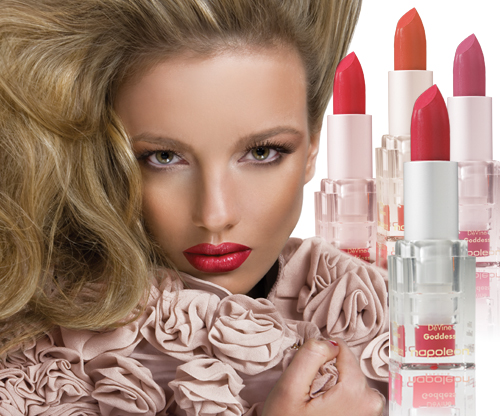 To be sure, applying gloss is a breeze, while lipstick requires an investment of time, effort and accuracy. But the results can be so much more compelling. Scoping out the perfect shade can be a lifelong pursuit, as my clients continually tell me. Inspired by muses both mythological and modern-day, my lipstick collection is called DéVine Goddess. I just launched a ravishing new red shade called Anna, and named for the spunky Greek pop singer Anna Vissi. Locating the right color is only half the job. Mastering the tricks to creating a fuller pout or a whiter smile are the true signs of a makeup maven. Here, I've created a cheat sheet of application tips and easy ways to reshape your lips for a perfect pout in any vivid hue.
The basics: Before you get started, prep the lips with foundation or concealer to even out any blotchy pigmentation. It makes for an easier lipstick application and ensures your product lasts longer. Always use a lip brush and build your coverage a little at a time. Be sure to apply your lipstick all the way into the corners of the lips on both the top and the bottom. Do not apply over the outer edge of the lip line, and don't forget to gently press your lips together to guarantee an even application.
Smile for me: Before application, try dabbing a lighter shade of concealer on the outer corners of the mouth. This creates a lifting effect that makes you look like you're slightly smiling all the time--it's an old trick pioneering makeup artists used in the golden era of Hollywood. This technique can also be used to correct drooping lips.
Liner last: It's a common misconception that you should line the lips before you apply the color. I advise applying your lipstick and then using a pencil to line around the edges. The liner will glide on smoother, leaving a more natural outline, but still prevent the lip color from bleeding. Use my "outside in" liner technique. Begin at the outside corner of your mouth and use a feathering motion to draw the line to the middle of the lips. Do the same from the opposite corner so the two lines meet.
Red and blue: Scarlet lip shades have been getting lots of runway play. To mimic the classic bombshell look, try a blue liner instead of a corresponding one. This will make the ruby lipstick pop and make the lips appear fuller and plumper. Blue red lipsticks can even make your teeth look whiter. My DéVine Goddess Lipstick in Aphrodite has a blue red undertone that is universally flattering.
Thin Lips: To plump up thin lips, highlight the center of the pout with lip lacquer or some shimmering loose eye dust to reflect the light. Stick to lip colors that are on the lighter side but shade the corners with a darker hue to fake fullness. Another option is to do a "floating lip," keeping it free from liner altogether which creates a more open feel. Lipstick divas--the time to pucker up is now.