Miranda Kerr is most often recognized stateside as a Victoria's Secret Angel, a runway regular, and a trendsetting mom who's popular with the paparazzi. Yet she's so much more; beyond her brilliant career in fashion, she's also the founder and brand builder behind organic skincare range KORA Organics, a published author, and a wife and mother. Like me, she travels a lot and our paths crossed again recently in Sydney when we both flew in from L.A. for the David Jones Spring/Summer 2012 Fashion Launch. It was the third season we've worked together -- she as the face of David Jones and I as the Makeup Director -- and our connection only grows richer. One of the things that inspires me about Miranda is that she's the real deal; beautiful inside and out with a great respect for healthy living, happiness and balance. I've long admired how she juggles it all -- and makes it look easy -- so I had to get Miranda's tips on how she maintains a happy and healthy lifestyle no matter where her family and career may take her. Thanks for sharing Miranda!
Miranda says: Find Your Moment of Zen
"I believe it's important to take stock and be aware of balance in your life. For me, it's integral that I balance life as a mum, wife and business woman with time out for myself.
For me to be at my optimum, I find time each day for me, that may mean even 5 - 10 minutes of meditation, deep breathing or just sitting in the quiet and reflecting. This helps to ensure that I give my best to my family, my clients and I look after myself in the process.
I also like being out in nature, playing with Flynn under a tree, or reading a book when he naps.
My ultimate indulgence to unwind at the end of a long day is an epsom salt-infused bath; this helps release any tension from the day.
Yoga is at the core of my health and wellness routine and I have practiced it for more than 10 years now. Even if it's only for 20 minutes each day, I find it helps me to re-center and re-focus as well as improve my overall energy levels."
Miranda says: Feed Your Mind, Body and Soul
"My family instilled in me from a young age a real appreciation and passion for good health and organic living. I believe a healthy body leads to a healthy mind.I adopt the 80/20 rule. Eighty percent healthy, 20 percent indulgent and that works for me personally. I love food and enjoy eating fresh organic produce. I try to drink warm water and lemon every morning to kick start my metabolism and I also drink lots of good quality purified and preferably alkaline water throughout the day. My Nan introduced me to Noni juice when I was 12 years old, which I drink twice daily. I believe that everything in moderation is best.
I love cooking healthy organic meals for my family and Flynn particularly loves the organic chia seed muffins I cook him as a treat once a week."
Miranda says: Work One of Your Greatest Assets-Your Smile!
"I try to think and speak kind words often. I smile and laugh often; laughing with my son is the best 'soul-food'. Smiling is one of our greatest assets, and it costs nothing. Not only can a smile totally transform the way you look, it also shifts the way you feel."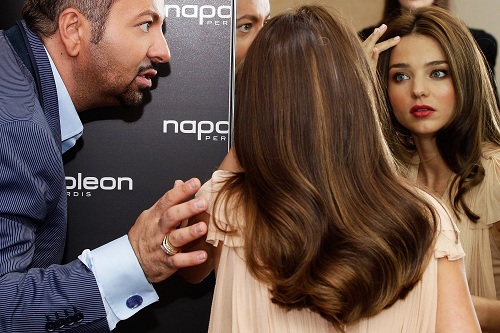 Image courtesy of David Jones Spring/Summer 2012 Fashion Launch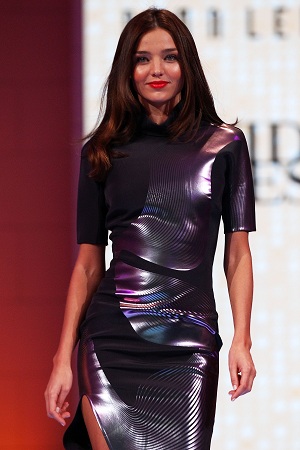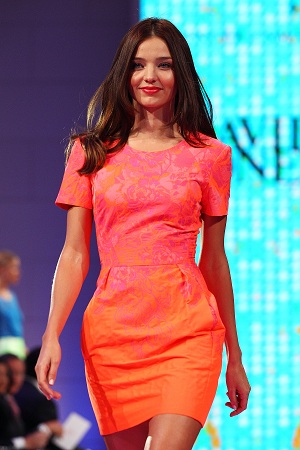 Images courtesy of David Jones Spring/Summer 2012 Fashion Launch