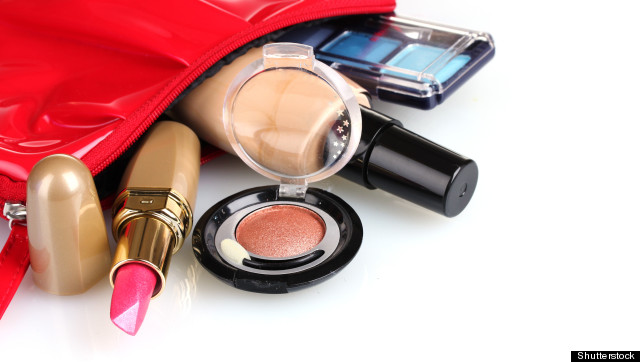 Things are heating up here in the U.S. but it's been equally hot on the other side of the pond, where David Beckham recently made headlines as Elle's first ever male cover model. The fashion bible bet on Becks as the best candidate to break the cover-model mold, and didn't it pay off! The July issue -- featuring the soccer star shirtless in a pair of soaked Dior Homme jeans -- is already selling like mad on eBay and is sure to become a collector's item.
For me, the cover captures the very essence of summer. A world-class athlete with great currency, the stripped-down Beckham glows with good health and enviably chiseled looks. To perfect your own summertime look, focus on making the most of your best features but don't forget to factor in the heat! Trying to work a glamorous look in steamy conditions could easily see you in a Jersey Shore-style makeup meltdown. Take what you love most about your signature makeup routine and dial it down so it can withstand the high temperatures.
Complexion Perfection
If you don't generally leave the house without primer, foundation, concealer, powder, bronzer and blush, a day at the beach requires a downsize. Sunscreen is non negotiable, but you don't want to pile too many products on over top or you'll find yourself breaking out into a sweat, or just breaking out. A lightweight tinted moisturizer is often enough to even out your skin tone and diffuse imperfections. [My new Off Duty Tinted Moisturizer layers beautifully for a flattering finish with minimal effort.] When it comes to blush and bronzer, stay away from powder formulas, which are most prone to streaking and caking in hot, humid conditions. Blend a cream or stick formula into skin for the same hint of color without the mess.
For a radiant look, I love to use a cream luminizer; bronze can be mixed into your base (a genius tool when your complexion has deepened slightly), a rose shade will flatter as a blush on the apples of the cheeks or along the cheek bone. Shades of silver and gold highlight the brow bone, nose and other high points of the face to add that luminosity and a steamy beach babe sensuality to skin.
Easy, Breezy Eyes
Keep your eyewear simple -- and smudge proof -- with a dependable waterproof mascara and a wash of a water-resistant or long-wear bronze cream shadow. For a look that's modern and fun, apply a slash of gel liner in a bold hue to your upper lid only. It makes a colorful statement that lasts from beach to bar, no touch-ups required. For the best results, choose a shade like blue, teal, or silver, and apply with a medium size synthetic brush. Start at the inner corner of the eye (close to the lash line) and sweep out towards the outer corner. Keep building until the color is half way up the lid. Extend out slightly at the outer corner for a Raquel Welch-inspired moment.
A Screen Siren Worthy Pucker
One of my favorite looks for poolside glamour is a bold lip paired with a fabulous pair of oversized shades. It's an instant image upgrade! Make sure that you stick to a sheer texture, a stain or a gloss for minimum upkeep. Coral screams summer, hot pink is totally on-trend while red oozes sensuality. This look is easy, breezy and undeniably sexy. For smudge-proof application, pout your lips and tap some of your chosen product directly onto the fleshy center of the lip. Using a lip brush or finger, spread the product to the outer corners of the lips. While a do-it-yourself lip is perfect for a low-fi look, application and accuracy is the key with these bold shades. For lipsticks and liners that have been overexposed to the sun and become too soft to manage, put them in the fridge for a short amount of time so they can re-set.