Last week, I had the honor of attending the Elle Women In Hollywood Awards, a celebration of the success of women in the entertainment industry hosted by a magazine whose unofficial MO is the empowerment of women around the globe. I had the privilege of making up Elle Editor-in-Chief Robbie Myers, whose vision for this prestigious gathering continues to make it bigger and better each year. Robbie has become a dear friend over the years and is the epitome of the modern, independent, intellectual woman and the very personification of the brand she represents. Elle Women In Hollywood is a beautiful event to behold; impossibly chic down to the tiniest detail and peopled with a virtual constellation of celebrities, many of whom have had to struggle to earn their place in one of the toughest industries there is. From the outside looking in, Hollywood can appear to be a land of opportunity for all but it's still quite a man's world. As a father to four young girls, I love that Elle pushes the boundaries and opportunities for women, which in turn makes life easier for my own girls.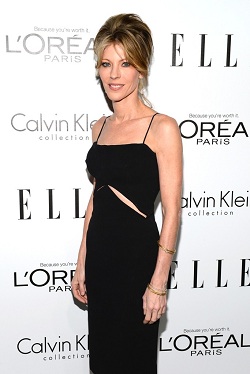 Photo by Michael Kovac/WireImage
A highlight of the evening was reuniting with Cate Blanchett, whom I first met when she was covering Australian Fashion Week as Fashion & Style Editor-at-Large for Harper's Bazaar and I was doing makeup backstage. We hadn't seen each other since but she was as warm and authentic as I remember her 13 years ago. While she's renowned for her beauty, elegance and poise, what struck me about Cate was how she genuinely engages with you, and just how authentic her charm and charisma is. I'm sounding star struck I know, but I remain in awe of her. In fact, I decided that along with my wife, she would be a muse for how I'd like my daughters to see themselves in the future. To me, she's a cross between Athena, the goddess of wisdom, and Aphrodite, the goddess of beauty.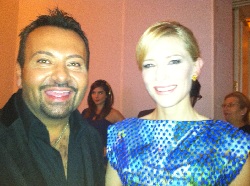 Photo courtesy of Napoleon Perdis
Also inspirational was hearing from the honorees, always a high point of the evening. The recurring theme: the need to encourage Hollywood to create roles for women that go beyond youth and beauty. It was truly amazing to hear Susan Sarandon speak about how she was ostracized for years because of her liberal views. Shirley MacLaine was another standout of the night, her struggle against the studio system proof that when you really believe in something you can cut through preconceived notions, prejudice, and stereotypes. Emma Stone was an absolutely stunning presenter to honoree Octavia Spencer who moved the whole room with her story of hard-earned success. Although undeniably beautiful, I would have loved to have heard Uma Thurman speak with the same gravitas as her peers. But overall, the speeches were filled with inspiring sentiments from women who have succeeded because they believed in themselves, each other, and a wider world rich with possibility.
Being in a room filled with beautiful, passionate, intelligent women got me to thinking about my wife and muse, Soula-Marie. Marriage is always a challenge for any couple but I'll never cease to be amazed by how my wife juggles work, raising four girls, and dealing with my multiple personalities! She is an accomplished professional and entrepreneur in her own right, but she also works hard to help me on my path while forging her own. Her mother was born in a small village in Greece and was brought up believing that she was subservient to men, her role in life to simply take care of her husband. While Soula-Marie can be a traditionalist in some ways, she has been blessed with the drive, ambition, and motivation to want more for her own life.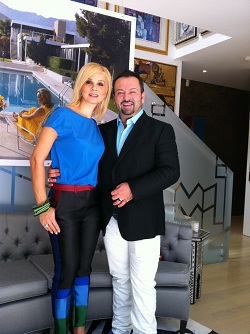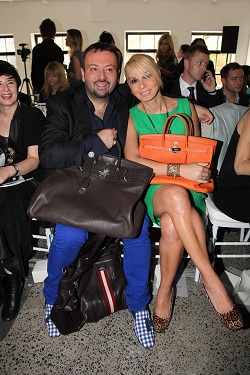 Photos courtesy of Napoleon Perdis
And it was those very attributes that I was reminded of during the Elle Women In Hollywood event, listening to those inspirational role models talk of their struggles and their successes. Strong, empowered women who share their story make the world go round. Cheers to Robbie Myers and Elle magazine!