This July, I'll realize a dream I've had since I first moved to America six years ago -- launching my namesake brand at Nordstrom. I couldn't be more proud to see my products selling at one of the top fashion retailers in the country, and I hope you'll look for them, too. Read on for my tips on recreating one of Summer's hottest trends without getting burned.
While fluorescent colors have lurked in the underground scene for decades as the ultimate in attention-grabbing shades, these impossible-to-ignore hues are back in a big way -- from accenting Marc Jacobs and Jason Wu bags to adorning the locks of perfectly coiffed celebs. While celebs like Katy Perry and Nicki Minaj have incorporated hot pink, electric blue and neon green into their daily looks, more sedate celebs are making their own rainbow connections with Technicolor tipped strands (a la Lauren Conrad) bold day glow lips (as seen on Nicole Richie and Jessica Szohr) and electric eyeliner (spotted on Jessica Alba). I recently took the trend to the extreme with a lip look for designer Magdalena Velevska's collection at Mercedes Benz Fashion Week Australia by creating a bespoke acid yellow lip. While that particular look is best left to the runway, neons can be quite wearable and even flattering if you follow my (makeup!) rules.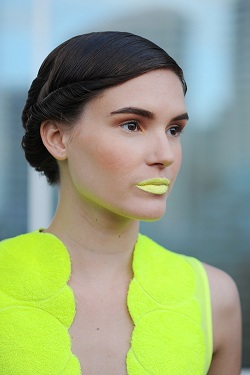 Rule #1: Let Your Favorite Shades Live a Double Life
Giving the neon trend a go doesn't have to mean investing in an arsenal of new lipsticks and liners. Mix your favorite brights with a white cream or gel (my China Doll Gel Eyeliner in Alabaster works beautifully) to take them into bold new territory. A red or deep pink lipstick can easily transform into an eye catching summer hue, while a navy or purple liner can be adapted from deep to day glow.
Becoming a mix master gives you the power to decide how far you want to take the trend. My top tip for trying a bold new lip color is to leave it on for 12 minutes, then decide if you're ready to take it to the streets. Your eyes simply need time to adjust to a new look and that flattering fuchsia just might become your signature summer color.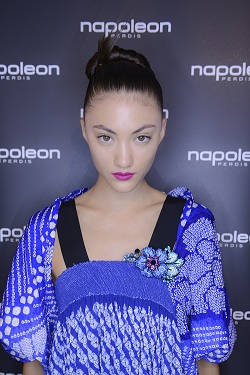 Rule #2: Go Easy on the Eyes
When veering out of neutral territory, remember that a subtle pop of neon color goes a long way. For the color shy, a flash of bold electric blue or lime green along the upper lash line makes a statement without leaving you looking like an Avengers wannabe. My 20 percent rule is key for trying new shadow hues: apply color at 20 percent of its full intensity to gauge the effect. You can always amp up the volume if you dare. Keep the rest of your makeup barely-there for a modern look. The slightest hint of bronzer and a neutral lip add polish and a hint of warmth.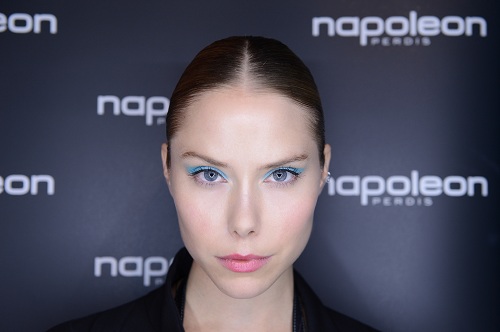 Rule #3: Let Your Skin Tone Be Your Guide
If you have fair skin it's best to stick to hot pinks and oranges for lips and turquoise blues or bright lavender shades for the eyes, as these shades won't clash against pink undertones. I love a lime green or royal purple on a deep skin tone -- the contrast is beautifully striking. Both fuchsia and bright coral are surprisingly flattering on all skin tones, and these shades are set to remain popular through Summer. Try my DéVine Goddess Lipstick in Hara or Calypso for an instant shot of summer color.