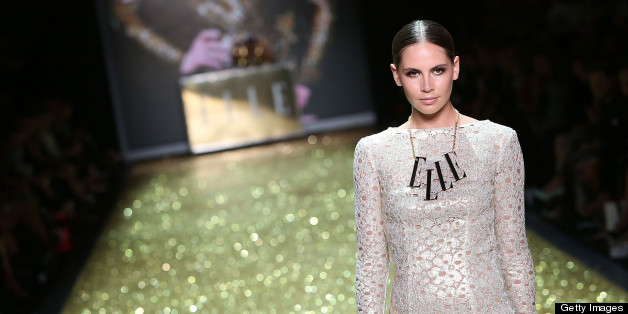 I just flew back from Sydney where I directed the Spring/Summer 13 makeup looks for eight shows at Fashion Week Australia, including Dion Lee, Ellery, Toni Maticevski, Alex Perry, Camilla & Marc, Christopher Esber, Ginger & Smart, and Karla Spetic. I love the whole process of working with designers; from hearing the inspiration for their collection, seeing their references and finished garments, listening to a few tracks on their show playlist, and then collaborating on a beauty direction that fuses their vision with mine.
Having worked with designers at various Fashion Weeks from Sydney to New York to L.A., I've always been inspired by design talent -- from the experienced, established players to new names on the rise. [The fashion collaboration work I do cements the brand's authority as a professional artistry brand and also serves as a testing lab for our new products -- tested on models, not animals!] While I certainly reference the past, I'm far more focused on the future -- and young talent is the future of every industry. For me, as a creative director of three different brands, it's important to tap into young minds and eyes, to gain a fresh perspective on fashion, beauty, and the now.
In Sydney this season, I had my family in town with me as it was spring break vacation for my four daughters. Perfect timing for a Fashion Week family outing! So I had my 13-year-old daughter Lianna join me in the front row to view some of the key shows. It's really important in the beauty business to be catering to different generations of customers, and having launched my brand 18 years ago, my customers definitely span various decades. Naturally I hope that Lianna will one day want to join the family business, but right now she has her own voice and opinion and I like to tap into that. Like me, she's a visual person and she's very much into fashion and developing her own style imprint. Does that sound a bit precocious? I don't think so, it's what teenagers are all about right now.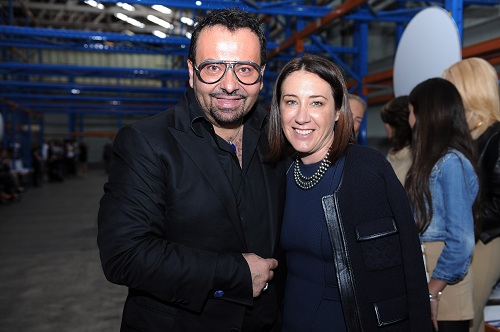 Backstage with Edwina McCann, Editor-in-Chief of Vogue Australia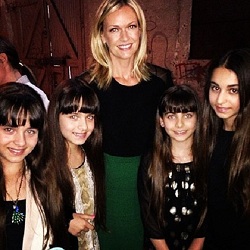 The Perdis girls with Sarah Murdoch
After viewing Alex Perry, Ginger & Smart, and Ellery, Lianna clocked the nude makeup trend that ended up sweeping right through the week. "So it's all about that fresh, natural look for Spring," she observed. "But I bet you're dying to break out a bold lip, Dad!" She was right. I was... but this season, it wasn't about a strong lip statement -- of which I'm always a fan -- but more about impeccable, fresh and dewy skin and clever contouring. Though I didn't get my color hit, I felt satisfied that my next season of launches of a radiance-boosting primer, a skin-perfecting BBB cream, and a fab new contouring tool were well timed. Tick. Tick, Tick!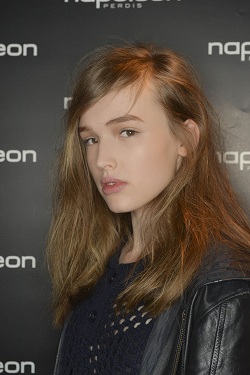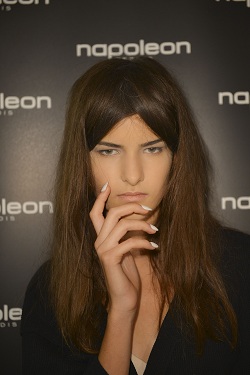 Backstage beauty at Ginger & Smart and Ellery
Having Lianna with me front row at Fashion Week was a great father-daughter moment; we were both mesmerized by the beauty of Toni Maticevski's impeccable production, the artistry of his silhouettes, the sheer beauty of his modern take on Grace Kelly. "It's a bit too sophisticated for me right now, " admitted Lianna. "But I'm hoping Mom orders a few pieces and that she lets me wear them when I'm older." My great friend Alex Perry took a new modern direction which was loved by all.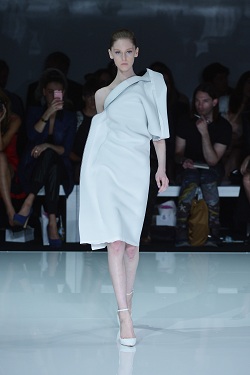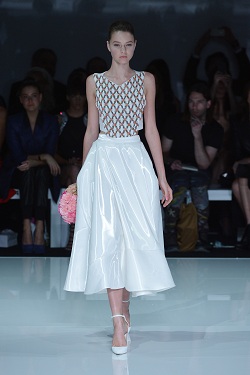 Runway shots from Toni Maticevski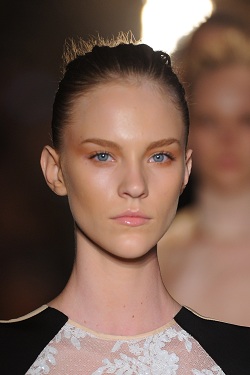 runway shot from Alex Perry
We dined together, along with my wife Soula-Marie, at the celebrated French restaurant in The Sydney Opera House, Guillaume at Bennelong for the intimate dinner that designer Dion Lee hosted to present his collection. It was an amazing location of course, being set within the sails of one of Australia's, if not the world's, architectural icons. And an elegant way to punctuate a busy day of shows for me and my team. Dion, at just 27, is one of Australia's most celebrated designers and we've worked together over the last three years. He is a true architect of design and the standard of his work very much belies his years. Lianna loved that he had commissioned iconic Australian brand R.M.Williams to make super-sleek riding boots for the models to wear with his sporty-luxe pieces. That and the fact that H20 actress Phoebe Tonkin was one of the guests at dinner and they shared a photo op!
This Fashion Week in Sydney was a special one for me professionally and personally. It was my own take on 'Bring-your-daughter-to-work-day' I guess -- and with Lianna by my side, a window into the future. Time will tell...