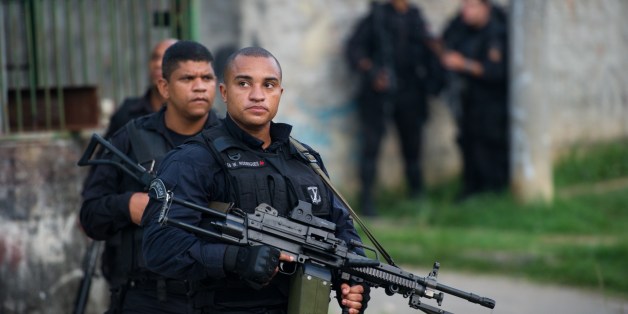 April 1st marked the 50th anniversary of the military coup that installed a 21-year long dictatorship in Brazil. Along with the repressive practices, censorship, torture, extermination and disappearance of opponents, the military regime was responsible for an institutional architecture that remains in some areas of Brazilian society. One of the most flagrant legacy of the dictatorship is the widespread practice of police abuse -- Brazilian Police is responsible for 2,000 deaths every year according to Amnesty International.

Now what has that got to do with the military rule? A key issue to understand is the lack of punishment for abuses committed by the security forces during the dictatorship years. Different from neighboring countries like Chile or Argentina, no criminal charge was ever brought against perpetrators because of an amnesty law that gave them protection against prosecution. Though the law has been challenged again and again over the years, it remains in place -- and the consequence is that many in our military institutions still defend that abuses were necessary because they were only "doing their duty" in a "time of war."
Today our principal police forces, responsible for citizen's security in every city, are still military trained; they follow a military hierarchy and report to each state government. As Coronel Ibis Pereira, from Rio de Janeiro's military police, told the BBC, the "militarization" is defined more by how a force views its targets and its mission. "It's to see a favela and identify it as a territory that has to be conquered. To see the criminal faction as an enemy that needs to be confronted with bullets."

This is the same police that occupied the Mare Favela in the beginning of April, that violently clashed with protestors last June, blinding at least one journalist -- and got away with it -- and that has been called by the U.N. Human Rights Commission to be de-militarized. It is also the police that refuses to hand public information to journalists because it sees itself as above, and not under, civil rule. The São Paulo Military Police, for instance, has repeatedly refused to answer Freedom of Information Requests made by various NGOs about the cost and number of non-lethal arms used to disperse demonstrations in recent months. "You have to understand that the Military Police is always open to dialogue as long as it is of a franc and impartial nature, without from tendencies or prejudice," reads one of the vague responses to FOIA requests, making it clear that the institution sees itself as a force separated from society -- and one that sets the rules.