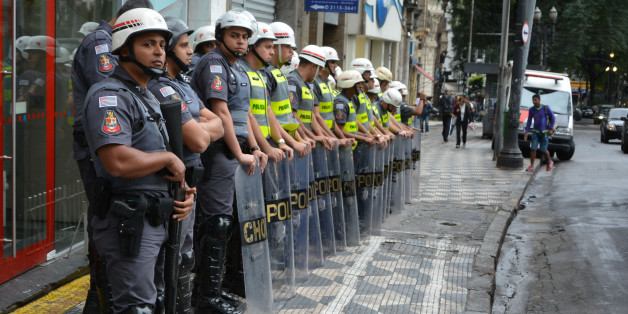 A couple of weeks ago I wrote here about how the civic organization of affected people was one of the legacies of the World Cup in Brazil. Now it becomes clear that another enduring legacy will be the new and revamped repressive capacity of the military polices.
On May 15, as small protests erupted in 12 cities, what was seen was once again brutal police repression. In São Paulo, the 5,000 protesters were escorted by at least as many policemen, and then violently dispersed with the use of tear gas and rubber bullets. This shows that in spite of the Brazilian police's obvious unpreparedness last year in dealing with demonstrations -- the dozens of human rights violations against protesters are yet to be investigated and punished -- state governments have not worked on improving the quality of our police forces. Instead, they have decided to vamp up investments in repressive equipments.
In Brazil, the military police, responsible for public security, is under the authority of each state government. A recent article by web portal G1 showed that between June of last year and May 2014, the military police of various states in Brazil purchased over 270,000 tear gas bombs and 260,000 rubber bullets cartridges. The states that purchased more non-lethal arms were Minas Gerais, Rio de Janeiro, Distrito Federal and São Paulo e Bahia.
This shows just how the governments are seeing their role in keeping the event peaceful for those few lucky and wealthy enough to be inside the stadia -- by having their police forces violently clash down on protestors. What is yet to be seen is if the Brazilian population will be okay with that.