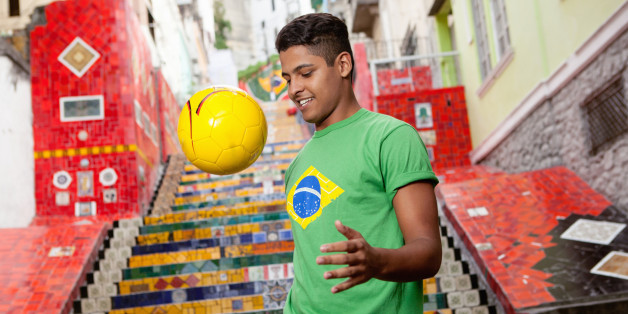 Foreigners often ask why Brazilians are so critical of the World Cup if they are so crazy about football. But that's exactly the reason. Every kid in Brazil plays football as soon as he or she is old enough to kick a ball, and Brazilians are much more into discussing football than politics. It's such a part of our culture that the World Cup is having a much more profound impact over us than any other society.
Take the "Common Sense Football Club," for instance. It's a one-of-a-kind movement started by some star footballers to demand better working conditions for all in an industry where workers almost never get a say -- except about their performance on the field. The movement started last September by former Fenerbahce midfielder Alex and the former Roma defender Juan, who coming back from Europe were appalled by the conditions of the leagues here in Brazil. While new stadiums have been built for the World Cup, professional players in Brazil still have to endure conditions that at times are far from ideal: bad pitches, shabby dressing rooms, and as we have seen lately, security issues. Since September, more than a thousand footballers have joined Common Sense, which has made possible actions such as the massive sit-down with crossed arms we performed before the start of every game in the 34th week of last year's Brazilian championship.
Now uniting over 1000 footballers, including ex-AC Milan striker Alexandre Pato, former Real Madrid midfielder Julio Baptista, the group has threatened to go on strike this year, and has three demands:
- A more democratic and inclusive calendar, with more space for local teams to grow and less strain on top footballers who sometimes have to play 70 to 80 matches in only one season
- Financial oversight over the teams, which are indebted and sometimes don't pay the athletes even though they earn more and more each year
- Lower ticket prices and better schedules for games (which are now controlled by TV station Globo mainly) to get supporters back to the stadia.
One must admit, it's only sensible. However, the campaign is not seen with good eyes by TV stations, sponsors, and the big bosses of club and of the Brazilian Football Association. Gilberto Silva, former Arsenal midfielder, has decided to voice concerns that "doors are closing" for him because of his engagement in the movement.
"If that's the price to pay for these issues to become public, I will happily pay it," he said. "The players know our movement will add up to negative news linked to the World Cup but it is important we get our message across. People abroad need to know what is going on."
Takes a lot of courage.